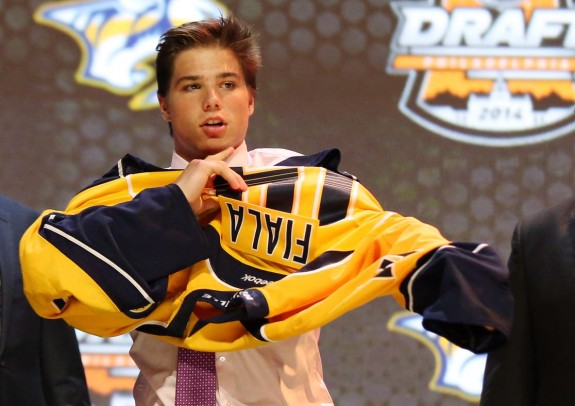 Kevin Fiala and Viktor Arvidsson have taken different paths on their ongoing way to the NHL. Fiala, 17, was drafted 11th overall by the Nashville Predators and had little doubts that he would be selected in the 1st round at the draft. Arvidsson, 21, was wondering whether he'd be drafted at all after not being selected the past 4 years. After Arvidsson was finally selected by Nashville 112th overall (4th round), he felt relieved.
"It's a great feeling," Arvidsson said last week. "I've worked hard for this [moment]. My plan is to play here (Nashville). I'm going to do my best [at development camp] and maybe I can come to training camp."
Although Arvidsson is up against the odds as a 4th-rounder attempting to make the NHL right after being drafted, it is not crazy to believe that he being considered. Arvidsson finished 9th in scoring last season in the Swedish Hockey League with 40 points (16 g, 24 a) and helped Skelleftea win its second consecutive league championship. In 2012-13, the 5'9, 172lbs winger was awarded SHL junior player of the year. And at the 2013 World Championships, the Swede tied for 8th goals with 4 to his credit.
Fiala also has a great resume himself, despite being 4 years younger. Last year, Fiala became just the third player in the world to participate in the World Juniors, U-18 World Championship and World Championship. The native of St. Gallen, Switzerland was also a finalist for rookie of the year in the SHL with 11 points (3 g, 8 a) in 17 games for HV71.
The biggest obstacle both forwards have had is their size, but they do not see it as an issue at this point in their careers.
"I think I've proved I can play against big players," Arvidsson said. "So I don't think my size matters."
"Sidney Crosby is the same size as me, so I don't care," Fiala said.
Both feel they can make the team out of training camp and are one step closer to making their dreams a reality after being signed to 3-year entry-level contracts Tuesday. With these two in the fold, and the additions of Mike Ribeiro and Derek Roy, there are now 15 players competing for a spot on the Predators' roster, making training camp a lot more interesting.