Jarret Stoll's Offensive Freefall
Would you believe that Jarret Stoll may have once had as much trade value as Anze Kopitar? It's easy to forget that Stoll put up 68 points as a 23-year-old first-line center for a Stanley Cup finalist in 2005-06.
Who knew then that would be his career season? Over the next five years, he still managed a presentable 82-game average of 18 goals-28 assists-46 points. But then, from 2011-12 on, he's offered a far more humble 8-19-27.
As a result, Stoll has become a divisive figure among Kings fans because of his cap hit ($3.25 mil) relative to production. In addition, he's a middling driver of play, and over the last three years, has sported team-worst penalty differential (-40) and 4v5 shot suppression numbers (among most-used Los Angeles penalty killing forwards).
But "back to the lecture at hand": Why has Stoll "lost it" on offense?
Stoll-en Power Play Time
From 2005-11, Stoll potted 43 power play goals, more than Johan Franzen, Saku Koivu, and Mike Richards, to name a few stars. As a King from 2008-11, he notched 18 man advantage markers (with 37 assists) on 2:55 PP ATOI. But from 2011-14, he scored just three power play goals (with 14 assists) on 1:46 PP ATOI.
That's a lot of power play time to lose, and it's been slipping with each passing season: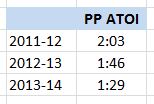 Beyond usage, we also see a huge difference in shot quality between his best and worst power play seasons in LA (red means goals, blue means shots) (charts courtesy of Some Kind of Ninja):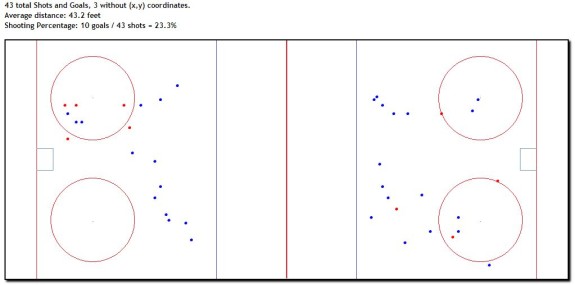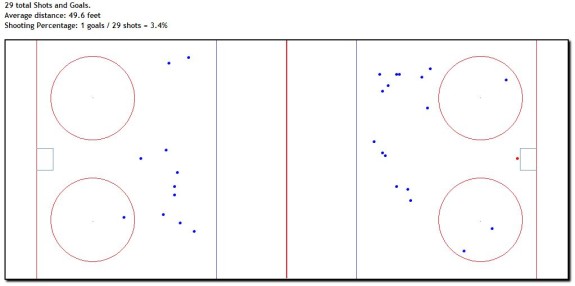 Was Stoll physically unable to get into prime scoring areas, or was he deployed differently? I tend to think the latter—as the Kings have acquired better offensive talent, less was asked of him on the man advantage, and he's gone from a desirable power play option to a forgotten triggerman.
The Trevor Lewis Effect
Breaking news: Trevor Lewis doesn't help you score. Not to pile on the quality defensive forward, but it's worth highlighting how his most frequent linemates perform offensively without him. You can see how he's depressed Stoll's production: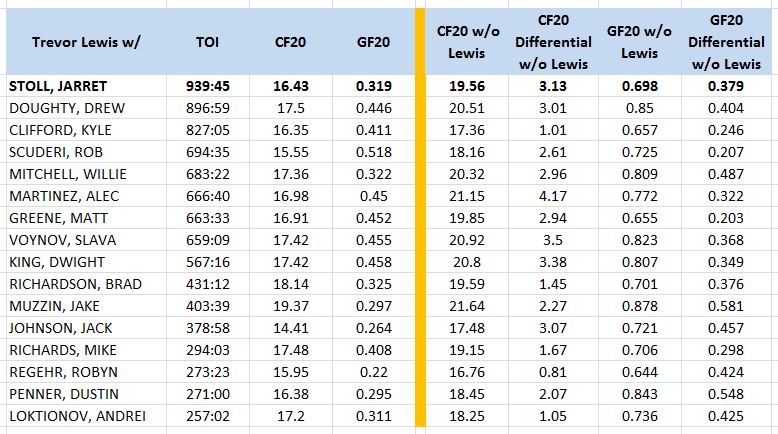 (Corsi For/20 mins measures blocked + unblocked shot attempts for when a player or team is on the ice per 20 minutes of ice time.)
In Stoll's first three seasons in Hollywood, his most likely linemates upfront were Dustin Brown, Ryan Smyth, and Justin Williams. For the record, that's 791 NHL goals to date between those three wingers.
His most common running mate in his last three Los Angeles campaigns? Lewis. And then Dwight King, who hasn't been much offensive help either:

So like we were asking about the power play, did Stoll himself fall off—hence being matched with less-skilled linemates—or was he deployed differently? Based on how dramatically his Points/60 has dropped, the numbers suggest a personal decline: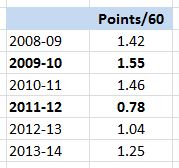 That said, let's compare how he's performed at 5v5 with Brown and Williams from 2008-11 and 2011-14:


Hmm…he performed more or less as well with Brown and Williams in these supposed years of struggle.  Then consider Stoll's dismal .544 Points/60 with Lewis, once again, his most regular linemate from 2011-14.
Besides Points/60, another area of sharp decline is his Shots/60: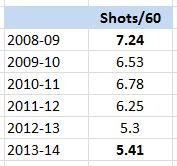 Again, how much of that is the player…and how much is it his linemates? There's enough evidence to declare that it's not all on Stoll.
Stoll-pid Luck
In 2011-12, with the acquisition of Mike Richards, Stoll took over 3C (third-line center) duties from Michal Handzus. Unlike Handzus, however, he didn't get to play with Wayne Simmonds, who had been sent packing to Philly.
Who was his most frequent linemate during that regular season? Actually, it's not Lewis or King. That line wouldn't be set until the playoffs.
The answer was Dustin Penner, and both players suffered the worst season of their careers—Stoll eked out an abysmal .673 Points/60 with Penns—mostly due to rock-bottom shooting percentages: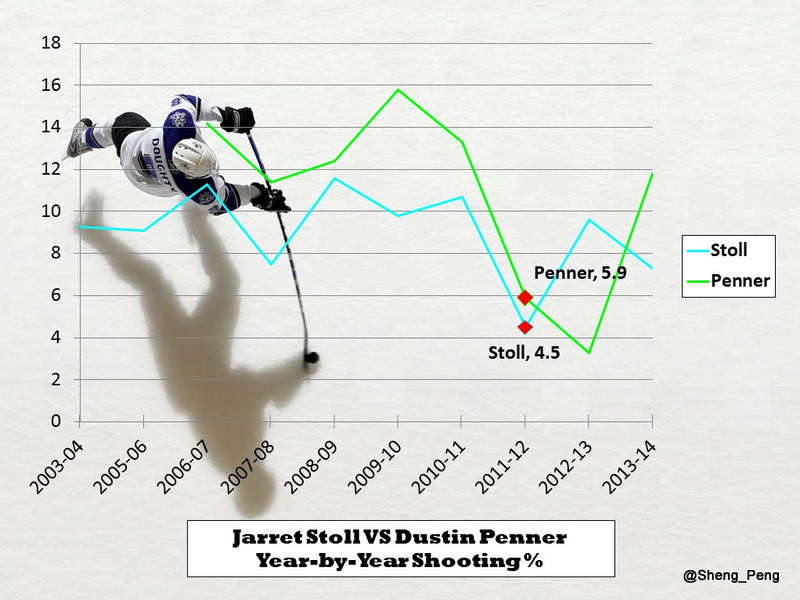 Stoll's shooting luck seems to have stabilized over the last couple seasons, but his offensive role and quality of linemates are still much reduced from the days before Richards and Jeff Carter.
Speaking of luck, if you thought his 2011-12 was unlucky, check out his last season in Edmonton on 5v5, which was papered over by good work on special teams:

Finally…
So how does a 28-year-old who was LA's 2C in 2010-11 drop off so much offensively? Less power play time, dramatically less-talented linemates, and an unfortunate 2011-12 paint Stoll's production the victim of an improving squad.
He had been miscast as a 1/2C earlier in his career, probably because of that promising 2005-06. And while Stoll may not be a player who necessarily makes his teammates better, when he gets a chance, he keeps up with more talented teammates as well as he did years ago.
So if he gets the benefit of playing with Williams this coming season, his numbers should go up accordingly. In a small sample size, and of course, benefiting from "Stick's" own hot streak, Stoll still flashed at least 3C-worthy offensive talent in the playoffs:

There are scenarios next season where Stoll slots in as LA's fourth-line center. He's an incredible luxury there—as a could-be-worse 2C, a good 3C, and an unbelievable 4C—for a team that can afford it.
Having a 4C who's still capable of doing a reasonable impression of a 2C is the definition of depth.
So while Stoll's flaws are real, it has to be remembered that some of his qualities have been sacrificed for a more defensive role.
These less-seen but still present offensive skills might explain why Dean Lombardi was willing to give such an expensive deal to a player whose most obvious hockey attributes have been faceoffs and "intangibles" after that atrocious 2011-12.
Relying on Stoll after 2015 might be dangerous—he will be 33 when his contract expires next season—but explaining his recent offensive "decline" with counting stats just doesn't cut it.
Stats courtesy of Behind the Net, Extra Skater, Hockey Analysis, Hockey Reference, Some Kind of Ninja, and Sporting Charts.