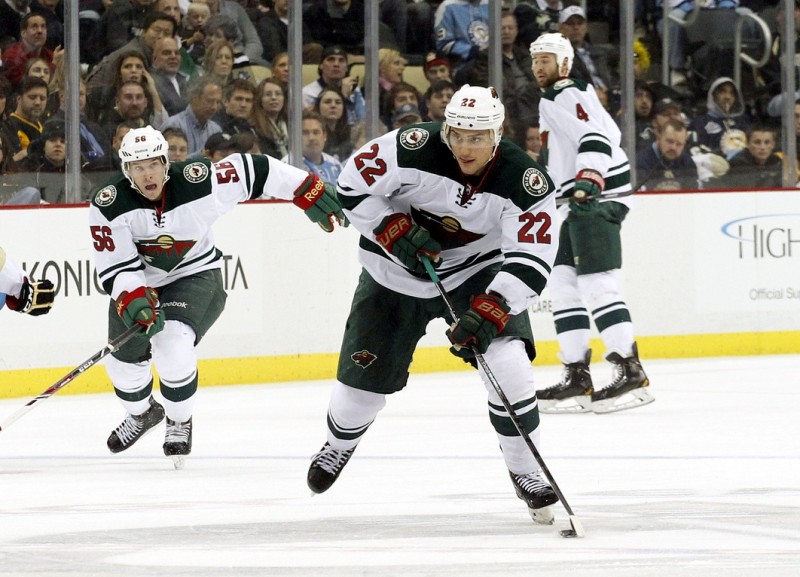 Minnesota Wild general manager Chuck Fletcher has deftly navigated some tricky waters this off-season. One of the most difficult jobs he faces is not
signing
stars like
Thomas Vanek
, but building on the team's postseason success by balancing the demand for success now while not mortgaging the future.
He has to balance bringing in talent like Vanek with making sure he doesn't overspend now and price himself out of contracts down the road with the Wild's young talent. Fletcher will hope to have young talent like Charlie Coyle, Jonas Brodin, Mikael Granlund, and Darcy Kuemper on the team for years to come, past their years as restricted free agents.
Los Niños
It appears that Fletcher is open to getting started on that job now, as reports indicate that Fletcher is open to more than a bridge contract with current restricted free agent Nino Niederreiter.
Bridge contracts tend to popular with young players and management because it can ensure the player that he won't be underpaid beyond his RFA years if he blooms into an elite talent and it ensures management that they won't overpay for a prospect that never delivers.
Fletcher appears willing to bet that Niederreiter will deliver, though he's flexible on the contract length and open to a bridge deal. He told the Star Tribune's Michael Russo:
"We'll see how it goes, but as long as the numbers make sense, we're prepared to do anything within reason. Probably anything between two to four years would be the most logical. I think beyond four is incredibly hard to figure out and one year doesn't seem to make any sense."
If the team signs a four-year contract with Niederreiter that will take him beyond his first year of eligibility as an unrestricted free agent. A four-year deal would be a gamble on both sides of the dotted line, but the Wild are coming upon a difficult situation as they have big deals in place with Zach Parise, Ryan Suter, Jason Pominville, Mikko Koivu, and Vanek, but hope to maintain their young core into their prime.
Expiration Dates Approaching
The end of this upcoming season will see the end of current contracts with Granlund, Coyle, Brodin, Erik Haula, Marco Scandella, and Jonathon Blum, as well as prospects Christian Folin, Michael Keränen, Brett Bulmer, and Johan Gustafsson. There's a lot of talent in those expiring contracts (all restricted free agents, so not too costly, yet) and a number of raises that could prove to strain the Wild's cap.
Not all of them will stick with the team surely, but it's clear that the Wild would like to see Granlund, Niederreiter, Brodin, and Coyle, at a minimum, in Wild sweaters beyond the next couple years. So, this is going to get tricky for Fletcher and co. How he handles this phase of team building may determine whether the Wild develop into a true Cup contender or just a playoff team.
This summer is a big one in determining the legacy of this current Wild team. Fletcher managed to sign Vanek to a smart three-year deal that wasn't too costly or too long. It shouldn't prohibit Fletcher from signing, say, Granlund to a major contract down the road if he turns into the elite talent that he looked like he could when he was younger, during the Olympics, and in the playoffs (and at other times).
So far, Fletcher's done a great job in Minnesota, constructing the strongest team the Wild have had in their short history. It's full of young talent, a restocked cupboard, and a core of veteran talent that is starting to look formidable with the addition of Vanek. (Though goaltending troubles remain despite the emergence of Kuemper last season.)
Some of these contracts will be gambles, betting on whether Niederreiter continues to develop for instance, but make no mistake, while some Wild fans bemoan the predictability of signing Vanek and not doing much else, this is a big, important summer for Chuck Fletcher's Wild. The RFA deals he strikes with Kuemper, Niederreiter, Justin Fontaine (who has filed for arbitration), and Jason Zucker could quietly be the most important decisions he makes this off-season.