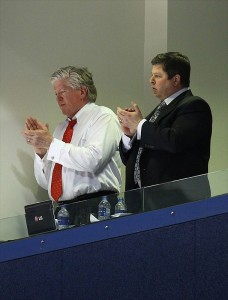 At the beginning of last season, there was a ton of optimism among Leaf fans. Sure, they collapsed in game 7 to the Bruins, but I think most people saw a young team that took one of the best teams in hockey to the brink of elimination, in what would have been a huge upset. The Leafs, however, failed to capitalize on this optimism and after missing the playoffs this past season, and as of yet unable to make any major changes so far this summer, fans seem even more rabid and pessimistic than usual.
While I wrote Friday that the Leafs are worthy of being optimistic about, not everyone agrees.  My fellow THW columnist Lukas Hardonk disagrees and wrote about it here, even adding a tagline that suggests that the Leafs "keep making mistake after mistake."
Not everyone has to agree, and certainly I am in the minority with my optimism, and even more-so with my support of the job Dave Nonis has done so far.  Since there is such widespread disdain for the man who replaced Burke (who should never have been fired), I thought it might be worthwhile to go through his tenure, move by move.
Dave Nonis was hired to be the Leafs GM on January 9, 2013.  While the goal of this analysis is to determine how he has done so far, it must be taken with the caveat that he has failed – as of yet – to get Phaneuf a partner of his own skill level and to provide Kessel with a peer for a centre.  So, even if we like the moves he has made, we need to be conscious of what the Leafs are still missing when we make our analysis. We can't exactly blame him for moves he hasn't made, but if the goal is to win the Cup, those are two pretty important pieces and he has, so far, been unable to acquire them.
That being said, an argument can be made for his patience: he could have moved some of his young assets last year to "save his job" and make the playoffs.  He decided that a round or two of playoffs wasn't worth the long-term pain, and I don't think he gets enough credit for this.  Even the failure to find a #1 C is mitigated by the fact that he signed Bozak as a placeholder who can nicely move down the lineup when it's necessary, and now potentially has Kadri and Nylander as a skilled 1-2 punch down the middle for years to come.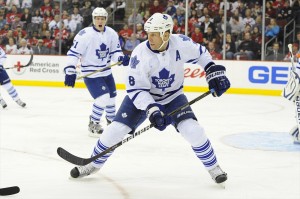 MacArthur, Steckel, Lombardi, Brown, and Connolly
Nonis took over just before the lockout shortened 2013 began. Among his first moves were to either demote, trade or not sign a number of veteran players. Clarke MaCarthur was not re-signed, Mathew Lombardi was traded for a conditional pick to the Coyotes, Tim Connolly was demoted to the Marlies and then at the trade deadline David Steckel was sent to the Ducks for a no name prospect and a seventh round pick, and Mike Brown was sent to the Oilers for a 4th.
These moves – everyone of them – were good.  It can be argued that MacArthur was a decent player and had more to offer, but the fact is (based on his comments about Carlyle after he left) that he didn't see eye-to-eye with the coach and with Nonis wanting to ice a younger lineup, it made sense to let him go.  I don't see how letting a guy who was benched in the playoffs move on can be controversial, but this is a city that once went berserk over the job the goalie coach was doing. Other than MacArthur, it's hard to argue in favor of keeping any of the other three, and getting anything for Lombardi and Steckel can be seen as a coupe.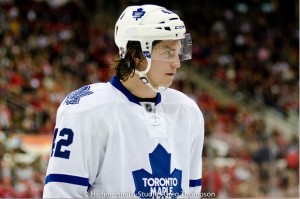 Compliance Buy-outs, Bozak and Bolland
After the lockout, teams were allowed to buy-out two players without Salary Cap penalties. The Leafs chose to exercise these on Mike Komisarek and Mikhail Grabovski.
The Komsarek buy-out was a no-brainer, as he never lived up to his contract and was, in retrospect, a bad signing by Brian Burke. By the time he was bought-out, he was demoted to the Marlies and as he represented a $5 Million Dollar cap hit, you can't fault Nonis for buying him out.
Grabovski, on the other hand, is one of the moves Nonis' critics sight most often as a bad move. You can't fault them for thinking so, in a vacuum, because Grabovski is a strong puck-possession player with offensive skills and he plays a position the Leafs are notoriously weak at.  Most people think the Leafs would have been better off letting Bozak walk, keeping the extra buy-out for later use, and retaining Grabovski.  All things being equal, that would have been ideal.
As so often is the case, however, the details make the narrative more nuanced. The Leafs had not had any success playing Grabovski on the first line with Kessel, and their attempt to play him on the third line was disastrous. In retrospect, it seems dumb to try to make a guy like Grabovski a checker, and it clearly didn't work. In the lockout season he put up just 9 goals and 16 points, while playing in every game and ceding much of his ice time to Kadri.
When Dave Bolland fell in his lap, for a 2nd rounder and two 4ths, Nonis was looking at four centres and three spots. Since Grabovski didn't figure to be a fit on the first or third line, and since Kadri and Bozak were now entrenched as the top two, Bolland seemed a better fit for the third line and Grabovski was bought out of a fairly onerous contract.
I think the worst you can say about buying out Grabovski is that it was bad asset management.  That being said, in the NHL, cap space is now as good as a player, and this move did make sense. I wouldn't call it a massive homerun, but I do think if you're going to sight it as one of Nonis' worst moves, then he might be a better GM than you think.
As for the Bozak contract, I know I am alone here, but I like it. I think Bozak is a superior player to Grabovski, and even if he's not (we all have trouble looking beyond our personal biases) he's a better fit to the roster. Bozak, as I am wont to point out, had comparable point totals to Vanek, Toews and Jagr last year when adjusted for the games he missed, and he has improved every year he's been in the league. I know he is miscast on the top line, but I think that leads to him taking more heat than he deserves.  What I believe is that no one – not even management or their most optimistic fan – thinks the Leafs are a contender for the Cup, either now or when Bozak was re-signed.  Because of this, I think signing Bozak was a stop-gap move to keep a guy who could play with Kessel until the team could either develop a #1 centre or trade for one, at which point he can slide nicely down the lineup and play where you need him.  One thing to remember about Bozak is that even if he isn't the best centre around, he still combined with Kessel and JVR to make one of the NHL's best lines last season.
To sum it up, Bozak was signed to a decent contract, Bolland was acquired cheaply and Grabovski was bought out. Though Bolland would be injured and then leave without impacting the team much, it was a good move at the time and I think both Bozak's contract and Grabovski's buyout were justifiable if you go beyond stats and look at the roster, it's needs and how the players fit in.
Part One Conclusion
This covers just about the first six months of Nonis' tenure, and so far, I am yet to see anything that makes him an idiot, though there are no amazing moves either. Most of all, what you see in these first six months are a transition of moving out veterans and making room for youth. So far so good, I think.
I will follow up with part 2 later in the week.