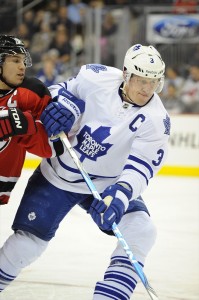 Whether it's because they have only made the playoffs once in ten years, because they have never won the Cup in anything more than a six team league, or because they promised to make "major changes" and then didn't, the negativity surrounding the Maple Leafs has hit an all-time high in recent times.
Forget that this team came within two minutes of knocking off one of the league's best teams in game seven of the first round a year ago, forget that their collapse this past spring coincided with an injury to their star goalie, and that they have a great collection of former first rounders just about to hit their prime – it's apparently better to just wallow in absolute abject negativity.
I realize that not firing Randy Carlye was a massively unpopular move, that Tyler Bozak gets absolutely zero respect and that growth from within is a lot harder to get excited about than the addition of a new player, but the Leafs are much better than you probably think.
To begin with, imagine we aren't talking about the Leafs. Just imagine another team had Phil Kessel, James Van Riemsdyk and Jonathan Bernier and that they had Gardiner, Kadri and Rielly all about to become big-time players: You would think that team was on their way up.
Just not so in Toronto, where it literally wouldn't matter if the team acquired Steven Stamkos, people would find some reason to complain.
I, for one, am optimistic
The Leafs have the unpopular Tyler Bozak as their first line centre, and I just don't think he's as bad as people think. Yes, he benefits hugely from playing in a situation- i.e players and ice time – he wouldn't get anywhere else, but his numbers have risen in every year he's been in the league and with Kessel and JVR the Leafs had one of the best lines in the NHL last year. He was also nearly a point per game player and prorated to compensate for injury, had point totals comparable to Toews, Spezza, Eberle and Vanek.  Sure, a star centre equal in quality to his two line-mates would be a nice luxary, but nobody is saying the Leafs can or need to win the Cup with Bozak on the first line.
Bozak at this point can be seen as a very good place holder. The duo of Kadri and the recently drafted Willie Nylander gives the Leafs a two centre combo that could – if things work out – be the best they've had since the early 90's when they had Gilmour and Sundin.  Kadri and Nylander are two players worth being excited about. Two high skill centres capable of being superstars who the Leafs and their fans have been pining for for years.
On the wing, the Leafs remain one of the deepest teams in hockey.  JVR, Lupul, Kessel and Clarkson give them much better than average wingers. Not only are they high scoring and offensively dangerous, but there is always the option of moving Kadri to the wing and trading Lupul for help on the backend, where I think they are still not as good as they need to be to win. I'd prefer Kadri at centre, and to keep Lupul, but like I said, it's an option.
I don't think it's popular to say this either, but I like David Clarkson. I think he will improve tremendously next season and that it's fairly ridiculous to project the future of a player who suffered the "season from Hell," and act like his career is basically over. Sure, he's overpaid, but since the Leafs have a decent cap situation, this isn't really a problem. With his multiple injuries and suspensions, Clarkson never got a chance to contribute much, but I would be willing to bet that he is much more effective in his second season in Toronto.
At the Bottom of the lineup, thanks to some smart moves by management in recent weeks, the Leafs have depth and potential. Also, speed in abundance. I believe they will be much harder to play against this upcoming season thanks to a revamped bottom six that will be much faster and score more than last year and a blueline that includes at least 3 physcial players, four if Granberg makes the team.
Replacing Kulemin with Komarov is a huge win, in my opinion. The vaunted "character" aside, Komarov is a fast player who, along with a healthy Clarkson, will provide much more sandpaper up and down the linuep next year.  Peter Holland, Mike Santorelli, Komorov, Ashton Carter, Matt Frattin, Troy Brodie, Trevor Smith and Petri Kontiola will all compete for bottom of the lineup roles and the Leafs will be faster, tougher, higher scoring, better defensively and harder to play against because of it. I think the underrated Jay McClement will be missed, but otherwise, these guys should be nice upgrades over Raymond, Kulemin, Bolland, Orr and Frazer McLaren.
On forward, the Leafs may be missing that number one centre, but overall, their forwards look pretty nice. Striking a nice balance of guys in their prime (Lupul, Kessel) and guys who have more to give (Kadri, JVR). I think this is a group of forwards that can be high scoring and that their speed will kill teams like it did two seasons ago. Yes, if they want to be a Cup Contender, they are going to need to upgrade on Bozak, but as they are currently constructed, they can add another year of experience and growth that can get them to the playoffs next year and which will pay off in a year or two, which is when they should expect to be a contender. If Nylander's that first line guy, the future is going to be very bright and the Leafs will be where Chicago, LA and Boston are now in no time.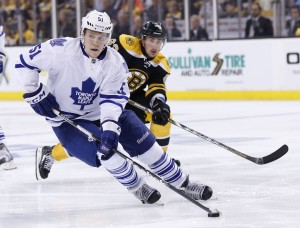 Defense
On the backend, the Leafs were awful last year, dressing a terribly unbalanced lineup heavy on offensive defenseman and light on physicality. The moves made so far to shore it up have been met with skepticism, but I think they address most of the problems.  With the addition of Robidas, Polak and likely Grandberg, the Leafs are going to be maybe a bit slower on defense, but they should be harder to play against now that they are more physical and have players who's main job is defense.
I stand alone, apparently, as being a fan of the Gunnarsson for Polak swap, but I promise that this will work out in the Leafs favor. Gunnarsson may be more talented, but Polak is more what they need. In my opinion, when a large portion of your defense is made up of speedy, puck mover-types, you can't afford to have your sole defensive defenseman be as non-physical as Gunnarsson.
Gleason was brought in to help out with this problem, but he was terrible and was bought out in one of the best moves the Leafs have made so far this summer. Franson, who was traded for  Josh Gorges before Gorges refused to come here, is on his way out, so the Leafs are looking at starting the season with something like:
Phaneuf – Gardiner
Rielly – Polak
Grandberg- Robidas
Maybe not the best in the league, but it's much more balanced and physical than last year, and I think that is a good thing. Dion will automatically improve (he's already pretty damn good, despite what some uninformed people will tell you) by playing with either Rielly or Gardiner, who I predict will take huge strides this upcoming season.  I believe Carl Gunnarsson was miscast playing way up there and that Dion will be much better with a better partner who is more suited to playing the top pair.
To truly compete, the Leafs would need to partner Dion with someone at least as good as he is, but I don't think they necessarily have to be worried about competing this year- just make the playoffs and develop their players and it's a successful year. Whether they acquire a top-pairing guy or develop one from within, the future is so bright on defense, that it belies what people are saying about this team. Morgan Rielly is going to be a superstar in the NHL and him, Gardiner and Phaneuf, should the two young players develop to even a fraction of their full potential, will make a formidable top three. In addition, there is still Matt Finn, Peter Grandberg and Stuart Percy on their way.
I like the Leafs defense a lot better today than I did when the season finished, and because of prospects and the fact that their three best defenseman all stand to improve, I am very optimistic about the future of Toronto's blue line.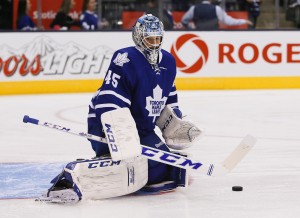 Goalies
It net, I think the Leafs have it made. Bernier and Reimer is as good a combo as their is in the NHL and I expect that to continue.  Sure, if they are as bad at allowing shots as they were last year, and if there defense is as poor as it was, there is no way these guys can be expected to do what they did last year, which was single-handedly keep a bad team near the top of the Eastern Conference for most of the season, but if those things improve, it should be a great combo for years to come.
Of course there is the caveat that Reimer might not return, but it's such an obvious hockey move to bring him back, that I have to think the Leafs will find a way.
Overall
Overall, I think the Leafs deserve your optimism. Forget the past – both recent and ancient – and just look at the roster: former top ten picks Kessel, JVR, Phaneuf, Lupul, Kadri, Nylander and Rielly. Bernier was picked 11th and Holland, Gardiner, Biggs, Gauthier and Percy are all first round picks still with the organization. The team has one of the best players in hockey in Phil Kessel, and potential cornerstone players in Nylander, Kadri, Bernier and Rielly.
There is team is more balanced, faster (at least at forward) and deeper than it was when the season ended. Maybe not on paper, but I do believe the loss of Bolland, Raymond and Kulemin will be more than compensated for with the addition of the speedy Frattin and Kormorov, as well as more ice time for the likes of Holland,Carter and any of the kids who make the team, plus,  Mike Santorelli could end up being a real find. Further more, it's important to consider the salary cap implications and the players they can now add because they didn't overpay for Raymond, Kulemin and Bolland, who signed what only Brooks Orpik prevents from being the worst contract in NHL history with the Panthers July 1st.
This is, realistically, the best collection of young players the Leafs have had in at least 30 years. Could things be better? Of course: they could hire a coach who seems more in line with the modern game, they could make better use of analytics and stop trying to sign players to long-term to deals based on their "character," but overall, I like this team. I like it's direction and I think they can win with the core they have in place.
But most of all, I am optimistic. I think the Leafs will surprise a lot of people in the upcoming year and I am excited for the future.