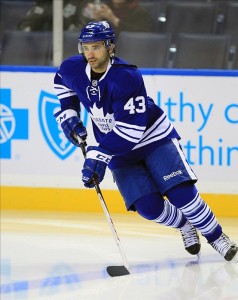 I am hoping there is not much to the Leafs rumours I have been hearing this week. I have heard three rumours, all of which I would consider to be bad moves.
The first rumour, which is hardly worth our time to talk about. Is the Howard Berger one. In it the Leafs would trade their best defenseman, as well as Nazem Kadri and their first round pick, #8 overall, to Florida for the first overall pick and Ed Jovanovski.
Jovocop is old and it's time for the remake. The Leafs need him about as badly as they need to be trading their most talented young forward. As for the first overall pick, in this years draft, it's not even a guarantee you get that much of a better player at one than you do at eight. Obviously, you are likely to get a better player, but since there is apparently no Crosby or Ovechkin-like franchise  player available this year, that price seems awfully steep – especially when it means pushing back the date this team might be competitive, something I don't think is currently that far off.
Why would the Leafs trade Dion Phaneuf for a guy Craig Button (TSN Draft Expert) says has a ceiling of second pairing solid NHL defenseman? Even if he could step into the NHL immediately and exceeds his potential, it would be years before he would be as good as Dion Phaneuf is now. Furthermore, you have patiently waited four frustrating years for Kadri to blossom, and you're going to bail on him now, as he approaches his breakout year? Come on!
I'd be willing to call that the dumbest trade rumour I have ever heard legitimately reported. If it happened, it would be a worse move than Calgary made when they traded the Leafs Phaneuf in the first place (which rivals the Gilmour trade for most lopsided trade in recent NHL history).
The second rumour I heard this week, was that the Leafs would trade for Patrick Sharpe. We can only hope this too is false. Sharpe is 32 and while he has some skill, he also benefits from being the fourth guy on Chicago that defenses look to cover. The Leafs should not be moving any assets or wasting any large amounts of cap space on old and declining players.  Especially a declining winger, one of the only positions the organization can said to be strong at. The Leafs also need to stop helping the Hawks every time they get in a salary cap jam. A big NO to any deal targeting Patrick Sharp.
The third rumoured trade involved the Leafs getting Joe Thornton. Now, originally I was on board for this. My thinking was that the Sharks would not want much for him and that the Leafs could convert Kadri to the wing (something they should maybe do anyways if they can get a top line centre). Thornton is 34 and he makes almost seven million dollars against the cap, so I didn't think he would cost much in a trade.
After doing some research, however, it appears that a) Joe might not want to waive his no trade clause and b) if he does, San Jose is not going to just give him away as cheaply as I thought. If, as rumour suggests, the Hawks would trade Patrick Sharp for him, the Leafs can't come close to that. A straight up deal of Thornton for  Nazem Kadri is, in my opinion, a HUGE overpayment for Toronto and a trade which they would regret almost immediately.
Joe Thornton isn't going to push the Leafs over the top. Acquiring a 34 year old centre is fine if you do it through free agency or are on the cusp of being a top team. Toronto and Thornton do not meet either of those categories at the moment. While I can't say I wouldn't be excited to add a future Hall of Famer who is probably the best player of his generation to the Leafs, I just can't see it in anyway being the right move at this time.
Just Keep Kadri!
The Leafs need to keep their patience and build with young players: JVR, Kessel, Kadri, Bozak,Rielly,Gardiner, Bernier and Phaneuf represent a group that is only going to get better. In fact, the Leafs have probably never had so much young talent at one time – so now is not the time to blow things up because a combination of injuries, bad luck and one of the worst assembled blue lines in NHL history ( Gunnarsson on the top pairing, Franson and Gleason in the  lineup at all, with two overworked might-as-well-be-rookies and one star who they expect unrealistically to do everything) lead to an unfortunate collapse.
It says here the Leafs should only make moves for young players and that they should under no circumstances consider trading Nazem Kadri. Trading players like Kadri who have talent but maybe don't become stars as fast as the world's preeminent hockey market would like has been the downfall of this team for years, and moving Kadri right as he is poised to explode offensively is not only a bad move, but it would end up being symbolic of why this team can never seem to win.