With Subban Set To Become A Restricted Free Agent, Should the Capitals Throw An Offer Sheet at Him?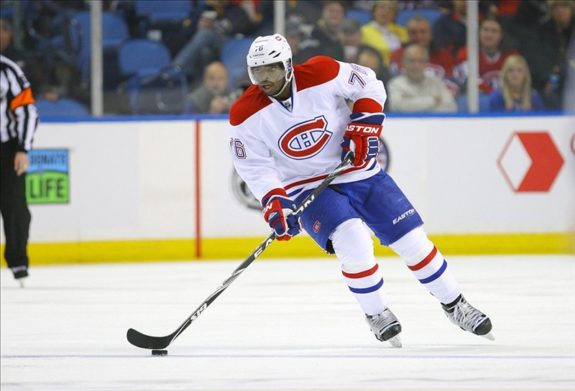 An NHL offer sheet situation is a rarity in the hockey world.  It can be frowned upon and scorned, but it is something that is legal and within the spirit of the game.
One of the most dynamic defensemen around the NHL is Montreal Canadiens P.K. Subban.  Subban, 25, is a former Norris Trophy Winner as the NHL's top defenseman and he has been one of the NHL's top scoring blueliners for the past couple of seasons.  Subban is a 2007 Canadiens second round draft choice and has become a major steal in drafting.
What is P.K. Subban?
Subban is a right-handed shooting defenseman who brings quality skating and lots of versatility to the Canadiens lineup.  He has a physical edge and nastiness to his game that is welcome on any NHL blueline.

He can be a bit of an agitator and can get under the opponents' skin.  He is a powerplay quarterback and can be used in penalty killing situations too.  It is safe to say that he is one of the best two-way defensemen in the game.  Subban can play 25-30 minutes on a nightly basis and has shown that he is a very durable defenseman.
Subban Statistics
How Can He Help the Washington Capitals?
Subban could help the Capitals in many areas of the game.  For starters, he can provide some special teams help.   He can provide the Capitals with another wicked shot from the point on their powerplay.  Subban led all Canadiens blueliners in powerplay points and powerplay goals in 2013-2014.  He led all Canadiens defensemen with 204 shots in the regular season.  Subban was used sparingly on the penalty kill and was ranked sixth in shorthanded time on ice for all Canadiens blueliners.
Subban has shown that he can be a pretty good puck possession player.  His Corsi-For Percentage (49.9%) and Fenwick-For Percentage (49.8%) were ranked second and third respectively among all Canadiens defensemen.
So Subban is a good puck possession player, powerplay quarterback, and physical defensemen.  It seems like he can do anything and can play any kind of role for any club.
Why would he be a good fit in Washington?  The Capitals do not have a defenseman like him who is good at all areas of the game.
For example, let's take a look at John Carlson.  He is probably the most similar Capitals defenseman to P.K. Subban in that he is the most well rounded defenseman the Capitals have.  But Carlson does not have the physical edge and nastiness to his game.  Carlson plays a nice clean game and does not play with much sandpaper.
Now let's talk about Karl Alzner.  Alzner does not have much of an offensive game.  He is a good defenseman and responsible in his own end of the ice, but his job is to stay back and play defense.  Alzner is not ever used on the Capitals powerplay and he also plays a nice clean game.  Alzner is one of the nicer defenseman on the hockey rink and does not play with a lot of sandpaper.
And finally, let's discuss Mike Green.  Green has always been offensive-minded defenseman.  While he has struggled at times in his own end, he can play a physical game, but does not do it very often.
P.K. Subban is a mix of all of the Capitals top defensemen in different ways.  He has the smarts of Karl Alzner, skating legs of Mike Green, and two-way play of John Carlson (but with a nastier edge).
The Cost
Subban is coming off an expiring two-year deal with an average cap hit of $2.875M dollars.  He has earned a huge raise since he last signed a contract.
But what exactly is Subban worth?  Is he worth more than Shea Weber or Ryan Suter?  Could Subban possibly become the highest paid defensemen in the NHL and push over $8M dollars?
It is entirely possible that Subban can become the highest paid blueliner in the NHL.  Is throwing an offer sheet his way a justifiable option?  If the Capitals attempted to sign Subban to a 1-year, $6.5M dollar offer sheet, the compensation would be a 1st, 2nd, and 3rd round draft selection if the Canadiens did not match it.  If the Capitals attempted a 1-year, $8M dollar offer sheet, the compensation would be two 1sts, one 2nd, and one third round pick if the Canadiens did not match it.  Could the Capitals give up that many draft picks on one guy?  Is it worth the cost?
It is a huge gamble when dealing with offer sheets.  The compensation in the NHL Collective Bargaining Agreement is very high.  However, Subban does address a major need on the Capitals blueline and can be an anchor on the blueline for years to come.
Analysis
I would have no issue if the Capitals tossed an offer sheet at P.K. Subban.  He is one of the best defensemen in the NHL and he is only 25 years old.  There is plenty of room and upside in his game that is worth going for.  While the price is steep, the Capitals have drafted very well over the past several seasons.  IF I did send an offer sheet, it would be a short term (1-2) year deal.
The Capitals have just under $15M in cap space heading into next season with only three to four roster spots to fill.  IF the Capitals gave Brooks Laich a compliance buyout, that number in cap space would shoot up close to $20M.  There would be plenty of room to fit Subban's $6-8M dollar cap hit with a bit left to spare if the Capitals decided to part ways with Brooks Laich.  The Capitals have lots of flexibility heading into the summer and can make some big acquisitions that can do lots of damage to other teams next season.
Defensemen like P.K. Subban do not come around very often.  If the Washington Capitals want to make a bold statement around the NHL, they need to begin to fix their blueline with quality pieces.  P.K. Subban would be a very good start to the rebuilding process on the back-end in Washington.
Thanks for tuning in!