The Bruins are NOT a Stanley Cup contender. At least not right now with their current roster. Rumors have been flying around like crazy and I don't doubt that a fairly major move is in the works. With some surprising teams in the playoff hunt, the Bruins don't have a ton of time to improve. What do they need to happen this Christmas to become the Stanley Cup contender we expect them to be?
Chiarelli, Neely, Jacobs, and Julien- if you haven't sent a letter to the North Pole yet, here are a few suggestions for your Christmas lists.
1. A First Line Right Wing
This is the number one wish. All the way from Bruins management to fans, everyone in Boston wants a top line right winger. This is Boston's Red Ryder BB Gun. David Krejci is back (and hopefully stays back) and he needs someone better than Seth Griffith on his right. Griffith has been decent, but he isn't a long term solution.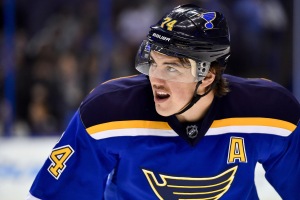 With all the names being thrown around, it's impossible to tell who may be coming to town and who may be leaving. The latest rumors have American hero T.J. Oshie coming to Boston in exchange for Loui Eriksson. This is a trade I would want Peter Chiarelli to make happen. Oshie's stats aren't as impressive as one might think, with his best season coming last year (21-39-60), but he hasn't had the chance to work with a playmaker like Krejci. Oshie has speed, a strong shot, and even the two-way playing style that the Bruins and Claude Julien eat up.
He is having a down year this season with just five goals and seven assists in 24 games, but that may make him cheaper for the Bruins in a trade. Oshie is signed through the 2016-17 season at a $4.175 million cap hit, which isn't bad considering some of the Bruins current contracts. Eriksson is signed through next season at a slightly higher cap hit, but he isn't producing like we thought he would be.
Other names out there include the Oilers duo of Taylor Hall and Jordan Eberle, the seemingly always available Evander Kane, and lesser names such as Chris Stewart and Zack Kassian. The Oilers would be looking for a lot in return for either player and I doubt Chiarelli would be able to steal Hall away in the way the Stars managed to acquire Tyler Seguin. The Bruins would need to trade away a key player such as Krejci, Milan Lucic, or Dougie Hamilton. The Jets are looking for defense and I am not sure we have the defensive depth that could help us land Kane. Stewart and Kassian are both physical players with heavy games, but are not the solution for the top line. They're stocking-stuffers, not the PS4 or Xbox One.
Chiarelli is feeling the heat now more than ever with the Seguin deal looking like a bust, but if he can pull off a smart and effective trade, fans may be able to forgive him.
2. A Blossoming Young Star
With all the injuries to core players and opportunities young Bruins have gotten this season, it is disappointing that nobody has jumped onto the scene and been a consistent contributor. Griffith, Craig Cunningham, Matt Fraser, Ryan Spooner, and Alex Khokhlachev have all seen extended looks this season and none have proven themselves worthy of a roster spot. Griffith has shown glimpses, but seven points in 24 games isn't all that impressive. The four others have a combined four points in 38 games. Four points! Fraser has three goals and Cunningham has one. No assists in 38 games from any of them. With the Bruins cap issues this summer, they needed some of these players to step up, and they have failed.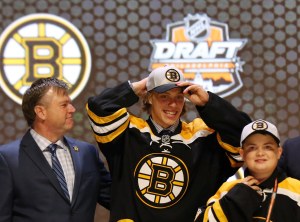 If the Bruins land a first line winger, there won't be as much pressure on these young players, but at least one of them will need to contribute down the road. After David Pastrnak returns from the World Juniors, I would like to see him get another shot. It's already clear that he has the highest ceiling of any of them and showed plenty of skill during his five game stint earlier this month. He may not be the right fit if he is put down on the third or fourth line, but if nobody else can lock down a roster spot, Pastrnak should be able to provide the offensive depth that the B's have lacked.
3. A Healthy Core
Captain Zdeno Chara and first line center David Krejci have already missed extended periods of time and the Bruins are in trouble because of it.
With Krejci, the #Bruins are 7-4-0 (36GF/3.27 goals per game). Without Krejci, they're 8-9-3 (40GF/2.00 goals per game).

— Ty Anderson (@_TyAnderson) December 17, 2014
Chara is getting older and isn't quite as dominant, but the Bruins don't have the defensive depth to be successful without him. Seidenberg can lock down an opposing team's top line, but not by himself. Hamilton is progressing, but isn't physical enough or experienced enough to take over Chara's spot yet.
He's been back for a handful of games now and has definitely shown some rust, but Chara is crucial to a long playoff run in Boston.
Krejci may be just as, if not more important to Boston's success. Without him, the first line ceases to exist and Milan Lucic becomes a third line caliber player. The powerplay has been anemic this past month and the team has had to rely on the Bergeron line for all its offense. Carl Soderberg can account for some goals here or there, but he needs Eriksson and whoever else is on his line (often times Chris Kelly) to capitalize on their chances.
We pray that Krejci's injury doesn't nag him all season long because there is no chance at a cup without him. He has the best playmaking ability on the team and has even been able to make the bumbling Lucic score 30 goals in the past. He has also been the team's best playoff performer. The Bruins have been lucky enough to stay relatively healthy these past few seasons, but if they continue to deal with injuries to core players this season, the Stanley Cup will be all but a mirage.
Has contributed to isportsweb, the Yawkey Way Report, and Fansided's Chowder and Champions. Host of the weekly radio show Top Shelf Sports on Bryant University's WJMF radio.