It seemed reasonable to give Lou Lamoriello some time after he was named general manager of the Toronto Maple Leafs to see if he has changed.
He hasn't. He's still the most anti-player executive in the entire National Hockey League — and that includes the New York head office.
His first hockey-related act after joining the Leafs was to represent the team at the arbitration hearing for Jonathan Bernier. He unleashed such an attack on the abilities of Bernier, a player he had never previously had in his organization, that he raised some eyebrows. But that can be excused because that's the nature of arbitration hearings — although Lamoriello did seem to be a little over-enthusiastic in his denigration of his No. 1 goalie.
Not long afterwards came the no-facial-hair edict. In 2015! Curiously enough, Lou's counterpart down the street, Alex Anthopolous seems to have been fairly successful despite his facial hair. And the Blue Jays, champions by the way, have a number of hirsute players on their roster.
When pressed, Lamoriello will mutter something about the need for a militaristic style of discipline in a successful team. But the military doesn't have a rule forbidding facial hair. This has nothing to do with the military. It's just a tyrant, used to getting his own way, who is determined to force his will on those who are in no position to argue. Even coach Pat Burns had to remove his facial hair when he worked for Lamoriello. Albert Einstein had facial hair. So did Charles Dickens. And Martin Luther King Jr. And Claude Monet. And Abraham Lincoln. Lamoriello apparently has nothing but disdain for all of them.
And while we are on the subject of banning, there's the matter of banning the media from the team charters. Most newspaper people wouldn't care about that. They're too busy after the game to make it to the charter. But with his blanket exclusion of the media, Lamoriello banned some of the team's biggest supporters – the electronic media. Again, there was no reason to do so. These people have been travelling with the team for decades without incident. But it was another chance for a tyrant to make a rule because he wanted to make a rule.
Once again, a look at the city's winning team might do no harm. The electronic media travel with the Blue Jays and the team doesn't appear to have suffered as a result.
Still with the Jays, it's also interesting to note that Troy Tulowitski took it upon himself to say how grateful he was that his teammates gave him such a psychological boost during his recuperation from his shoulder injury. He said they supported him, encouraged him and made him feel as if he were a true part of the organization despite his inability to play.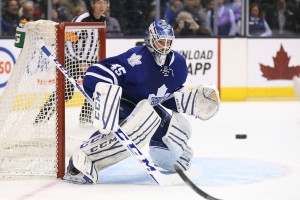 During his tenure in New Jersey, Lamoriello always insisted that injured players were banned — as if their injuries were somehow contagious.  They couldn't hang around with the team.  They couldn't be on the ice with the team, and they couldn't attend team functions.  Instead, they had to skate – if they were able to do so – and undertake training at a distant arena, and they had to do so early in the morning so there could be no interaction with teammates.  And of course, they had to wear a helmet at all times when on the ice – another rule made just for the sake of making rules (unless you think an NHL player can't stand up on his skates).  So, if you were a New Jersey player recuperating from a wrist injury and you went onto the ice alone at your 6:30 a.m. allocated time slot, you had to wear a helmet.  If you didn't, some arena functionary would demand, on Lamoriello's orders, that you don a helmet.  If you didn't, you would be reported.
Lamoriello had lots of functionaries who reported to him. The New Jersey media-relations men (a misnomer if ever there were one) reported to him on what questions the media had asked after games. Workers at the team-designated hotels reported to him on how players staying in their facility had comported themselves on what they thought was their own time. Spy cams were installed in the hall outside the New Jersey dressing room.
When the team was on the road, team dinners were staged. Attendance was mandatory, and no alcohol was allowed. Igor Larionov, a Hall of Fame player, 42 years old and part-owner of a winery, was told he couldn't have a glass of wine with his dinner. One more rule from Lamoriello.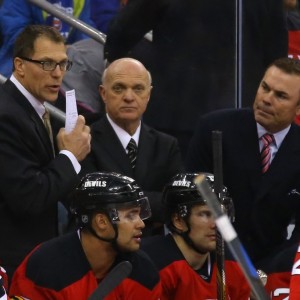 Occasionally, since Lamoriello's resurfacing as GM of the Toronto Maple Leafs, there have been articles saying he was respected by his players. Really? How many such players are there? It cannot be said that Lamoriello deserves no one's respect. He deserves respect from owners, presidents and perhaps other general managers. By their standards, he does a good job. But players? That's a stretch.
Granted, Lamoriello has on occasion gone out of his way to help a player who didn't handle his money well or had unfortunate circumstances befall him.  But for the most part, New Jersey players did not respect Lamoriello. They feared him and were fully aware that he's not known for his warmth and forgiveness. That's not respect.
When Scott Niedermayer was having a contract dispute with the Devils, Lamoriello travelled all the way to the remote area of British Columbia where Niedermayer lived so that he could confront him without his agent being present in the hope that he could browbeat him into accepting a lesser deal.
The Washington Capitals once drafted a player who wouldn't sign with them and sat out for two years. When you're a teenager, two years out of your hockey life is a long time, but the player felt strongly about his position. By sitting out for two years, he earned the right to go back into the draft. Out of what appeared to be sheer spite, the Capitals selected him again. Lamoriello sprinted over to the Caps' table like Usain Bolt to congratulate them on their move. They had put a kid in his place and probably ruined his career, and Lamoriello was delighted.
When Devils backup goalie Mike Dunham was approaching Group VI free agency because he was 26 and hadn't played 60 games in the NHL, Lamoriello ordered coach Jacques Lemaire to put Dunham in the nets for a few seconds at the end of games in which the outcome was determined. That way, Dunham would "play" 60 games, remain contractually bound to the Devils and be unable to test free agency. An arbitrator eventually ruled that legally, Lamoriello was within his rights. But how did the likeable Dunham's teammates feel? How did other players in the league feel?
There are dozens of other examples, but by now, you have the picture and it leads to one burning question for Leafs fans. Does any of this matter? After all, players don't really play for general managers. They play for coaches. It's the coach who they see every day and it's the coach who has a greater impact on their life than anyone else on the team.
But it does matter. It matters a lot. The coach of the Leafs, who was lured away from Detroit at the cost of $50 million, has repeatedly said that he wants to make Toronto a place where players want to come. He wants it to be a place that free agents will target and where youngsters will gladly stay. How is this to happen when the general manager is so notoriously anti-player?
Mike Babcock is not only an excellent coach, he's a fine human being. He has had success at every level and if he tells you he wants to make the Leafs a happy place for players, he wants to make the Leafs a happy place for players. That's the way he is.
How is he going to interact with Lamoriello who wants the players to be virtual prisoners? Under Lamoriello's dictatorial regime, a player's every move is watched and in some cases recorded. A player is told hold how to dress and even how to shave. He is told when he must eat and when he can have a drink. He is told that if he gets hurt trying his best for his team, he is to be shunned. He is told that if there is a way to make an end run around the spirit of the Collective Bargaining Agreement at the expense of a player, that's exactly what will happen.
Brendan Shanahan made a series of good personnel moves after being named president of the Maple Leafs. He brought in people who have excelled at their jobs and who can help the Leafs move forward. It must be conceded that many years ago, Lamoriello excelled too. His teams won Stanley Cups even though their skill-killing style almost killed the NHL in the process.
Shanahan's other acquisitions are young and open-minded. Lamoriello is neither, and the fact that he drafted Shanahan was simply not a good enough reason to hire him. If the Leafs need rules, Babcock should be the one to make them. Shanahan had been making great strides with the Leafs. Now he has taken a huge leap backwards.