Columbus Blue Jackets forward Scott Hartnell is known for being a gritty, in-your-face player that will do whatever it takes for his team to win. He can man the wing on the power play, open the ice for teammates in the offensive zone AND drop the mitts with opposing agitators if needed. He is a first-line talent that has played with the likes of Claude Giroux, Jaromir Jagr, Jake Voracek, Nick Foligno and Ryan Johansen. While Hartnell exhibits quite a few skills on the ice, there is one that he does better then perhaps anyone else. He falls – A LOT.
A Revolution is Born
During the Stanley Cup Final in 2010 when Hartnell's then-team, the Philadelphia Flyers, were battling the eventual Stanley Cup champion Chicago Blackhawks, Flyers fan Seth Hastings noticed Hartnell's propensity for hitting the ice frequently. Taking to social media, Hastings declared as much by tweeting the hashtag 'HartnellDown'. What started as a comical online counter soon turned into a mass following which tracked every moment that Hartnell tumbled on the frozen playing surface.
Hartnell took notice of the online revolution and decided to have some fun himself, tweeting out the same hashtag that Hastings had made popular the season prior. Realizing that something special could be had from all the jovial interactions on social media, Hartnell decided to expand on the trending #HartnellDown to incorporate supporting charities that are focused on three, key components: hockey, children and Scott's hometown located in Saskatoon.
Before long, a team was set-up and Hartnell and his crew officially created a foundation that would serve to give back, both on and off the ice.
The #HartnellDown Foundation Comes to Fruition
With the twitter hashtag following reaching cult status, Hartnell and his team realized that the easiest way to generate charitable funds would be through the distribution of branded material such as t-shirts, hats, sweatshirts and a children's book that he co-wrote with his sister. Through these reasonably priced items, the foundation is able to grow the sport with those for whom it matters most – children.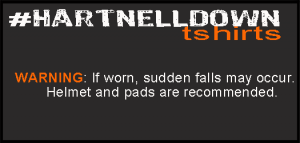 Since the foundation came about during Hartnell's time with the Flyers, one of initial focuses was on underprivileged children in the city of Philadelphia. Through the sale of merchandise and other charitable donations to the foundation, Hartnell provided numerous scholarships for children to attend hockey camp with him in Minnesota. Not only was Hartnell able to promote the game that has meant so much to him from such a young age, he was able to keep a dozen or so kids out off the streets and out of trouble by teaching them valuable life lessons on the ice and in the classroom.
Hartnell himself was pleasantly surprised with how quickly the initiative took off, just a short while after its creation a few years ago.
"And to think, all this came out of a spoof on my reckless style of play," Hartnell says. "It's actually been unbelievable. I never would have imagined it would be this big already and it's only been a few months. People are just loving it, I think because they know every penny is going to a good cause, but still it's blowing my mind."
The fact that the foundation became a success so quickly shouldn't come as a surprise; Hartnell has spent a generous portion of his time giving back in each of the cities that he has played in. His genuine concern and readiness to get involved is what has made him such a fan-favorite throughout the National Hockey League.
Exponential Growth
In just a short period of time, the #HartnellDown Foundation had become one of the top charitable initiatives in the entire NHL. Events were getting bigger, such as the creation of a golf outing, and Hartnell himself vowed to make a donation on each occasion when he failed to remain upright on the ice.
In the 2012 NHL All-Star Game, Hartnell pledged to give $1,000 per fall. Then-teammate Claude Giroux tried to assist in the cause by targeting his own linemate in a game played by the game's greats.
Although Hartnell was traded to the Blue Jackets before the 2014-15 season, he still gives of his time to groups in Philadelphia as well as Columbus. In fact, the foundation now spans the United States and Canada.
Follow the Rules And Count Along
According to the foundation's official website, the first rule of #HartnellDown is that you don't talk about #HartnellDown. All kidding aside, fans and supporters are encouraged to count along by adhering to the following rules and regulations:
If Hartnell falls on his own, that is a #HartnellDown
If Hartnell is knocked down, that is a #HartnellDown
If Hartnell was already down and struggles to get back up, that counts as a double #HartnellDown
Taking a knee to block a shot counts as a #HartnellDown
Just last season, the Down-O-Meter registered 237 instances which resulted in a total donation of $11,850.
As the 2015-16 gets underway, the #HartnellDown initiative is already in full-force.
and it draws a penalty! #CBJ power play, 16.8 left.

— Columbus Blue Jackets (@BlueJacketsNHL) September 26, 2015
Scott Hartnell cares. Hockey Cares.
Visit www.hartnelldown.com to learn more about the foundation and/or support the cause by purchasing merchandise.
Feel free to continue the conversation on twitter by following me @healedbyhockey