Facing Off is a weekly column, featuring Larry Fisher and Andrew Bensch debating five of hockey's hottest topics each and every Monday. From current events like trades and hat tricks, to bigger-picture stuff like scandals and expansion — you name it, we're debating it. Albeit, not always with a serious tone. We're keeping this column light, so keep that in mind when reading, and feel free to join in on the fun by leaving a comment below.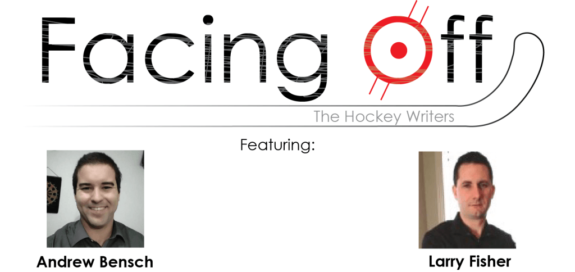 My, how time flies when you're — make that, we're — having fun. Back at the beginning of August, Andrew and I launched this Facing Off column to rave reviews, and here we are publishing our 10th edition today, serving as our season preview.
Plenty has transpired over the last 10 weeks — even during those dog days of summer — and we've both been right and wrong on a lot of fronts. Andrew called Cody Franson to Buffalo (I had predicted Boston), but I earned a wee bit of redemption by getting two of my top three professional tryouts turned contracts in Jonas Gustavsson (Boston) and Steve Bernier (N.Y. Islanders). I really thought Curtis Glencross would force his way onto that Toronto roster too, but chances are he'll stick in Colorado now.
Auston Matthews is also living up to my point-per-game prediction in Switzerland so far, but I really missed the boat on Slava Voynov by saying the Kings should suit him up instead of shipping him out. Even though Voynov "willingly" went home to Russia, Andrew gets the upper hand there too.
I'll admit that I've been more miss than hit so far — see also Mike Richards here and Brent Seabrook here — but I stand by some of my yet-to-play-out predictions such as Connor McDavid winning the Calder Trophy, Claude Julien being the first coach fired, and the Oilers ending Canada's Stanley Cup drought before 2020. That said, I wouldn't bet a dime on the latter, and losing Jordan Eberle for a month (or more) is going to hurt Edmonton to start this season.
"We have a lot of good, young players playing well… I'm sure those guys will fill in." @ebs_14 on injury absencehttps://t.co/pzYftEDedm

— Edmonton Oilers (@EdmontonOilers) September 30, 2015
We've debated 50 topics to date — five per week — and you can check them all out here.
That's enough about the past, let's look forward to the future . . .
Prediction time, who are the NHL's four division winners for 2015-16?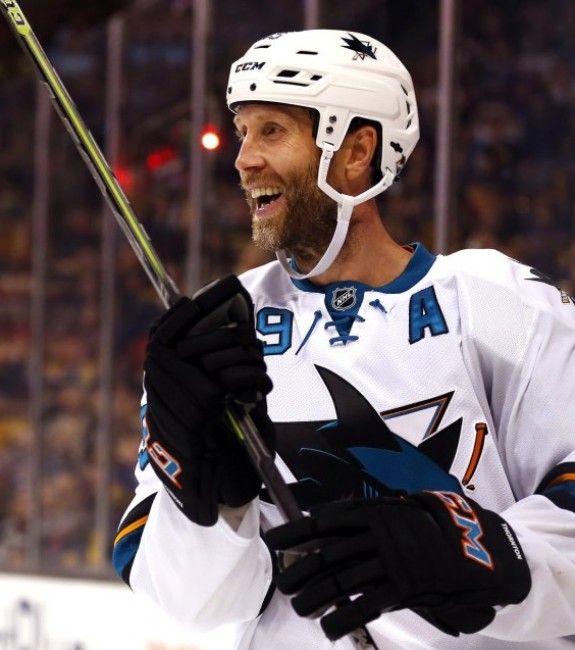 BENSCH: Lightning, Islanders, Stars and Sharks. Next Question? Oh, I guess readers might be curious to some clarification since both San Jose and Dallas missed the playoffs last season. Most of you know I grew up a Sharks fan and still admittedly bleed teal, so you may think 'hey, he is being a total homer.' The facts are the facts though, and this Sharks team is better on paper than they were two years ago when they finished with 111 points. Sure, they missed the playoffs last year, but they had previously qualified for 10 straight seasons. Missing the playoffs is the anomaly here. One might think the core is too old, but the only player in their core having shown any signs of decline is Patrick Marleau and the law of averages state his crazy career-low shooting percentage from last year is bound to improve. He scored 19 goals and 56 points last season in what was considered a terrible year. Even pessimistic outlook for Marleau is 25 goals and 62 points. Still pretty damn good production for a top-six winger. Dallas barely missed the playoffs last year with Tyler Seguin getting injured during the second half and Valeri Nichushkin injured all season. Nichushkin is back and the Stars also added Patrick Sharp up front and Johnny Oduya to help bolster the blue-line. Antti Niemi provides some depth in goal. This team got a whole lot better. Confidence is big in hockey, and of all the teams in the stacked Central, Dallas has the most confidence and mojo going right now. The Blackhawks have the Kane drama going on, the Blues have injury concerns and playoff flops hanging over them, and the Predators have to prove last season was no fluke. As for the Eastern division winners, seems pretty obvious to me the Lightning are the best team in the conference, and the Islanders are just a scrappy team that is easy to root for. That energy fourth line of Casey Cizikas, Cal Clutterbuck and Matt Martin is one of the best fourth lines in hockey.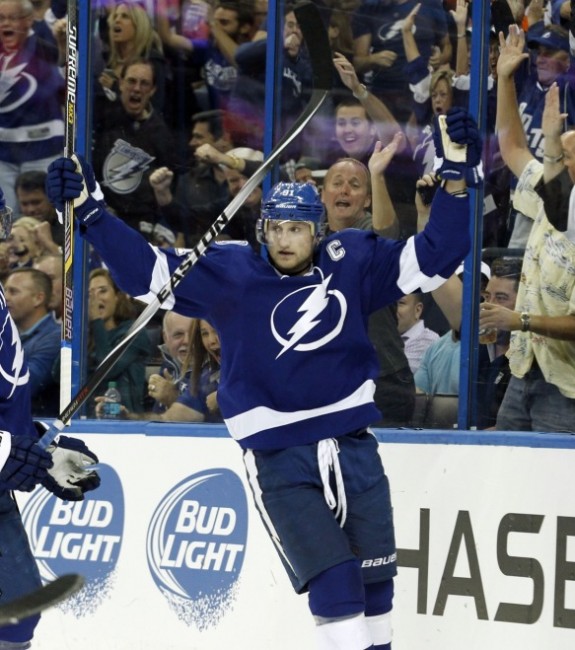 FISHER: Normally I would start in the West like Andrew, but I'm leaving the Central Division until last because, quite frankly, I haven't made up my mind yet. So I'll tackle the East first for a change. I really like the Tampa Bay Lightning in the Atlantic and think they could run away with that division title by upwards of 10 points at season's end. Montreal is probably Tampa's biggest challenger again, followed by Detroit, but the Lightning are going to be a year older and a year better thanks to their playoff experience. The Metropolitan has a lot of parity this season — much like the aforementioned Central — but I'm going with the Washington Capitals. I feel the additions of T.J. Oshie and Justin Williams will help put this team over the top, at least in the regular season. Alex Ovechkin has shown no signs of slowing down despite recently turning 30 years old, and Braden Holtby is just entering his prime between the pipes. The competition is tough, however, with both New York teams — the Rangers and Islanders — looking great on paper, while the Pittsburgh Penguins and Columbus Blue Jackets are going to be much improved with the additions of Phil Kessel and Brandon Saad, respectively. I see the Metro sending all five of those teams to the playoffs, and if the Blue Jackets can stay healthy, they might do more than just squeak in. Crossing over to the Pacific, I see the Anaheim Ducks as the class of that division and the Western Conference in general. Bob Murray has built a team with great depth at every position and no real weaknesses, so I see no reason the Ducks won't at least win their division. The Pacific is also arguably the league's weakest division, with the Coyotes bringing up the rear as the only lock (league-wide) to miss the playoffs. I see the Kings bouncing back from their Stanley Cup hangover and the Flames continuing to rise up the ranks, but the Sharks, Oilers and Canucks (in that order) are playoff long-shots at this point. Now for the Central, I've given it some more thought and I'm going with the champs, taking Chicago to win the division on the presumption that Patrick Kane is innocent and doesn't miss a game. I'll elaborate more on the Blackhawks in another answer, but if Kane ends up being guilty and getting suspended, then I like the Minnesota Wild as a dark-horse to assume that division throne. I know St. Louis and Nashville finished 1-2 last season, but the Blues are giving me bad vibes and I don't agree with Predators GM David Poille that "this is their year." Those teams will be fighting for their playoff lives, especially if the Dallas Stars stay healthy and get decent goaltending. Winnipeg and Colorado can't be written off either, so however it shakes down, I fully expect the Central to also send five teams to the post-season.
Who wins the Presidents' Trophy (not that it matters)?
BENSCH: 2000 Blues, 2009 Sharks, just off the top of my head, this is the most meaningless trophy. Home ice these days is extremely overrated. For some reason, the Sharks actually choose to have banners of their Presidents' trophy "win" both at their practice facility and at the SAP arena. They are extremely embarrassing banners that the organization should take down. Nobody cares.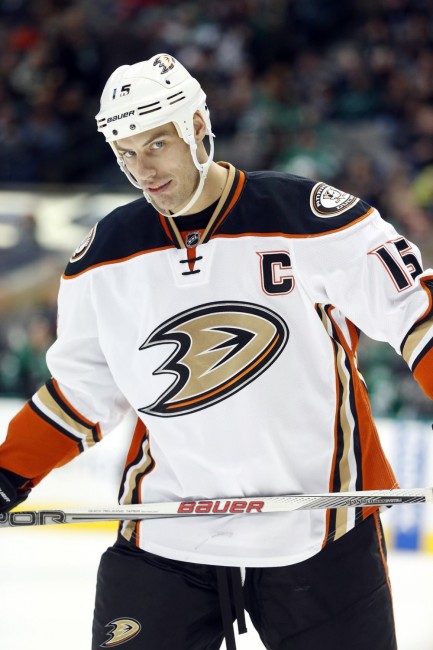 FISHER: I knew Andrew would be groaning about this question and taking the "Who cares" approach. For the second straight week, he flat-out refused — or perhaps forgot — to answer the question. He's starting to remind me of Torts on the TSN Quiz. But truth be told, I tend to agree with Andrew that the Presidents' Trophy ranks right up there with the most meaningless trophies in professional sports, and as far as I know the players don't get any contractual bonuses for winning it either. Sure, it's significance is securing home-ice advantage throughout the playoffs and that obviously means something, but with so much parity nowadays, the top seeds rarely make it to the Stanley Cup final and could just as easily get ousted in the first round. The Presidents' Trophy does speak to a team's consistency and continued dominance over the course of the regular season — and 82 games over six months is a long time — so perhaps coaches and owners take more pride in this piece of hardware than fans and reporters. All that said, I see Anaheim as the frontrunner here for the reasons I mentioned above — deep roster in easy division. Tampa Bay would be my second choice, or my runner-up, with the Lightning looking to build on their impressive playoff run with essentially the same team for this season.
Can the Chicago Blackhawks repeat as Stanley Cup champions? Are they even Cup contenders after their off-season roster purge?
BENSCH: I'm never counting out a Jonathan Toews captained Blackhawks team, period. Toews could line up with John Scott and George Parros and still find a way to win hockey games.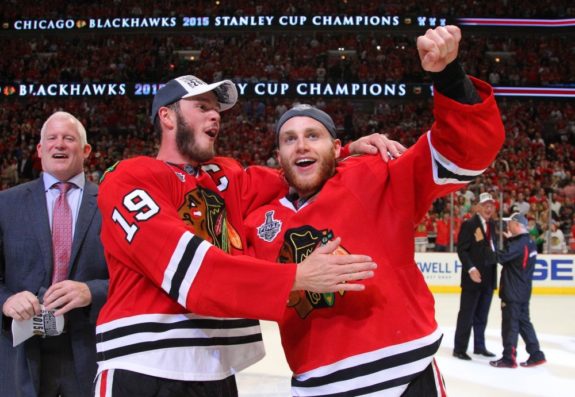 FISHER: Andrew wasn't kidding when he told me his answers would be shorter than normal this week — a man of few words but, really, what more needs to be said on this front? He makes a valid point about Toews, but I'll try to pick up the slack with some filler here. Chicago's chances obviously depend on Patty Kane, but assuming he's in the clear now, then yes, it's very possible. The Blackhawks have their core locked up long-term — Toews, Kane, Duncan Keith, Brent Seabrook and Corey Crawford — and that group is as good as any in the league. Granted, they traded away their top three left-wingers in Saad, Sharp and Kris Versteeg, but Artem Anisimov is an upgrade on Brad Richards as second line centre and Teuvo Teravainen is primed for a breakout season. Trevor Daley is better than Johnny Oduya to round out the top four on defence with Keith, Seabrook and Niklas Hjalmarsson. So with Crawford and Scott Darling providing solid goaltending, this is still the team beat in my opinion. Despite all the turnover, I think this Blackhawks team has the best chance of repeating in recent memory, and maybe this time EA Sports will let Kane be their cover boy for NHL 17! How ironic, or fitting, would that be?
Which off-season addition — on or off the ice — will be the biggest difference-maker in each conference?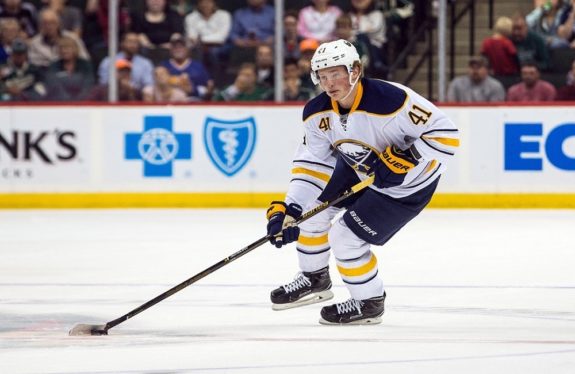 BENSCH: I'm going to go with Jack Eichel in the East. After all, I have the Sabres making the playoffs this year and his presence in that lineup has that city buzzing. The team around him is much better than the Buffalo roster of a year ago and a can't-miss young player like Eichel will be the difference to push them into the post-season. In the West, I'll go with Dougie Hamilton in Calgary. He makes that team incredibly tough to beat on the back end. With Giordano, Brodie and Hamilton, the Flames have three top-notch defensemen leading the way. The Flames were a mirage last year, but this year they are the real deal.
FISHER: First off, I like Andrew's picks, but I'm going with the anti-Eichel, that being McDavid in the West, and I'll reluctantly go with Kessel in the East. McDavid has yet to play a regular-season game but he's already living up to the hype as a generational talent and the best prospect to come along since Crosby a decade ago. McDavid is going to take the league by storm and be a point-per-game guy as a rookie. I say that with very little hesitation — if he plays every game, he'll finish with 82-plus points. Off the ice, McDavid's new coach Todd McLellan might be my runner-up as the biggest difference-maker in the West. Todd Nelson had a nice run to end off last season in Edmonton, but McLellan is more established and his training camp has been night-and-day different from Dallas Eakins, which bodes well for the Oilers going forward. McLellan even won some brownie points with the Edmonton media by bringing back their donuts. Knowing that, Kessel probably wishes he got traded there instead of to Pittsburgh. In all seriousness, landing with the Penguins — and just getting out of Toronto in general — was the best thing that could have happened to Kessel. He's no longer flanking his buddy Tyler Bozak, but he's quickly making friends with — or at least on-ice chemistry with — that Crosby character. Talk about a match made in hockey heaven. Crosby has never had a winger with Kessel's scoring ability, a guy to finish off his sweet set-ups on a consistent basis. No offence to Chris Kunitz, Pascal Dupuis or David Perron, but Kessel is on a whole other level. And vice-versa, Crosby is the best player in the game today and Kessel has never had a centre near that calibre. Bozak and Nazem Kadri couldn't combine to tie Crosby's skates, and even back in Boston, Kessel wasn't blessed with an elite set-up man. He's got that now and he could get 40-plus goals as a result this season. And, no, Mike Babcock won't be able to work any miracles in Toronto, at least not this season.
Most surprising players on opening-night rosters and/or most surprising training-camp cuts?
BENSCH: I was surprised that James Sheppard didn't catch on with Columbus. The former Shark is a useful third-line player in a pinch, and terrific fourth-line player. Teams looking for depth forwards should bring him in. Definitely surprising to hear Marko Dano sent down by Chicago, he seemed like a lock to be on the roster.
A week ago, Marko Dano was lighting it up on the #Blackhawks top line. Today, he was cut from camp. Wow.

— Mark Lazerus (@MarkLazerus) October 2, 2015
FISHER: Dano in Chicago was a stunning demotion, with most assuming he'd start the season on the top line with Jonathan Toews and Marian Hossa. Dano didn't really look out of place there in the pre-season, so I definitely didn't expect him to be AHL bound — especially not as a key piece coming back for Saad. Steve Moses in Nashville was another surprise cut, considering the Predators are hard up for scoring forwards and Moses led the KHL in goals last season.
https://twitter.com/NHLbyMatty/status/649775510893891584
On the flip side, who saw Anton Slepyshev as a first-line forward in his North American debut? Not this guy, and although his spot in Edmonton's lineup was aided by Jordan Eberle's injury, Slepyshev earned that opportunity with an impressive pre-season performance. He'll start alongside Connor McDavid and Taylor Hall. The Oilers actually made a few surprising moves, also waiving two veterans in local goaltender Ben Scrivens — thus appointing Anders Nilsson as Cam Talbot's backup — and Russian defenceman Nikita Nikitin, who cleared and was assigned to the AHL but could still be Europe bound too. Teams have until Tuesday to declare their 23-man rosters, so I'm sure there will be more surprises to come tomorrow.
Normally, we'd be wrapping up after five topics, but not today. With this being a special anniversary edition of Facing Off, we wanted to treat our readers to a bonus topic — albeit a softball: Which opening-week game(s) are you most looking forward to? Which other dates do you have circled on your calendar?
BENSCH: Almost certainly both games where Eichel and McDavid go head-to-head, as well as the opening-night game between the Sharks and Kings (yeah, yeah, I know I'm a homer) but let's consider the fact the Kings tried to move Martin Jones out of the conference to avoid him going to a rival and then the Sharks simply got him anyway from Boston. Jones going up against his former club in Los Angeles on opening night will be a great matchup.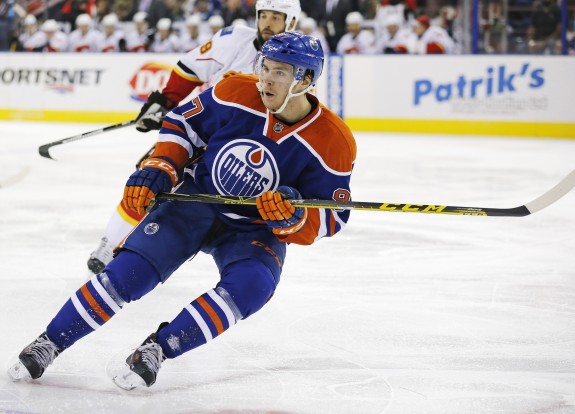 FISHER: As you can probably imagine, based on my previous answers, I'm pumped to see McDavid's NHL debut on Thursday in St. Louis — but St. Louis, of all places, how memorable is that going to be? Why not at home in Edmonton? Or even in Calgary or Vancouver? Heck, start him in Toronto, New York, Los Angeles … c'mon Mr. Schedule Maker, you could have done better than that. On opening night this Wednesday, the Blackhawks-Rangers matchup should be a gooder considering they nearly met for the Cup this past spring with the Rangers bowing out in the conference final to Tampa Bay. As of today, it sure looks like Kane will be in Chicago's lineup too. Elsewhere, Buffalo opens at home against Ottawa, with goaltender Robin Lehner facing his old team and Jack Eichel making his NHL debut on Thursday. There is lots of intrigue around the Sabres in general, so that should be another fun one. Longer-term, Crosby-versus-McDavid for the first time, in Edmonton on Nov. 6 — two days before my 31st birthday — is a game I'm really looking forward to. Ditto for Round 1 of McDavid-versus-Eichel, also in Edmonton a month later on Dec. 6 — although their Round 2 in Buffalo on March 1 might be more intense if either or both teams are still in the playoff hunt. I follow the Oilers closer than most teams, and it would definitely be cool if their season-ending home-and-home with the Canucks had playoff implications, but that's probably wishful thinking. Of course, I can't forget the NHL's marquee events such as the Winter Classic — an Original Six matchup between host Boston and Montreal. You're not a true hockey fan if you don't look forward to that every year — that, and the 24-7 promotional series leading up to the big game. I can't wait for the puck to drop!
---
So who won this round of Facing Off? Feel free to weigh-in with your opinions in the comments below. We will be checking in periodically to both defend and expand on our initial answers. If you want to see us face-off over a topic, we're open to suggestions as well.
---
Larry Fisher is a sports reporter for The Daily Courier in Kelowna, British Columbia, Canada. Follow him on Twitter: @LarryFisher_KDC.
Andrew Bensch has been credentialed to cover the San Jose Sharks since 2010. He graduated with his BA in Broadcast Electronic Communication Arts in 2013 from San Francisco State University. Follow him on Twitter: @ViewFromBensch.