When something as critical as initial puck possession needs to be decided, hockey players face off. At times, when the puck drops, the gloves are shed simultaneously. One of the most memorable fights of this nature came during the 2009 playoffs. Two dominant Western Conference centers in Joe Thornton and Ryan Getzlaf went toe-to-toe and fist-to-face at the opening face off of Game 6 in their quarterfinal series. You can relive the moment in the video down below.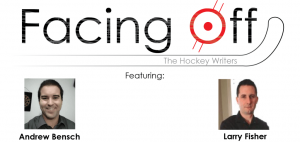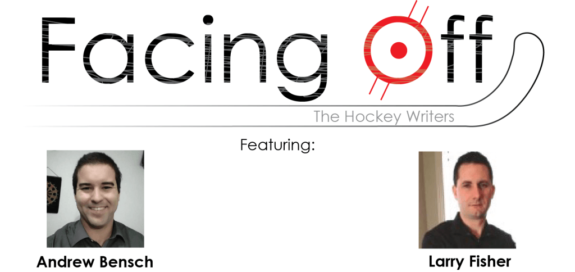 Now, when breaking down hockey news on a regular basis, hockey writers will also (figuratively speaking) drop the gloves and start pummeling away on the keyboard. Should Cody Franson sign in Boston? Should the Canucks move on from the Sedin twins? These are just a couple current topics that can lay witness to hockey columnists in a "sweater-over-the-head" type battle of wits.
Every Monday yours truly and Canadian colleague Larry Fisher will debate hockey's hottest topics. On the rare occasion, we will have similar opinions, but more often than not we won't see eye to eye, more like fist to eye. Last week in our inaugural edition, we faced off on Connor McDavid's Calder chances and whether or not Alex Semin will be a fit in Montreal.
Without further ado, here are our takes on this week's burning questions.
Which team will end up signing Cody Franson?
BENSCH: If it comes down to Boston and Buffalo, common wisdom suggests Franson would prefer the latter. Just a year ago that would have sounded crazy to suggest a quality young player would prefer the Sabres over the Bruins, but times change quickly in the NHL. Buffalo, despite the Ryan O'Reilly drama, has much more positive buzz going into this upcoming season than Boston does. With Jack Eichel, O'Reilly and Evander Kane in the mix now up front, the Sabres have the makings of a legitimate roster again. The Bruins still have the elite goaltending of Tuukka Rask, but they have holes all over their lineup in front of him.
Who wants a piece of this? #NHL

— Cody Franson (@codyfranson4) July 6, 2015
FISHER: I agree that the city will almost certainly start with a B, but I'm going with Boston over Buffalo. Reports have been leaning that way for weeks, but word is the Bruins are trying to move out some salary — possibly veteran defenceman Dennis Seidenberg — to make room for Franson's signing. Dougie Hamilton leaves huge shoes to fill in Boston, but Franson plays a pretty similar style and makes sense as a poor man's replacement. Franson might like Buffalo's proximity to Toronto where he obviously still has friends, but Boston has been in hot pursuit from the opening day of free agency and Don Sweeney will eventually get his man. I'm thinking a four-year, $22-million contract, or $5.5 million annually.
Thoughts on the new coach's challenge?
BENSCH: Covering the Sharks in recent years, I've seen far too many good goals disallowed on garbage interference calls or simply the refs/Toronto not deciding to review a close play. There was a game a couple years ago where Justin Braun clearly scored a good goal in overtime but Miikka Kiprusoff flopped after mild contact with his own teammate and the refs called goaltender interference. The NHL would benefit from a slight uptick in goal scoring and they need to stop disallowing good goals on soft or (in the Braun case) no contact with the opposing netminder. See the Braun disallowed goal in the highlights below.
FISHER: It's hard not to like a rule implemented to make the game better. The delays should be few and far between, and even if the coach's challenge only produces (or overturns) one goal all season, that is still one more right call, which is what everybody wants to see. If there is a way to get it right, you get it right. It also gives the coaches more involvement in the game, a reason to take their hands out of their pockets once in a while. Imagine if John Tortorella was still behind the bench? Flags would be flying on a nightly basis, but I can see Patrick Roy becoming pretty trigger-happy this season. I find the punishment for being wrong a little lame. Teams will lose their timeout, just like in the NFL, but why not make the coaches lose their pants for the rest of the period just like when your golf shot doesn't make it past the women's tee box?
Should the Canucks consider trading the twins?
BENSCH: The Canucks made the playoffs last season, but let's be real here, nobody sees them winning the Stanley Cup any time soon. Unlike San Jose, which has made some big moves this offseason to put the Sharks back in contention, the Canucks will not come close to repeating their 2014-15 success. Not with how much better that division got this offseason. The Canucks are a team that should go into full rebuild mode, so that means if they can get the Sedin twins to waive, they should move on.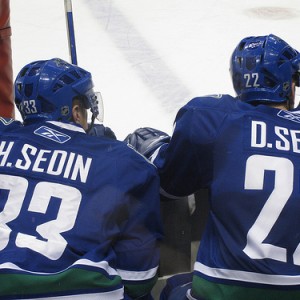 FISHER: It is easier said than done, not only because of their no-trade clauses, but also because the Sedins are so entrenched in the community. They are good Samaritans away from the rink and the fan base isn't pushing to get rid of them. Their play hasn't declined all that much and even when it does, they will continue to be good mentors for the young forwards the Canucks have been drafting. That is the argument against trading them, but I can certainly see where Andrew is coming from here. If the Sedins are open to a change of scenery, it might be smart to make that move sooner than later. Trade them now (or next summer) while their value is still high enough to command a quality return, rather than wait too long like Calgary did with Jarome Iginla. But I could totally see them being career Canucks and retiring in Vancouver, even if it means dropping down the depth chart in a couple years.
Which rookie outside Connor McDavid and Jack Eichel has the best chance at the Calder Trophy?
BENSCH: I'm going to go with Max Domi in Arizona. The 2013 first-round draft pick has yet to make his NHL debut as the Coyotes have continued to let him develop in junior. This season, though, the highly skilled forward is prime for the big show and given the available ice time in Arizona, I'm expecting big things. I may be biased to set-up guys, but we all have seen that slick between-the-legs saucer pass Domi made while with the Knights. The hands on this kid are ridiculous! He likely won't sniff the Calder behind the two top dogs, but my bet is on Domi finishing third in the race.
FISHER: Didn't I already engrave McDavid's name into the Calder Trophy in our Facing Off debut last week? Nevertheless, that's a solid bet by Andrew, but there is no shortage of options here. I always like a good sleeper, so I'll go way off the board and pick Artemi Panarin. Who? The Russian forward who signed with the Chicago Blackhawks during their playoff run and is now penciled in alongside Jonathan Toews and Marian Hossa on the top line. With the trades of Patrick Sharp and Brandon Saad, both left-wingers, that door swung wide open for Panarin and I believe he could make the most of the opportunity. He'll turn 24-years old in October and has been playing pro for a half-dozen years already, but he's still Calder-eligible. So if this late-bloomer can make a successful transition to North America, then he's got as good of a shot as anybody not named McDavid or Eichel. Speaking of shots, Panarin scored 26 goals in the KHL last season, one more than well-known teammate Ilya Kovalchuk, so you know he can put the puck in the net.
Can someone on the Devils please eclipse 50 points?
BENSCH: Last season, Adam Henrique led the Devils with 43 points. Neither Henrique nor anyone else on the Devils' roster looks like they have any potential to eclipse 50 next season. First-round pick Pavel Zacha has no reason to play at the NHL level since the Devils don't have any real playoff expectations. No need to rush him to the NHL just to suffer a losing season with little offensive support around him.
Really looking forward to Scott Gomez finishing the season as the leader in points for the New Jersey Devils.

— Devils Insiders (@DevilsInsiders) January 20, 2015
FISHER: I can't fathom any team's leading scorer finishing with fewer than 50 points this season, especially with the introduction of 3-on-3 overtime. More games are going to end that way, which means more points are going to be scored. Yes, even for the Devils, who have been notoriously low scoring and terrible at the shootout. I could see two New Jersey players topping 50 points, but shockingly I don't have Henrique as one of them. I'm going with Mike Cammalleri and the ageless Patrik Elias upping their respective totals from 42 points (in only 68 games) and 34 points (in just 69). If they can stay healthy, they are both capable of resurgences under new coach John Hynes, but I highly doubt either of them tops 65 points.
So who won Round II of Facing Off? Feel free to weigh-in with your opinions in the comments below. We will be checking in periodically to both defend and expand on our initial answers. If you want to see us face off over a topic, we're open to suggestions, as well.
---
Larry Fisher is a sports reporter for The Daily Courier in Kelowna, British Columbia, Canada. Follow him on Twitter: @LarryFisher_KDC.
Andrew Bensch has been credentialed to cover the San Jose Sharks since 2010. He graduated with his BA in Broadcast Electronic Communication Arts in 2013 from San Francisco State University. Follow Andrew on twitter: @ViewFromBensch.