The history of the offer sheet in the NHL is an interesting one. In the 1990s, the offer sheet was a popular tool among GMs, with 25 being extended in the decade, and to some popular names like Scott Stevens, Teemu Selanne, and Sergei Fedorov.
But from 1999 to 2005, a dead period existed when there wasn't a single offer sheet signed. There has been a small renaissance over the past ten years (eight total offer sheets), but not to the degree of the 1990s. The decline is likely due to the increased emphasis on building a team internally and through the draft, which derived from the installation of the salary cap.
There have been some notable offer sheets extended, and now that the picks offered in return have mostly turned into NHLers, we can evaluate which team "won" the transaction in retrospect.
Yes, if certain teams decided to match or not match it would have changed who was available at the picks, but we'll ignore that for now. In addition, some picks changed hands after the offer sheets were accepted/rejected.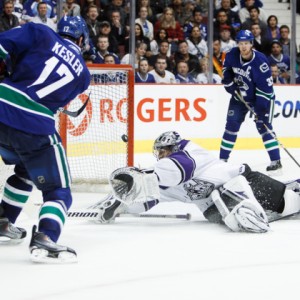 Ryan Kesler: 1 year, $1.9M with Flyers in 2006 (Matched)
Compensation: 2nd round pick (Denis Bodrov)
This one is a no-brainer for the Canucks in hindsight. Kesler was in the beginning stages of his career, and had accumulated 28 points over 110 NHL games in his career. It took a few more seasons, but Kesler broke out in a big way with the Canucks.
He became one of the most respected two-way centers in the league, was a regular 20 goal scorer (reaching 40 once), and won the Selke Trophy in 2011. He was later dealt to Anaheim for a solid return for the now rebuilding Canucks.
Bodrov made a 17 game appearance in the AHL in 2009-10, but returned to the KHL and has settled in as a regular in Russia who is unlikely to leave any time soon.
Winner: Canucks
Thomas Vanek: 7 years, $50M with Oilers in 2007 (Matched)
Compensation: 4 1st round picks (Tyler Myers, Magnus Paajarvi-Svensson, Taylor Hall, Ryan Nugent-Hopkins)
Coming off a stellar sophomore campaign in which he potted 43 goals, Vanek was in line for a payday. He finished 5th in the league in goals, and at only 23 years old, still had a long career ahead of him. Vanek would continue to be a highly productive winger that scored over 30 goals three more times in his career.
However, Vanek's 2006-07 would end up being the best of his career. While productive, the return the Sabres could have gotten is more valuable than Vanek. They ended up getting Tyler Myers anyway, and Hall and Nugent-Hopkins are highly productive former 1st overall picks.
MPS ended up being a bust, but the rest of the return was so good. The Oilers lucked out when the Sabres matched.
Winner: Oilers
[optinform]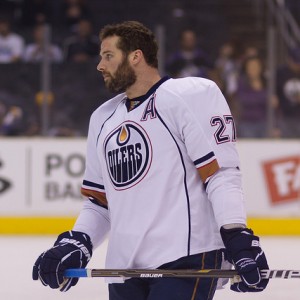 Dustin Penner: 5 years, $21.5M with Oilers in 2007 (Not Matched)
Compensation: 1st, 2nd, 3rd round picks (Tyler Myers, Justin Schultz, Kirill Petrov)
After the Sabres matched the Vanek offer sheet, the Oilers turned around and extended another one to Penner 20 days later. This one is the only one on the list that was not matched, with the Ducks opting to take the picks instead of keep Penner.
Schultz ended up on the Oilers anyway, but looking solely at the value the Oilers could have retained without the offer sheet, this one looks like a loss for Edmonton. Penner played three and a half seasons in Edmonton with mixed results. He had a career year in 2009-10 where he looked like a premier power forward who scored a career high 63 points.
But in the other seasons, he never broke the 50 point barrier. Inconsistency mired his time in Edmonton until he has traded to the Kings.
Myers has looked great at points in his career and appears to have found his footing in Winnipeg, Schultz is at the least a good PP specialist, and Petrov has finally come to North America for 2015-16 after years in the KHL.
Winner: Anaheim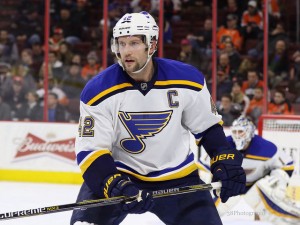 David Backes: 3 years, $7.5M with Canucks in 2008 (Matched)
Compensation: 2nd round pick (Anton Rodin)
Backes' situation is remarkably similar to Kesler's. He was in the beginning stages of his career, playing two seasons in the NHL in which he scored 54 points over 121 games. The Blues matched within hours of the offer sheet being made, and they absolutely made the right call.
Backes has turned into one of the best power/two-way centers in the NHL. He's routinely near the top in terms of hits leaders in the league, is a regular 50 point scorer, finished in the top five of Selke voting the last four years, and has been the Blues' captain the past four seasons.
Rodin has never played an NHL game, but has been a highly productive player in Sweden the past two seasons.
Winner: St. Louis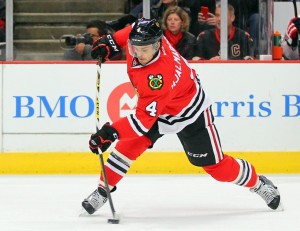 Niklas Hjalmarsson: 4 years, $14M with Sharks in 2010 (Matched)
Compensation: 1st, 3rd round picks (Zack Phillips, Justin Sefton)
Coming off a Stanley Cup victory, the Blackhawks had to do some serious salary cap managing to be compliant. The Sharks saw it as an opportunity to poach Hjalmarsson, a budding stud defensive defenseman. It took some maneuvering, but Chicago found the salary cap space to retain him.
Hjalmarsson has proven to be a reliable stay-at-home defenseman. He's not flashy, but is very effective in a top 4 role and blocks a lot of shots. He has been a key cog in each of the Blackhawks' three Stanley Cup championships over the past six years.
Phillips was a solid point producer in the QMJHL, but has been unable to translate it to the professional ranks over three AHL seasons. He's likely a career AHLer. Sefton has been unable to stick even in the ECHL.
Winner: Chicago
Shea Weber: 14 years, $110M with Flyers in 2012 (Matched)
Compensation: 4 1st round picks (Samuel Morin, Travis Sanheim, Ivan Provorov, 1st '16)
The Flyers rocked the hockey world when they made this offer sheet to Weber, the biggest in NHL history. Many thought the Predators wouldn't match because of the massive amount of upfront money the Flyers built into the contract with signing bonuses.
They matched, and Nashville retained one of the best defensemen in the league for another 14 years. Weber has continue to be an exceptional player, finishing 3rd and 4th in Norris Trophy voting since the offer sheet.
However, it's impossible to decide who really won this deal until the later years of the contract. Weber will carry a cap hit of $7.857 per year until 2026, when he's 39 years old. If Weber can remain an elite NHL defenseman for another 5-6 years, Nashville would come out on top.
Smart read @rgilbert526 on @SonsofPenn: #Preds may have saved #Flyers from themselves by matching Shea Weber offer- http://t.co/uJ0clc8k7W

— Frank Seravalli (@frank_seravalli) July 22, 2015
None of the Flyers' trio of defensive prospects taken with the picks has played an NHL game yet, but appear to have a lot of promise. If they all fulfill their potential (highly unlikely), Flyers fans will be happy Nashville matched.
Winner: Undetermined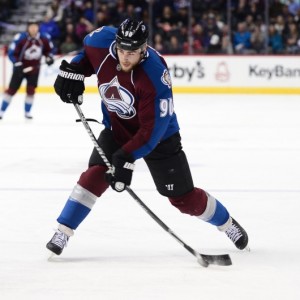 Ryan O'Reilly: 2 years, $10M with Flames in 2013 (Matched)
Compensation: 1st, 3rd round picks (Sam Bennett, Brandon Hickey)
Though this one is the most recent offer sheet signed in the NHL, we can easily conclude who won. It has nothing to do with who the Flames gave up, though both show promise as being future impact players in the NHL.
It all has to do with the absolute disaster that the Flames avoided when the Avalanche matched the offer sheet. Unbeknownst to then Calgary GM Jay Feaster, had the Avalanche declined to match the offer sheet, O'Reilly would have had to clear waivers before becoming a Flame.
That means 29 teams would have had a shot at getting O'Reilly for free, and you can bet every single team would have put in a claim. He would have had to clear waivers because he played in two KHL games during the 2012-13 lockout.
The Flames win because they avoided giving up a lottery pick and solid defensive prospect in exchange for O'Reilly, and then immediately losing O'Reilly for nothing.
Winner: Flames