Prior to the beginning of the 2015 NHL pre-season, if one had been asked for their opinion of Edmonton Oilers prospect Anton Slepyshev, the vast majority would have answered with the following statement:
Who in the world is Anton Slepyshev?
However, after getting his first taste of NHL hockey this pre-season, in which he has been extremely impressive, Slepyshev appears not only ready, but also deserving of being named to the Oilers' opening night roster.
---
Getting to Know Slepyshev
Since Slepyshev is a relative unknown in the North American hockey world, let's take a quick minute to discover where he has played, and how his particular choices in development have led him to the Oilers.
In 2012, following his first year with Novokuznetsk Metallurg of the Kontinental Hockey League (KHL), Slepyshev was projected to be a mid-round selection in the annual NHL Entry Draft. However, the Draft came and went, and Slepyshev's name was never called, as most NHL teams felt he would not be willing to leave the KHL.
However, following his 2012-13 season which was split between Metallurg and Ufa Salavat Yulayev, Slepyshev once again entered the NHL Draft, and was subsequently selected by the Oilers in the third round, 88th overall.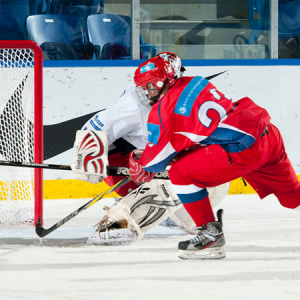 Slepyshev spent the next two years following the draft in the KHL, where his game steadily continued to develop. As a result, the Oilers signed Slepyshev to a three-year entry level contract this past May, indicating his willingness to leave the KHL.
In addition to spending four successful seasons in the KHL, a league which is known for its reluctance to play younger players significant minutes, Slepyshev also represented Russia internationally on four occasions, playing in both the Under-18 and Under-21 IIHF World Championships, captaining his nation is 2012 and 2014.
[Related: Anton Slepyshev Fighting NHL Job]
---
Is He Ready for the NHL?
So is Slepyshev ready to play, and contribute, at the NHL level?
At 6 foot 2, 200 pounds, Slepyshev clearly has the size and strength to compete in the NHL, and at the young age of 21, can still stand to add additional strength to his frame.
Having played four seasons in the KHL, Slepyshev has experience playing against older, stronger, and generally more talented men as a teenager, experience which would do wonders in his acclimation to the NHL game. In fact, in his final KHL season as a 20 year-old, Slepyshev netted 15 goals and 25 points over 58 games and was one of the KHL's top scorers in his age group.
Thus far, Slepyshev has carried his strong play over into the 2015 NHL pre-season, illustrating his ability to play at a high level having scored two goals and four points over seven games played.
Tic-tac-GOAL! #Oilers lead 1-0 after the 1st. ? pic.twitter.com/Okj8zErV1g

— Edmonton Oilers (@EdmontonOilers) September 26, 2015
As a result, Slepyshev has put himself into strong, well deserved consideration for a job with the Oilers come the beginning of the 2015-16 season, a position which is accentuated by the unfortunate loss of Jordan Eberle to injury. With Eberle slated to miss four to six weeks, unlikely to return before November, Slepyshev could fit in nicely within the Oilers' top-six to begin the season. A natural winger, Slepyshev has seen a considerable amount of playing time alongside a number of the Oilers' top players, including young stars Taylor Hall, Connor McDavid, Leon Draisaitl and Nail Yakupov, and has regularly been amongst the best on the ice.
#Oilers Bob Green on Slepyshev: "Pretty exciting. Has all the skills you'd expect a Russian to have. He can skate, handle the puck & shoot." — Chris Wescott (@TheChrisWescott) September 26, 2015

As stated by Bob Green, the Oilers' Director of Player Personnel, Slepyshev is an incredible talent with a wealth of experience despite his young age. Not only does he clearly have the skills to be a threat offensively, but his big frame and quality skating skills provide Slepyshev with the potential to be an impact power forward in the NHL.
Further, Head Coach Todd McLellan has also been extremely impressed by the surprising play of Slepyshev, indicating that he has truly gained the attention of the Oilers' coaching staff.
"I think Slepyshev is getting better night after night. He's really starting to open our eyes up to what he's capable of doing" – Todd McLellan
On top of impressing Oilers management, Slepyshev has also impressed his fellow teammates with his high skill level and work ethic, in particular, McDavid.
"He's got a great shot and he can skate. That combination of size and skill is pretty dangerous. Obviously, he's a pretty elite player." – Connor McDavid
Thanks to an impressive pre-season with the Oilers, Slepyshev has put himself into direct consideration for an opening night job with the Oilers, and deservedly so. Based on his play to date, it appears as though Slepyshev could both make the Oilers roster out of camp, as well as ensure his place on Edmonton's roster for the considerable future.