Facing Off is a weekly column, featuring Larry Fisher and Andrew Bensch debating five of hockey's hottest topics each and every Monday. Except this Monday, and the next couple, as Félix Sicard fills in for Bensch while he's on a brief pre-season vacation. From current events like trades and hat tricks, to bigger-picture stuff like scandals and expansion — you name it, we're debating it. Albeit, not always with a serious tone. We're keeping this column light, so keep that in mind when reading, and feel free to join in on the fun by leaving a comment below.

For being a newbie, Félix was getting a little cocky at the end of last week, but that's the kind of sass we like to see (and encourage) here at Facing Off.
I appreciate your charity pal, but I'm taking home the victory belt. — Félix Sicard, August 24, 2015
Well played, I'll tap my stick for your trash talk, but I'm not willing to concede defeat just yet. Time will tell who the real winner is, but Félix definitely hit the ground running, rookie mistakes notwithstanding. Take that, rookie!
He's got spunk, I'll give him that, but now it's time to push back, no more Mr. Nice Guy! I'm not going to take it easy on him this week.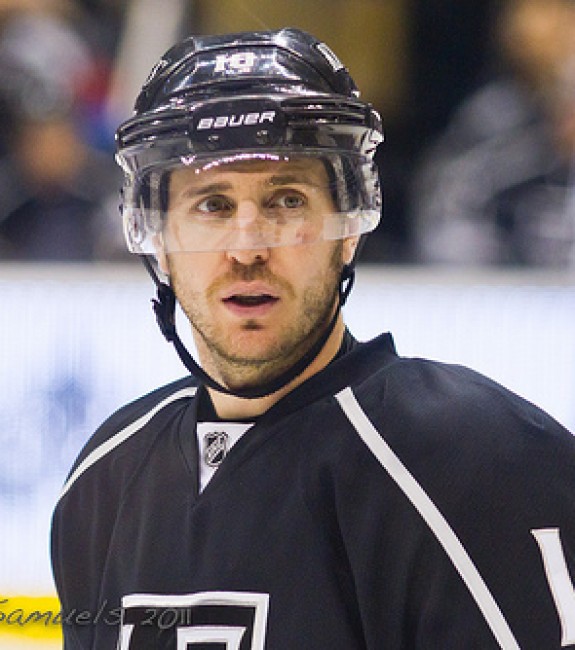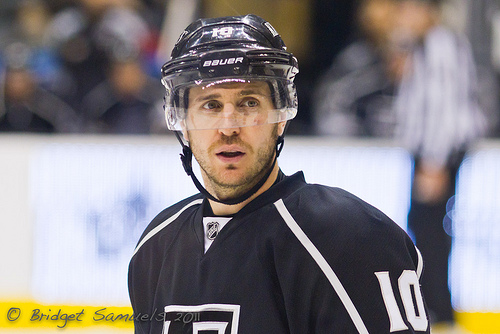 Where to begin, well, for starters, Mike Richards has been formally charged with drug possession, which obviously weakens the NHLPA's grievance case against the Los Angeles Kings and Dean Lombardi's decision to terminate Richards' contract for a material breach. It's funny, just as Félix and I finished supporting the NHLPA's backing of Richards — I went as far as suggesting they had not one, but two legs to stand on in his defence — the feet got kicked out from under us. The NHLPA might want to rescind their request for an expedited hearing in hopes Richards can be acquitted when he goes to court on Sept. 10.
The Kings were in the news multiple times this past week, also signing free-agent defenceman Christian Ehrhoff to a one-year contract worth $1.5 million. My initial thought was that Lombardi must have a special knack for getting naked pictures of people because he totally stole Ehrhoff from several other suitors. That salary is a huge bargain — less than half of what I expected Ehrhoff to earn, not to mention more term if he wanted it — but this deal also probably spells the end of Slava Voynov in L.A. So, yes, I was likely wrong on that front too.
The PTOs — professional tryouts — are beginning to trend around the league, with Scott Gomez planning to audition for the St. Louis Blues, while Devin Setoguchi will be looking to revive his career with the Toronto Maple Leafs. Even Peter Budaj is getting another look at the NHL level with the Kings of all teams. I'll save my thoughts on their chances of making the cut for a future Facing Off.
The biggest news of the week, at least as it pertains to on the ice, was Mark Giordano's extension in Calgary, with the Flames locking up their captain for six years at $40 million. That seemed like another steal of a deal at first glance — with a seemingly low $6.75-million annual cap hit — but then I did the equally important math and realized Giordano will be 39 years old by the time this contract expires. This is a guy who plays a pretty physical brand of hockey and has already had his share of injuries to date, including a torn biceps tendon that cut short his Norris-calibre campaign last season. Don't get me wrong, Giordano is a top defender and he definitely took a slight 'hometown discount' when it comes to salary — at least in the short-term. I suspect he'll be underpaid in the front half but overpaid in the back half, which probably balances out to fair value in the big picture.
So scratch Giordano off the list of potential unrestricted free agents for next summer. That list is still full of prominent names, but I suspect most of them will be extended between now and July 1.
Talk about a perfect segue to this week's Facing Off, which has Félix and I discussing the futures of Steven Stamkos and Auston Matthews. We also both wound up trading Brent Seabrook and firing coaches. Sounds like fun, eh?
Is there any chance Steven Stamkos doesn't sign a long-term contract with Tampa Bay? Could he actually end up in Toronto?
FISHER: No chance, to either question. Sure, it's taking longer than anticipated to get a deal done, but it's definitely going to happen and almost certainly before the season starts in October. This ongoing delay has fuelled rumours of Stamkos holding out and ultimately bolting to sign with Toronto as a free agent next summer, especially now that Mike Babcock is coaching the Maple Leafs. Others have stirred the pot by suggesting a rift between Stamkos and Lightning coach Jon Cooper, who played his star centre sparingly in the Stanley Cup playoffs, but it's all smoke about the Big Smoke. I think the lack of news on other fronts has made this front-page news but, in my opinion, it's much ado about nothing and Stamkos will remain the face of the franchise in Tampa Bay for the foreseeable future.
*Stamkos takes part in a Blue Jays batting practice*
*Leafs fans immediately jump to conclusions*
*They are ultimately disappointed*

— Lightning Alley (@BoltsGameDay) August 28, 2015
SICARD: Sorry Toronto fans, but there will not be a reunion between Steven Stamkos and the city of Toronto à la LeBron James and Cleveland. In Florida, Stamkos has the luxury of being on a Cup-contending team run by a fantastic general manager, warm sunny beaches, and no state income tax. In Toronto, Stamkos would have the bitter cold of the Canadian winter, the fish-bubble that is Toronto media, and the promise that the Leafs will be good in about eight years. It doesn't take an expert to figure this one out.
With Giordano now signed, which big-name blue-liner, and pending free agent, is more likely to be traded before or during the season: Dustin Byfuglien or Brent Seabrook?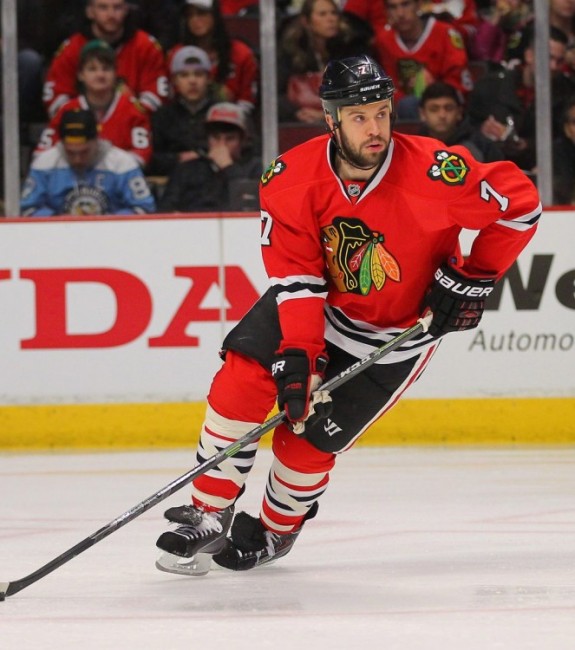 FISHER: This is a tough one because Byfuglien seems like the easy answer, but something keeps telling me that Seabrook is going to end up on the block and possibly end up in Edmonton of all places. The Blackhawks are facing a real cap crunch — more so than the Jets — and Stan Bowman will be hard-pressed to fit Seabrook into the long-term budget. Chicago already has big money tied up in Jonathan Toews, Patrick Kane, Corey Crawford, Marian Hossa and Duncan Keith. Those five guys are all making north of $5 million a year and locked up until at least 2020. Seabrook's final year of his expiring contract will pay him $5.8 million, but he's due a sizeable raise and could certainly fetch the Dion Phaneuf deal on the open market — $49 million over seven years, or $7 million per. A team like the Oilers may be willing to go as high as $8 million per if a bidding war broke out, and that's likely too rich for Chicago to match. From Seabrook's standpoint, he's already won three Stanley Cups with the Blackhawks and has nothing left to prove, so he may as well cash in at this point of his career. He doesn't owe Chicago a hometown discount and I don't see Bowman offering an extension comparable to his free-agent worth, so with that said, the Blackhawks might be better off cutting their losses now and trading him for a younger, cheaper replacement. A package including Oscar Klefbom could be enticing. Then again, Byfuglien might actually be more expendable in Winnipeg, with the Jets having nine defencemen on one-way contracts not counting top prospect Josh Morrissey, who is primed to push for a roster spot.
SICARD: Looks like Larry did his salary-cap homework this week — very nice! I do agree that Brent Seabrook is the likeliest of the two to get moved for all the reasons you just mentioned. However, I'm going to take this one step further and make a prediction: Seabrook gets traded to the Anaheim Ducks at the trade deadline for impending RFA Sami Vatanen and a draft pick. The Ducks have the promising young blue-liner Shea Theodore in the pipeline, and with their entire young defense corps set to hit restricted free agency next summer, they simply won't be able to keep everyone together. This is simply me speculating obviously, but the stars seem to be aligning for this deal to take place.
How successful will Auston Matthews be in Switzerland?
Auston Matthews: Older competition & Marc Crawford as head coach factored into Zurich choice. http://t.co/GiqMjlvYcs pic.twitter.com/WUioPj0Al0

— theScore (@theScore) August 28, 2015
FISHER: Nobody really knows this answer because it's such an unprecedented foray into a European professional league by a North American draft-eligible prospect, but I think he's going to light it up and might even lead the ZSC Lions in scoring this season. Could Matthews produce at a point-per-game clip? I wouldn't bet against it. Roman Wick, a former Ottawa Senators prospect who only suited up for seven NHL games, has led the Lions in scoring the past two seasons with 41 points (16 goals, 25 assists) in 49 games last year and 48 points (23 G, 25 A) in 47 games during the 2013-14 campaign. Wick will be going for the three-peat this season, but Matthews could give him a run for his money. The Zurich-based club, coached by Marc Crawford, has skilled players for Matthews to work with — guys like Ryan Shannon, Robert Nilsson, Dan Fritsche and Marc-Andre Bergeron — and you can bet they'll be giving him every opportunity to succeed. I don't think 50-in-50 is out of the realm of possibility for the projected first overall pick in the 2016 NHL draft.
Champions League (EUR): C Auston Matthews (2016) has not played in any of ZSC Zurich's contests because he doesn't turn 18 until mid-Sept

— The Draft Analyst (@TheDraftAnalyst) August 29, 2015
SICARD: Something tells me that Matthews will struggle a bit playing at the slower European pace to start. European clubs play more of a puck possession game, with the dumping and chasing kept to a minimum. However, given his outstanding talent, Matthews will figure it out eventually and absolutely light up the Swiss league. He's got all the tools to be a dominant force with good size, speed and a sweet set of hands. That's not to disparage the Swiss league in any way, as it's one of the better leagues in Europe, but Matthews just seems that talented to where he can already hang with seasoned veterans.
The first coach to get fired this season will be . . . ?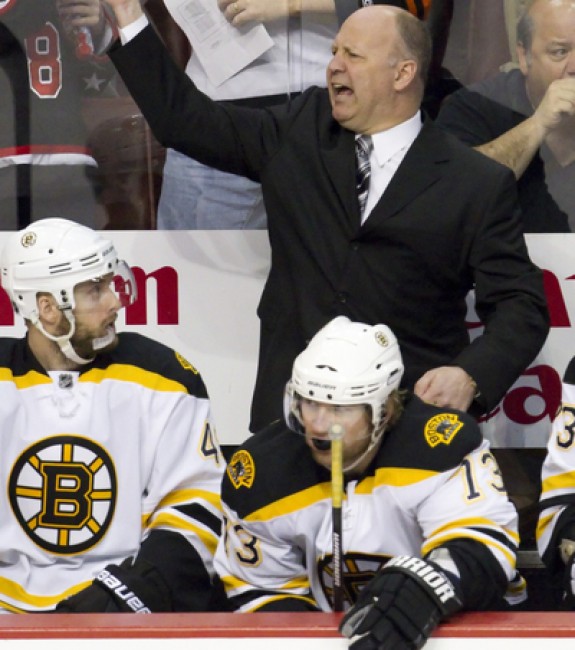 FISHER: Well, we all know it won't be Mike Babcock — the $50-million-dollar man — but there are plenty of possibilities. Claude Julien, Ken Hitchcock and Darryl Sutter stand out as top-notch coaches who could get canned if their teams get off to slow starts after disappointing ends to last season. Julien is definitely on the chopping block in Boston and would be my pick to get axed fairly early in the season, simply because I don't see any way the Bruins return to being a top team with their current roster. There was also talk of 'philosophical differences' between Julien and new general manager Don Sweeney, so that could come to a head sooner than later as well. Coaches have a shelf life — they are hired to be fired — and I think that trio's best-before date is fast approaching.
SICARD: Julien is certainly a safe bet to get axed at some point this season, as Boston doesn't look like a playoff team right now. That being said, there aren't really that high of expectations for the Bruins at the moment, so Julien might have more leash than we suspect. One coach who does have an enormous amount of pressure is Lindy Ruff in Dallas. Ruff was brought in to establish a winning culture with championship expectations, and so far his Stars simply haven't been anywhere close to that. General manager Jim Nill can't be faulted here, as he's given Ruff a ton of talent to work with. With the addition of a big name like Patrick Sharp, the time is now for the Stars to get back to the playoffs. The problem is that their defense really isn't all that impressive, and it remains to be seen which Kari Lehtonen will show up this season. If Dallas falters early on, it's not out of the realm of possibility that Ruff finds himself out of a job.
Which rookie head coach has the best chance of making the playoffs: Jeff Blashill (Detroit), Dave Hakstol (Philadelphia) or John Hynes (New Jersey)?
FISHER: This has to be Blashill, just based on the fact he's already coached half of Detroit's roster in the minors and won an AHL championship with several of them, including but not limited to Gustav Nyquist, Tomas Tatar, Riley Sheahan, Luke Glendening, Tomas Jurco, Teemu Pulkkinen and Petr Mrazek. Add to that, the fact that Blashill is inheriting the only reigning playoff team among the three, not to mention the most improved roster this off-season with the free-agent additions of Mike Green and Brad Richards. Oh, and don't forget the Red Wings have made the playoffs for 24 years in a row, which is not only the longest active streak in the NHL, but the longest run in any of the four major North American professional leagues. All that said, I wouldn't sleep on the Flyers either, as I feel Hakstol could get a lot more out of that group than Craig Berude did last season. Here's hoping Félix was brave enough to go to bat for the Broad Street Bullies. The Devils, on the other hand, really don't have much hope for the playoffs and should just shift their focus towards winning the Matthews sweepstakes.
SICARD: Oh look, it's Larry going with the safe pick, never seen that one before! You're a smart man Larry, as Detroit's roster looks good on paper and is perhaps the logical pick here. I would love to pick the Red Wings, but the main pieces of their roster are declining and can't seem to stay healthy. And I'm sorry, but if the hope of your season is largely riding on the fact that you signed 35-year-old Brad Richards to be your second line center, well, more power to you I guess. Again, the Red Wings do have a nice lineup, but something tells me their veterans take another step back while their young guns continue to develop. So yes, I will go to bat for the Broad Street Bullies. I'm still not a big believer in their defense at all, but their top-six is one of the best in the East. Their bottom-six is just good enough, and if Steve Mason can deliver the goods, they should be a good bet to sneak into the playoffs out of the Metro.
---
Who won Round 5 of Facing Off? Feel free to weigh-in with your opinions in the comments below. We will be checking in periodically to both defend and expand on our initial answers. If you want to see us face-off over a topic, we're open to suggestions as well.
Larry Fisher is a sports reporter for The Daily Courier in Kelowna, British Columbia, Canada. Follow him on Twitter: @LarryFisher_KDC.
Félix Sicard covers the Anaheim Ducks for THW. Follow him on Twitter: @FelixSicard_THW.
Larry Fisher is a senior writer and head scout for The Hockey Writers, having been an at-large contributor for THW since August 2014. Fisher covers both the NHL and the WHL, specializing in prospects and NHL draft content, including his annual mock drafts that date back to 2012. Fisher has also been a beat writer for the WHL's Kelowna Rockets since 2008, formerly working as a sports reporter/editor for The Daily Courier in Kelowna, British Columbia, Canada from 2008-2019. Follow him on Twitter: @LarryFisher_KDC.