It's not always a question that can be easily answered. What are you hungry for?
You see, we're not talking about food. Rather what are you hungry for in life? That's the question being asked in the new campaign What Are You Hungry For being launched by Generation No Kid Hungry to help children in America get involved in something that is important to them.
What is Generation No Kid Hungry?
To start, Generation No Kid Hungry is a national movement to help end childhood hunger. According to their website, one in five children struggles to get the necessary intake of healthy food needed on a daily basis. Without it, these children have a harder time at succeeding in everyday life. Enter this movement – created in the hopes of ending this trend.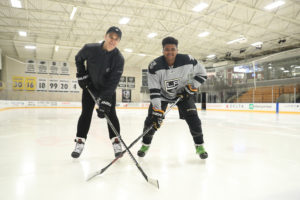 From there, they created a campaign that has nothing to do with food and everything to do with hunger – What Are You Hungry For?
The campaign is designed to push children towards finding something that drives them in life. It can be anything from sports to writing to something as simple as gardening. The goal is to have these kids flourish in something that is important to them.
"And it doesn't matter if you're the best, or even if you're any good. What matters is that you work hard at something that's important to you," reads their campaign website.
Meet Ricardo Kornegay
Ricardo Kornegay is one participant taking part in this campaign. For him, it's his passion for hockey that drives his hunger in life.
Kornegay is just 15 years old. Still, he's already felt the restrictions that life can have. You see, his family has struggled financially throughout his life and as anyone knows it isn't exactly affordable to play sports nowadays – especially a game like hockey where equipment alone can set a family back. But the struggles far surpassed the inability to play the game of hockey.
For Kornegay, it often meant putting items back at the grocery store when his family couldn't afford the entirety of their order thanks to budget restrictions. On top of that, Kornegay faces other struggles in playing hockey.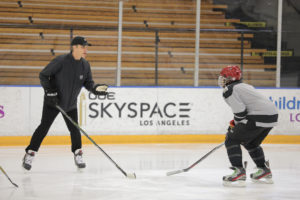 His size – specifically his height – as well as his skin colour often create more hurdles for a kid just looking to play the game. Still, Kornegay finds a way to leap far past these hurdles when it comes to pursuing his dream. For him, it's the determination and the hunger for hockey that allows him to succeed on and off the ice.
A freshman in high school, Kornegay has hopes of playing beyond secondary school. In fact, there are already colleges looking at the 15-year-old for their hockey programs. But what drives him will likely have you loving this kid even more.
"I like being the last line of defence because now that I'm older, it's a protective thing," said Kornegay. "I think about that when I'm with my mom. It's just me and her and it's a hard world out there and I don't want to see her fall."
For a kid, that's a lot to think about. So what does hockey give him?
"Whenever I'm on the ice, I feel like anything is possible," he said.
Luc Robitaille Helps Feed Hunger
Over the weekend, Kornegay got the chance of a lifetime. Joining him for an on-ice session was former Los Angeles Kings great and Hockey Hall of Famer Luc Robitaille.
As one of Kornegay's heroes, the organization reached out to Robitaille. When he heard of what No Kid Hungry was doing, he didn't hesitate.
Robitaille has a charity of his own – Echoes of Hope – who's goal is to help former foster youth or at-risk youth in achieving their goals. A mission that has some similarities to that of the What Are You Hungry For campaign. When he heard of the campaign and Kornegay's hunger for hockey, Robitaille wanted to get involved and join the cause.
From there, it was all about his on-ice session with Kornegay. Robitaille worked with the youngster on his technique and skills on the ice. From shooting to other important skill sets, the two worked on things that would better Kornegay on the ice and give him a chance to be a part of the hockey world as he grows up.
While it was a day that most can only dream of, for Kornegay it was a day that he will never forget. Still, at the end of the day, Kornegay wants to use all the advice and techniques that he learned from Robitaille to pursue his goal of playing hockey in the future and focus on his passion for the game.
For more on Ricardo Kornegay's story, check out this video.