This has been an issue among Toronto Maple Leafs fans all season. Initially I was against their reasoning as he brought a hard-working style of play to the line. Mike Babcock's reasoning of having offense spread out over three lines made sense and it worked. But after 69 games it's time to admit that I was wrong. The experiment with Zach Hyman needs to end and he needs to be moved off Auston Matthews' line.
The Problem With Hyman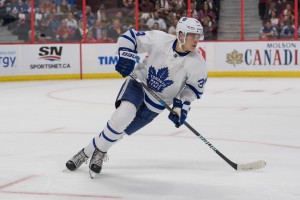 It's unfortunate to say, but Hyman just isn't good enough to play with Matthews. He's a likable player and is easily the hardest working player on the team by a wide margin. Hyman has also developed into a great penalty killer for the Leafs and is solid defensively. The problem is that he is impeding the potential offense from Matthews' line.
Hyman is fantastic at stealing the puck off opponents and winning puck battles in the corner. Somehow his ability with a stick stops when it comes to receiving a pass in front of the net. The same can be said about the many breakaways he's gotten this season. It's like he's become the new Michael Grabner for the Leafs. Lots of breakaway chances and he can't convert any into goals.
Hyman just isn't an offensively-gifted player and the stats back that up.
In 69 games this season, Hyman has nine goals and 25 points. Now, that's pretty good for a rookie. That can't be taken away from him. The problem is that he gets major minutes with Matthews and has disappointed with his lack of offense. Hyman is seventh in shots taken with 139 and has the worst shooting percentage of all forwards with a sad 6.5 percent. The only forward that has a lower shooting percentage is Josh Leivo, and he's only played 12 games (a few other forwards have less than Hyman, but they've all played less than 10 games). So it isn't even really comparable when Hyman has played every game.
Goal Droughts
In the last 20 games, which is from the beginning of February to now, Hyman has just four points. That's just two goals and two assists in a month and a half.
He has also gone without a goal for a month on a couple of occasions. The two biggest goal droughts for Hyman have been 15 games from Dec. 13 to Jan. 19 and then 10 games from Feb. 6 to Mar. 3. That's two separate times that Hyman has gone for a whole month without scoring, and that is also while playing with Matthews the entire time.
It seems like Hyman's poor offensive play has begun to impact Matthews. In the last seven games, Matthews has been held pointless. That is the longest he's been without points the entire season. Previously, the longest Matthews had gone without any points was five games during his 13-game goal drought. Matthews needs some help if he is to break his goal drought. That help won't be coming from Hyman, and that's the problem.
What's the Solution?
The solution is simple. Move Hyman away from Matthews. After that, it becomes a question of who should play on Matthews' wing.
Matthews' linemates this season have been Hyman with either Connor Brown or William Nylander. The reason that Hyman has been seen as a necessary part of the line is because of his ability to win puck battles in the corner and get the puck out to a waiting Matthews. Hyman isn't the only player who can do that.
Brown or even Leivo would be a good substitute for Hyman. Brown would be the best choice, as he plays with the same tenacity as Hyman and is great at winning puck battles. The difference is that Brown can actually make plays and score. So ultimately a line of Brown, Matthews and Nylander would be a significant improvement offensively.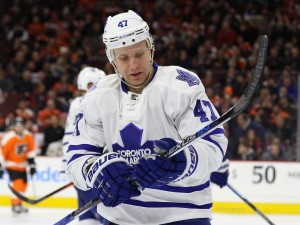 Hyman isn't a bad player. He's just been misused and is out of his depth playing major offensive zone minutes. The best place for him would be on Nazem Kadri's line with Leo Komarov. That line is meant to shut down the other team's top line and just be a general nuisance for the opposition with a focus on defense. Hyman would fit perfectly on that line and would excel in that role, as he plays a similar role to Komarov.
The problem hasn't been with Hyman or his play. He can't be expected to score goals or contribute much offensively because he's just not that type of player. Babcock has the right idea using Hyman on the penalty kill but has made the mistake thinking that Hyman can keep up with Matthews. Hyman is out of his depth and the onus is on Babcock to change the lines for the betterment of both players.