Two Swedish teams, Frölunda Gothenburg and Luleå Hockey, have paved their way into the final of the IIHF-led Champions Hockey League, an international competition of the European countries' top teams. The final game of this tournament is to be played on February, 3 in the northern Swedish city of Luleå, the home town of one of the finalists.
That two teams from Sweden shall meet in the final of the European champions' tournament is of little surprise to hockey connoisseurs around the world. Sweden, alongside Finland, boasts the best talent management systems in Europe and actually in the world. Interestingly, Frölunda and Luleå represent different areas of the country and different parts of the Swedish championship's table. Frölunda Gothenburg (from the South of the country) goes second in the table, whereas Luleå Hockey (from Sweden's subarctic North) is currently on place eight of the table.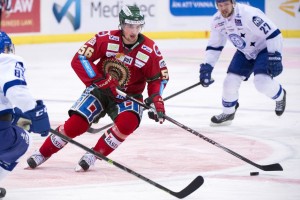 One could say that the result of the final game is predestined as the two teams have apparently different levels of the game. But nothing is apparent in hockey and the recent semifinals of the IIHF Champions Hockey League have been another proof of it. While in the semifinals, Luleå managed to outperform Skellefteå AIK ‒ the dominating leaders of the SHL, the Swedish league hosting the national championships. The first leg of the semifinals was a draw, whereas in the second leg Luleå was leading in score during all the periods and managed to confidently preserve their domination until the very end of the game – 3:2.
http://www.championshockeyleague.net/video/highlights-skellefte-aik-vs-lule-hockey/1131/
In the second semifinals Frölunda Gothenburg played against the Finnish team Kärpät Oulu. Both the Swedes and the Finns showed grit and determination to win and thus the game went into overtime. It was Erik Gustafsson, Frölunda's defenseman, who scored the decisive dramatic goal in the game and thus bought the ticket into the final for his team.
http://www.championshockeyleague.net/video/highlights-kaerpaet-oulu-vs-froelunda-gothenburg/1141/
After bringing the CHL trophy to Luleå, the CHL Marketing Director Patrick Jost invited everybody to come and see the extraordinary final game on February, 3. Patrick Jost pointed out that this might be a one-time experience for the local hockey fans:
So, currently the small northern Swedish town of Luleå (app. 47 000 inhabitants) is looking forward for the final game. The crowd will do its best to support the home team in the international tournament against another Swedish team, Frölunda Indians from Gothenburg.
Hockey has taught me what passion is about and it continues to do so. That is why I have a strong intention to live my passion for the game.