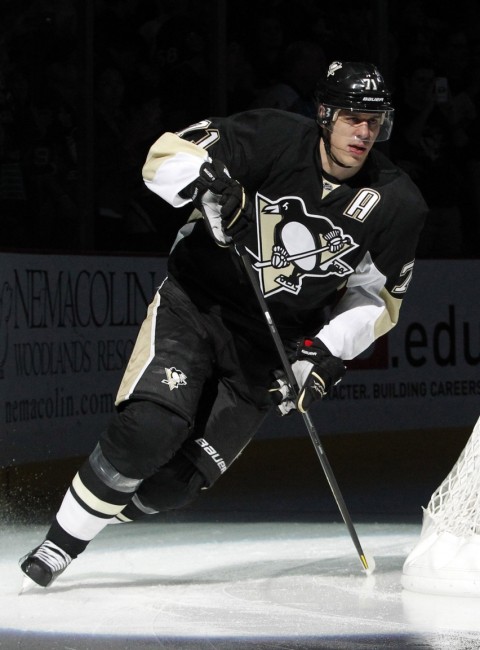 On Thursday morning, Penguins GM Ray Shero announced that he had reached an agreement on a contract extension for center Evgeni Malkin. The deal is for eight years and $76 million for an average annual value of $9.5 million. When the deal kicks in on July 1, 2014, Malkin will be the highest paid Pittsburgh Penguin.
Before the deal was agreed to, Shero consulted Pens' captain Sidney Crosby, essentially for his blessing on Malkin being paid more than him. Crosby consented, and the deal came to fruition.
This will lock up the Penguins' two biggest stars – and arguably the two best players in the world – for the rest of their careers, which they will spend together in Pittsburgh.
With the Malkin extension agreed to (he can't actually sign it till July 5th due to parameters in the collective bargaining agreement), this makes Shero two for two for the off-season, and in quick fashion.
Now take a breath, because there isn't likely to be any more activity for a few weeks.
Next up on Shero's to-do list is the extension of defenseman and Norris Trophy finalist Kris Letang. The big question surrounding Letang is will he accept less money than he could command on the open market to stay here in Pittsburgh? So let's start there.
The Finances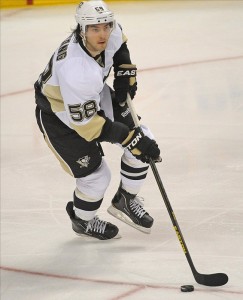 Should Letang – for whatever unthinkable reason – actually hit free agency next summer, he could see offers north of $8 million thrown in his direction. I can assure that the Pittsburgh Penguins will not even think of offering that kind of money to him.
Shero will most likely start "low" with the Letang negotiations. Think something in the neighborhood of $5.5 million a year. He knows that the Letang camp will probably scoff at that offer, but it's a starting point for the Pens.
Letang's agent(s) will likely start off somewhere in the $8 million range, knowing full well that Shero will likel have the same reaction that they had to his offer. The nice thing is that there is a lot of room between those two numbers with which to work. The bad thing is that Shero should know pretty quickly where Letang stands in terms of his desire to stay with the Penguins.
The goal from Shero's side of things will be to lock up Letang, preferably for the full eight years, to a cap-friendly number without insulting one of the game's best defensemen. My guess is that the number the Penguins have in mind is between $6-$7 million. Letang is currently making $3.5 million, and he'll be looking to at least double that with this extension.
A few things to keep in mind in terms of the finances of the deal:
Letang still has the 2013-14 season at his current cap hit of $3.5 million, which is a very friendly number for the Penguins considering that the cap is dropping to $64.3 million for next season.
By the time his new contract would kick in (2014-15) the cap will presumably start to rise again. So Shero and Pens' Asst. GM Jason Botterill (the cap guru) will have that working to their advantage for the new deal.
If Letang desires stability for the long haul, then Pittsburgh is his place. The Pens can offer him the max of eight years, just like they did with Malkin, and would most likely be willing to go to the $7 million plateau that it will likely take to resign him.
Letang's Desire
You're a Norris Trophy Finalist. You're widely regarded as the best defenseman in the NHL, and you have your name etched on The Stanley Cup. Now it's time to cash in. So where is Letang's heart? Does it lie with the only franchise he has ever known, and with a group of guys that are like his second family? Or is home on his mind? Letang is a Montreal native, and the Habs would leap at the opportunity to bring him on board, be it via free agency, or more likely, through a trade.
Or could it simply be about the money with him? There is no doubt that he is deserving of just about anything he signs for (I'd draw the line at $7 million for the Pens, but $8 million somewhere else is not unreasonable in my opinion). He could absolutely play hardball with the Pens, and draw a hard line in the sand at say, $7.25 million and basically split the difference between what the Pens want to pay him ($6.5 million), and what he feels he is worth ($8 million).
This saga will play itself out quickly once Shero gets Letang and his representatives in the room together. If Letang shows that he is all about getting paid, things will end quickly and Shero will be on the phone with Montreal GM Marc Bergevin looking to work out a deal. A deal that could potentially include a guy that Penguins' fans love to hate: P.K. Subban (but that's another story for another time).
Letang has said in interviews recently that his desire is to stay in Pittsburgh. However, unlike the Malkin negotiations, Shero does not have a definitive feel for exactly what Letang wants. He knew going into things with Malkin and his agent J.P. Barry, that Malkin wanted to stay in Pittsburgh, that he wanted to continue to play with Crosby, and that he also wanted to leave the Pens with enough room under the cap to field a Stanley Cup contender for the foreseeable future.
The Difference Between Malkin and Letang
Most people agree that Malkin has never wanted the spotlight on him, which is why he wants to stay here in Pittsburgh, knowing that Crosby will bear the brunt of the media here. But you don't get that same sense from Kris Letang.
Not that he is an attention-seeking showboat, but Letang has never shied away from the media in the sense that Malkin has. Letang would be an absolute rock star if he were to wind up playing in Montreal, his hometown, and I doubt that he would mind it one bit.
That's not a knock on the guy. Some guys can handle it, others can't or simply don't want to. Letang is very much like Crosby in the sense that he is and always has been very gracious with the media. He is very humble (as most hockey players are) and he is well aware of his prominence in the National Hockey League.
So to answer the burning question "how does Malkin's extension affect Kris Letang?"
It doesn't. In any way, shape, or form.
This will all come down to what Kris Letang values most. Will it be money? Or will it be stability, contention (for The Stanley Cup), and being part of the core of the Pittsburgh Penguins for the long haul?
We won't know tomorrow (at least I doubt it), but we shall know soon enough.
Pens.TDT@gmail.com