No stranger to beating the odds, Manny Malhotra again has everyone doubting him. After sustaining a serious eye injury during a March 2011 matchup and undergoing multiple surgeries, he was told many times that his career could be in jeopardy. And after the Vancouver Canucks opted not to renew his contract this offseason, that may have been the case.
"It was extremely disappointing — it was based on his perception and not my feeling," Malhotra said in July. "I understand where [Vancouver GM Mike Gillis] is coming from and caring for my well being, but I definitely want to continue. I'd love to go into a situation where you know you have a job and it's not based on a tryout, but I said from the get-go that I'm going to have to prove myself again and answer a lot of questions."
The guarantee never came, and Malhotra had to settle. Thursday, the Charlotte Checkers signed him to a professional tryout contract. It's not where he expected he'd be at this stage of his career, but he has never been afraid of a little adversity.
Malhotra is a former 7th overall pick of the New York Rangers who never truly lived up to expectations. Prior to his injury, he was an effective third-line center who played Selke-caliber defense and was relentless in the faceoff circle.
But it took until his third team before he cracked the NHL full-time. Both the Rangers and the Dallas Stars had given up on him before the Columbus Blue Jackets turned him into a 35-point scorer. However, it was in Vancouver that he really began to shine, placing 5th in Selke voting in 2010-11.
Then an inadvertent puck threatened to take it all away.
A Career in Doubt
With the Canucks well on their way to a playoff berth, Malhotra was struck in the eye during a meaningless game against the Colorado Avalanche. It was a harmless looking pass by Christian Ehrhoff that ricocheted in the worst manner possible. Malhotra immediately fell to the ice, his night done.
The next morning he underwent surgery, and a few days later it was announced that his season was over, his career possibly in jeopardy.
"Following an initial procedure and continued treatment it has been determined through consultation with team doctors and specialists that Manny Malhotra will not return to the Canucks lineup for the remainder of this regular season and playoffs," the team's statement said.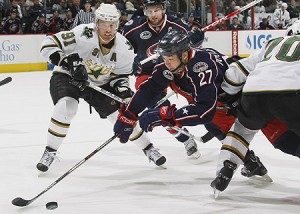 But Malhotra did return, in the Stanley Cup Final no less. Though he didn't register a point in the series, his presence in the lineup had proven his doubters wrong. He'd go on to score 18 points the following year, still more than he had in any season with the Rangers or Stars.
After looking like the injury was behind him, just 9 games into the lockout-shortened season, Malhotra was inexplicably shut down for the year. The explanation given was that the move was made to preserve his long-term health and because he was still vulnerable to injury.
Gillis called it the "hardest decision" he's ever had to make, and Malhotra understood, but disagreed.
"This is Mike's decision based on his feeling and what he saw on the ice, but, as far as the way I feel out there, I feel fit, I feel good and I feel comfortable with my abilities," contended Malhotra.
"It's Mike's views and Mike's decision…he didn't feel that I was safe out on the ice. I don't agree with that. Again, it's a tough call to make. I'm the only one who can say how I feel out there and how vulnerable I might be to a big hit. I feel confident. I felt good. I felt like I was seeing the play develop."
A New Opportunity
On the eve of opening day 2013, the Checkers came calling. With an apparent lack of centers on the team, Malhotra can contribute immediately. Zach Boychuk-Victor Rask-Aaron Palushaj have played together as the team's first line for much of training camp, but Malhotra will get minutes.
And should he prove that he can still play hockey at a high level, a return to the NHL might be in store. The Hurricanes are no stranger to turning tryouts into permanent members of the team. In just the last year, both Dan Ellis and Radek Dvorak have parlayed the audition into a contract.
Given the 'Canes penchant for injuries, the opportunity will likely be there, but it's one step at a time–the burden falls to Malhotra to display his worth. That he's willing to accept an AHL tryout, however, speaks a lot about his motivation. He's doing everything he can to avoid calling it a career just yet.
"There is no substitute for being on the ice with the guys and competing and battling," he said. "As a player, you miss being in that team environment, you miss being a part of it."
Andrew Luistro graduated from Appalachian State University. An avid sports fan, he began beat writing for the Sunbelt Hockey Journal, part of The Hockey Writers Network, with a focus on the Carolina Hurricanes. Andrew also actively follows the Boston Red Sox and Carolina Panthers, among other teams. Follow him on Twitter @ndrewL7