2013-14 American Hockey League Season Previews
GRAND RAPIDS GRIFFINS
Coaching Staff: Jeff Blashill-Head Coach, Jim Paek-Assistant Coach
Affiliates: Detroit Red Wings (NHL) Toledo Walleye (ECHL)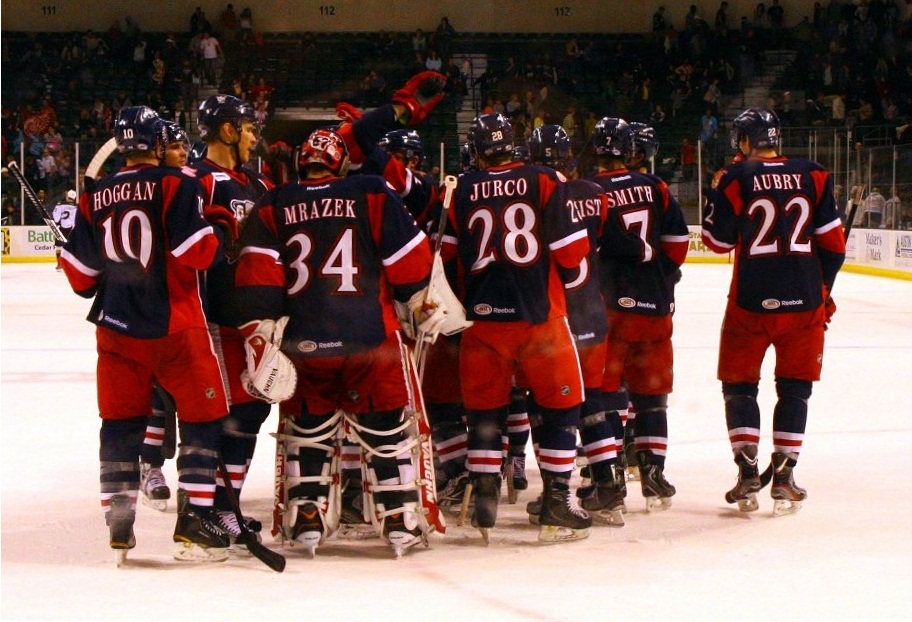 2012-2013 RECAP
Record: 42-26-4-4 (92 points), won Midwest division
Conference finish: 3rd Overall
Calder Cup Playoffs: Defeated Houston Aeros 3-2, Toronto Marlies 4-2, and Oklahoma City Barons 4-3, Won Calder Cup over Syracuse Crunch 4-2.
First Calder Cup in 16 year history of franchise.
THE OFF-SEASON
Roster Departures
Francis Pare (F) TPS, Finland
Chad Billins (D) Calgary, NHL
Jan Mursak (F) Khabarovsk, KHL
Jordan Pearce (G) Unsigned free agent
Roster Additions
Jared Coreau (G), signed last season from Northern Michigan (CCHA)
Alexey Marchenko (D), draft pick signed from CSKA Moscow (KHL)
Xavier Ouellet (D), draft pick from Blainville-Boisband (QMJHL)
David McIntyre (F), AHL contract signed from Houston (AHL)
Martin Frk (F), draft pick from Halifax (QMJHL)
Kevin Lynch (F), AHL contract from Michigan (CCHA)
Marek Tvrdon (F), draft pick from Vancouver (WHL)
2013-2014 SEASON PREVIEW
Forwards
The Detroit Red Wings have a lot of forward up with their NHL team, so one would think that the Griffins offense would suffer. That is not the case. Grand Rapids currently has Gustav Nyquist still on it's main roster, who is an NHL talent for sure, but because he could be moved down without waivers he will be in Grand Rapids for the foreseeable future. First chance he gets, expect him to stay up in Detroit. Cory Emmerton cleared waivers to make room on Detroit's roster so he could be seeing time in Grand Rapids as well.
Grand Rapids also has a lot of their own talent to put pucks in the net aside from the Detroit send-downs. Riley Sheahan, Luke Glendening, Tomas Jurco, Landon Ferraro, Teemu Pulkkinen, and Mitch Callahan will all be entering into another year with Grand Rapids and should see major strides in their development this year. Combine these champions from last year with Martin Frk, who won the Memorial Cup with Halifax and the likes of David McIntyre and Jeff Hoggan a couple of AHL veterans and there will be no shortage of talent in this year's forward squad. The real controversy may lie in who is left out of the top six that deserves to be there. The Griffins should be in the top 10 this year in goals scored with all this talent.
Defense
Grand Rapids defense looks surprisingly solid, even with the promotions of Brendan Smith and Brian Lashoff to Detroit. Currently there are 10 defenseman who are eligible to play for the Griffins this year so competition should bring out the best blue line corps possible. Adam Almqvist turned heads this year in the preseason with his scoring touch and composure with the puck, he also played a vital role on the blue line in last year's Calder Cup winning edition of the team. Add in two AHL veterans in Brennan Evans and Nathan Paetsch and there is a solid top half of the blue line, so who fills in the other half?
There's a solid pairing of Ryan Sproul and Xavier Ouellet that was found in the preseason that could pay dividends for Grand Rapids this year. Of course, when you put the OHL defenseman of the year with the QMJHL defenseman of the year you're going to have a solid pairing. Pas these two there is also the likes of Alexey Marchenko, a Russian looking to prove himself in North America, and then there are returning blueliners like Gleason Fournier and Max Nicastro. Long story short someone is going to be playing in Toledo that could make an AHL top six somewhere else.
Goaltenders
The clock seemed to run out on Thomas McCollum last year, no call-up in sight and losing his AHL starting gig to young goalie and top prospect Petr Mrazek. Yet he couldn't find a team that would take him on in free agency this year so he opted to sign an AHL contract with Grand Rapids to remain with the team. This will at least assure him of the back up gig and will probably relegate new signee from last year Jared Coreau to Toledo when everyone between the pipes is healthy. The depth chart should look like Mrazek-McCollum-Coreau for starts in Grand Rapids.
Mrazek and Coreau seem to be the goalies that Detroit values and are willing to move up at some point and time to Grand Rapids. Mrazek is more skill than size and Coreau seems to be the opposite. Mrazek is the unquestioned number one in net after his performance last year, but as we've seen from McCollum if you underwhelm management they have no problem replacing you. Mrazek should take note and keep up the stellar play this year, if he does he'll be up in the NHL before we know it.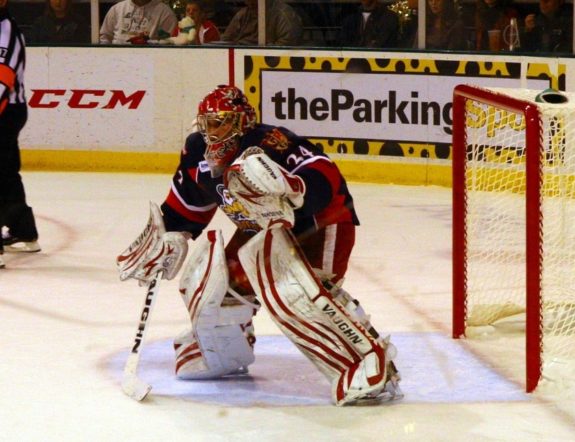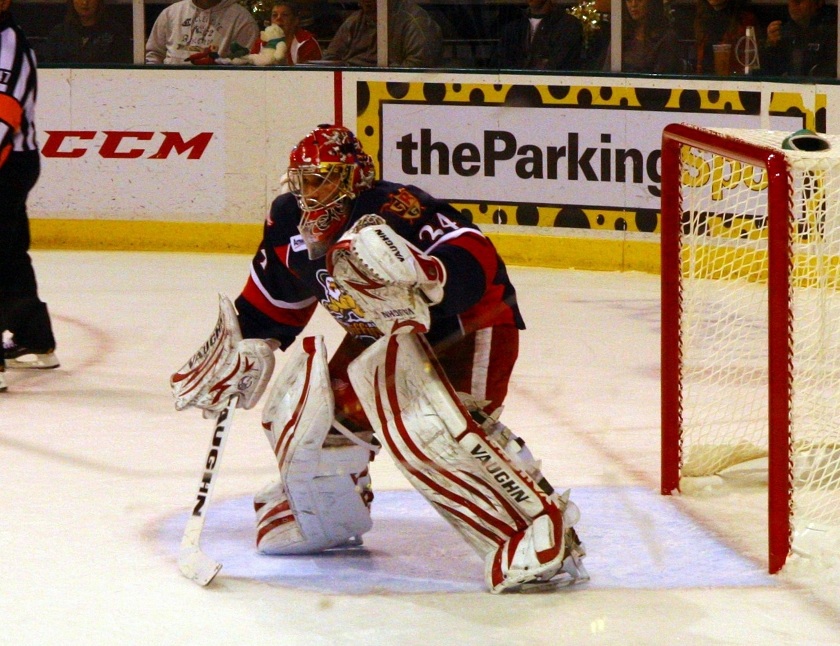 Potential Call-Up Impact
The Red Wings current state of affairs have them with a plethora of NHL talent. The most predictable area of call-ups needed would be on defense. Detroit's young core on the blue line could be bolstered if need be by injuries. Adam Almqvist would be the first likely candidate to be called up to Detroit, he was the last defenseman cut from the original training camp roster and had a strong showing in preseason games with the winged wheel. A likely pairing in Grand Rapids of Xavier Ouellet and Ryan Sproul could also find their way to Detroit in desperate situations. GR could afford a few call-ups as they have 10 defenseman currently available to play in the AHL this year including leadership types like Brennan Evans and Nathan Paetsch who are on AHL contracts.
Goaltenders are currently being called up as well to Detroit thanks to Jonas Gustavsson's groin injury. Expect Petr Mrazek and Jared Coreau to split time as the backup in Detroit when needed, the other will compete with Thomas McCollum (AHL contract) for starts in GR.
As for forwards, the Red Wings have 17 NHL level contracts on roster and one of them is down in Grand Rapids because of the logjam. Gustav Nyquist will be up in Detroit to stay first chance he gets, after him though it's tough to see the likes of Glendening, Jurco or Sheahan moving up without a lot of injuries.
2013-2014 PREDICTION
The Griffins should see the best of every opponent they play this year carrying the "defending champion" target on their backs. They might have lost top scorers like Tatar and Pare this offseason but they have added top talent from the junior ranks and should see big strides in development from players like Landon Ferraro, and Tomas Jurco. The Griffins should return to the playoffs and make it to the conference finals of this year's Calder Cup Playoffs, at least.
Breakout Prospect Prediction: Luke Glendening went from AHL contract last year to two-way deal with Detroit this offseason, as a reward for his hard work and success in the Calder Cup playoffs. He should have another breakout year to show he's capable of making the leap to the NHL in the next couple of years. I predict a 50 point year for Glendening with extended time in the top six forwards and top power play minutes, he'll be put to the test this year and he should pass with flying colors.

Further Reading
Zak DeBeaussaert is a Grand Rapids Griffins writer for THW. A broadcasting junior at GVSU, he can also be found on thefarmclub.net where he writes for the Detroit Red Wings and Chelsea FC. You can occasionally hear his voice calling club sports games for the Grand Valley State Lakers on WCKS: The Whale Radio (whaleradio.org)