With the Stanley Cup having been awarded to the Tampa Bay Lightning on Monday night, the league now looks ahead to its next big date: next week's NHL Entry Draft starting on Oct. 6. In what is considered to be one of the deepest drafts in recent history, there will be plenty of opportunities for teams to find big-league talent after the first round.
Related: 2020 NHL Draft Guide
The Toronto Maple Leafs will be particularly keen to bolster their prospect pool as they look to surround their stars with cheap yet talented depth players. Over the past couple of drafts, they've been relatively successful at finding those sleepers after the first round with names like Semyon Der-Arguchintsev (76nd in 2018), Mac Hollowell (118th in 2018), Nick Abruzzese (124th in 2019), and most notably, Nick Robertson (53rd in 2019) looking like potential NHL contributors in the near future.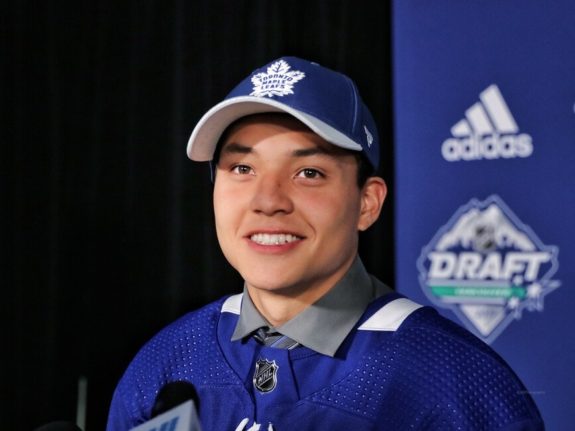 General manager Kyle Dubas has done well to collect a bevy of late-round picks for the 2020 draft, which should give the team a fair chance at finding another hidden gem.
We all know the big names that the Leafs may consider drafting at 15th overall – if they decide to keep the pick, that is. But who are some of the lesser-known talents that, like Robertson, may just fall into Toronto's hands in the later rounds?
Zion Nybeck
Swedish playmaking winger Zion Nybeck may be the quintessential boom or bust pick in this year's draft. 5-foot-8, immensely skilled, hugely productive, and wildly entertaining, it's easy to see why Nybeck is such a polarizing prospect.
Related: 5 Good Options for the Maple Leafs at 44th Overall
He's ranked as high as 26th by our very own prospect expert Josh Bell, and at 30th by Future Considerations. On the other side of the spectrum, the diminutive winger is projected to go as late as 73rd by Bob McKenzie and 97th according to McKeen's. Needless to say, Nybeck has got his fair share of fans as well as detractors.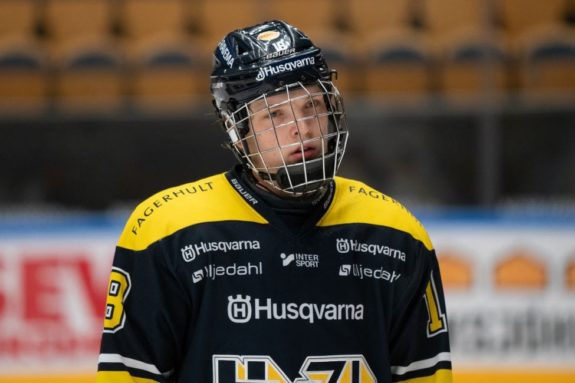 After putting up a team-leading 66 points (29 goals, 37 assists) in just 42 games for HV71 of Sweden's top junior league, it's hard to doubt his skill. In fact, Nybeck impressed so much that he earned a call up to the professional Swedish Hockey League (SHL) for 15 games. Predictably, though, scouts point to his lack of size and overreliance on the perimeter of the ice as possible red flags.
Zion Nybeck is a skilled top six winger that has elite playmaking skills and vision but lacks elite skating or other physical tools to go along with them. On the one hand, he makes elite plays suggesting high IQ with the puck, including scoring on the rush or saucing the puck cross ice for a scoring chance. On the other hand, he plays a bit too much on the outside and will need space to able to separate from opponents with his skating.

From Jimmy Hamrin at McKeen's Hockey
Some might argue that the Leafs don't need to get any smaller at forward, but if Dubas and co. believe that Nybeck can translate his exceptional skills to the NHL game, he could become a useful (and affordable) playmaking winger next to someone like Auston Matthews or John Tavares.
Michael Benning
Three years ago the Colorado Avalanche drafted offensive defenceman Cale Makar out of the Alberta Junior Hockey League (AJHL) with their fourth overall pick. The Calgary, Alb., native posted an impressive 55 points in 54 games in his pre-draft season, following that up with an eye-popping 75 points the next year to earn his high draft status.
Now I'm not saying that Michael Benning is the next Makar, but the similarities are at least worth considering. The right-handed defender collected 61 points in 60 games last season for the Sherwood Crusaders of the AJHL before putting up 75 points in 54 games this year – exactly on par with Makar's draft year production. His performance also got him the nod for both the AJHL and Canadian Junior Hockey League (CJHL) Most Outstanding Defenceman award.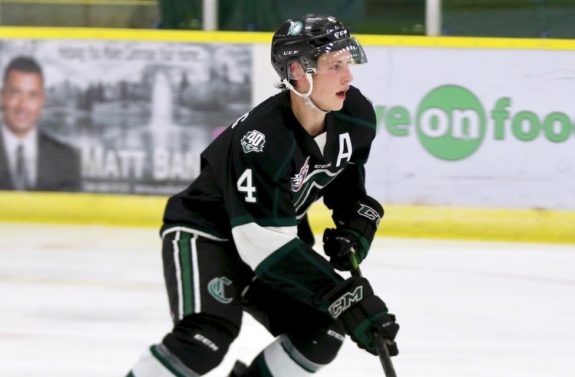 Scouts rave about Benning's outstanding hockey IQ, puck handling, and passing. He projects to be an effective offensive contributor, especially on the power play, and rarely makes mistakes in his own end. So why exactly is Benning ranked as a second or third-round prospect?
For starters, he lacks the physical size and overall power of Makar. Benning stands at just 5-foot-10, 174 pounds and isn't the fastest straight-line skater. Though he makes up for it with his excellent lateral agility, scouts knock the undersized defenceman for his lack of high-end speed – something that separates Makar from the pack. But despite his stature, Benning never hesitates to engage in battles, and usually comes out with the puck.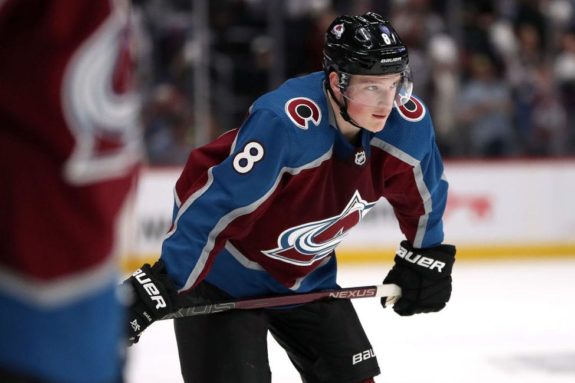 What makes him a great fit for the Leafs in my opinion is that he fits the mold of what the organization looks for in prospects: skill and smarts. The biggest knocks on Benning's game are his speed and strength – two things that can certainly be developed over time, especially with the help of world-class skating coach Barb Underhill. He also plays that elusive position of right defense, which obviously never hurts.
Jaromir Pytlik
We all know that Dubas loves his hometown Soo Greyhounds, so I had to give a shout to Czech centre Jaromir Pytlik.
The 6-foot-3, 201-pound forward centered the first line for the Greyhounds for much of this season, notching a respectable 22 goals and 50 points in 58 games against top competition. He's touted as an excellent all-around player and was relied upon by his coaches to play in all situations on both sides of the puck. Pytlik became a fan-favorite in the Soo thanks to his workmanlike approach and physical game.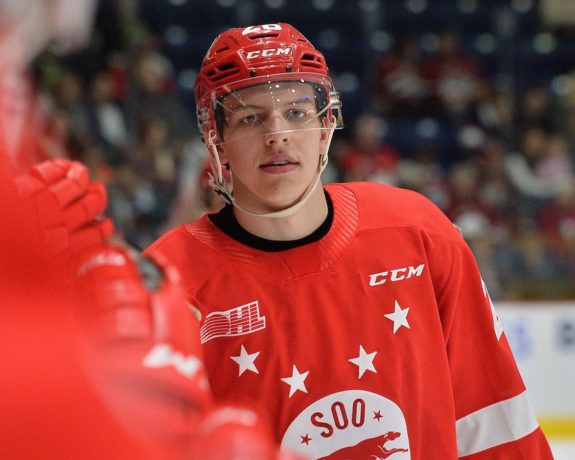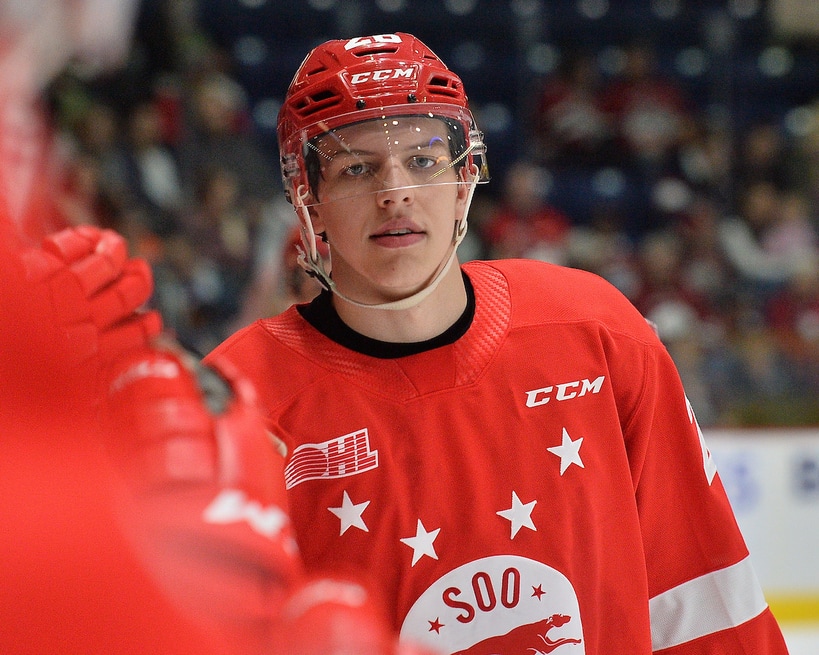 While he does everything well and checks most boxes, the knock on the big Czech is his lack of offensive firepower. Most of the top prospects put up well over a point per game, while Pytlik was just under that mark with 50 in 58. Is that due to a true lack of skill, or was he simply saving his energy for other areas of the game? Those are questions that scouts will have to answer in determining the center's upside.
The first thing that sticks out about Pytlik is that every time I look on the ice, I feel like he's out there doing something to impact the game… He does many things well. He can skate. He can score. He can setup plays. He takes pride playing defense. While one thing doesn't stand out in a dynamic way, these boxes are all checked off as above average.

Questions with Pytlik start with production. Is his lack of production an element of playing all situations so he didn't get as much a chance to produce offensively or is there another gear he needs to bring? I do think he can improve in some areas including his play at center and his consistency game in and game out. There were times where I always saw him. But then there were times I felt he could have done so much more.

From Mark Scheig at The Hockey Writers
It is worth noting that as of June 2019, Pytlik was ranked 15th overall by prospect aficionado Corey Pronman, but he tumbled down all the way to 92nd on his final draft board. He is currently ranked as high as 36th by Future Considerations and as low as 96th by McKeen's. Coincidentally, THW's Bell has him at 44th – right where the Leafs will be picking in the second round. It may just be destiny.
No matter what the Maple Leafs decide to do with their picks from the second round and beyond, it's evident that they'll be prioritizing skill and smarts above all else. That formula has worked quite well for them over the last two drafts and it'll be fascinating to see what they do next week with nearly a dozen picks in play.
---
---
Chris Faria is a contributor for The Hockey Writers with a focus on the Toronto Maple Leafs. A hockey player and self-proclaimed analytics nerd, his work aims to combine both stats and a deep knowledge of the game. He is currently pursuing a graduate diploma in sports journalism at Centennial College in Toronto.