34 days. That is how long is left until the 2016 NHL Trade Deadline. The Toronto Maple Leafs are expected to be among the most busy teams in the next five weeks with plenty of rental options for other teams. Yesterday, I wrote about what lies ahead for the Maple Leafs' goalies as it pertains to the Deadline. Today, it's the defense's turn.
As we all know, the Leafs have eight players that will be unrestricted free agents at the end of the season. However, only one of them is a defenseman. What concerns the Leafs when it comes to the defense is the fact that they have three players heading into restricted free agency. Let's take a look at the group.
Frankie Corrado
Stats: 4 Games Played, 0 Goals, 1 Assist, 1 Point, -3, 0 Penalty Minutes
Claimed off of waivers at the beginning of the season, Corrado has really gotten the short end of the stick as he has basically been stuck in the press box. The Leafs obviously want to keep him since they won't send him down to the Marlies. Corrado has the most to gain should another d-man get traded. A restricted free agent on July 1, he might not be getting much of a raise on his next deal.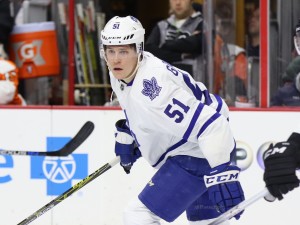 Jake Gardiner
Stats: 43 Games Played, 3 Goals, 11 Assists, 14 Points, -4, 22 Penalty Minutes
Gardiner has definitely improved this season, a few mistakes leading to bad goals notwithstanding. However, if there was one defenseman that could be trade if the right return was offered, it would be Gardiner. Damien Cox has already suggested a Jake Gardiner-for-Jonathan Drouin deal.
Matt Hunwick
Stats: 45 Games Played, 1 Goal, 5 Assists, 6 Points, -7, 26 Penalty Minutes
Signed to a two-year deal in the off-season, Hunwick has been the normal defense partner of young Morgan Rielly. He's not flashy or anything, but he's a somewhat reliable defenseman. Sort of like Carl Gunnarsson, his best nights are ones you don't here much from him. As for the Trade Deadline, he's far more likely to be moved next year.
Martin Marincin
Stats: 33 Games Played, 0 Goals, 0 Assists, 0 Points, -1, 16 Penalty Minutes
The tallest of the Leafs defensemen, Marincin stands at 6'4″. Obviously he gives the Leafs size on the back end and he is one of the better defensive defensemen. That's good, because as you can see from his stats, he doesn't produce offensively at all. Another restricted free agent, he could get a little bit of a raise.
Dion Phaneuf
Stats: 46 Games Played, 3 Goals, 19 Assists, 22 Points, -4, 58 Penalty Minutes
I guess less really is more. Under Mike Babcock, Phaneuf has had less ice time and has had a lot of pressure taken off of him as a result. Of course, the Leafs would like a few more goals from him. Although, you could say that about the entire Maple Leafs roster as well. With the way he has played, he's raised his trade value. The problem is, with the Canadian Dollar dropping, it is unlikely that a team would take on a player who has five years remaining on his deal.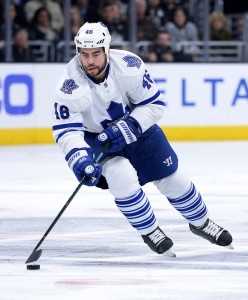 Roman Polak
Stats: 44 Games Played, 1 Goal, 9 Assists, 10 Points, +9, 44 Penalty Minutes
If there is a Leaf that is assured to get traded at the Deadline, it's Polak. Not an offensive defenseman by far, but he is the kind of defenseman that every team that plans on making a playoff run wants. If more than a few teams are after him, the Leafs might be able to drive the price up to a second-round pick.
Morgan Rielly
Stats: 46 Games Played, 5 Goals, 17 Assists, 22 Points, Even, 6 Penalty Minutes
As far as the Deadline goes, Rielly is the only untouchable player on the Leafs. The biggest question is about his next contract as he is the last restricted free agent. Will the Leafs sign him to a long-term deal worth lots of money? He's obviously going to be part of the Leafs' core for a long time.
Stephane Robidas
Stats: 0 Games Played
While he has yet to play a game this season because of injury, he could be moved to Long Term Injured Reserve to give the Leafs more cap room if they need to take a bad contract back in a trade.
Toronto Maple Leafs Writer At The Hockey Writers.