We're roughly one month away from one of the most exciting days for any NHL fan. In the weeks leading up to February 29, the Pittsburgh Penguins and every other team will have to take a serious look at what they have in assets, where they sit in the standings and most importantly, are they going to be buyers or sellers when it comes down to the final days of swaps?
Barring a catastrophic collapse, the Penguins won't be sellers. While there's a strong possibility of them adding to this roster prior to the deadline, I wouldn't necessarily call them buyers either. They're a team that found a spark as of late, mainly due to a coaching change that paved way for the style of hockey this team is built for. Jim Rutherford and his staff like what they have in this lineup, especially after acquiring Trevor Daley and Carl Hagelin. Both players added speed and mobility in areas the Penguins needed it most and with the recent surge from their stars, it seems the sky is the limit in Pittsburgh. However, there are still struggling individuals like Ian Cole and Ben Lovejoy on a blue line that's far from perfect. So, what do they have in store for the coming weeks? Do they have the assets to add important pieces without negatively impacting their current roster?
Their on-ice performance and demeanor, combined with the overall feeling coming out of the locker room and media scrums, tells me that this is quickly becoming a tight-knit group. There was once talk of a locker room divide, with rifts ranging from individual players all the way up to ownership. All of those reports were denied by the team at the time but I can say one thing for sure, if there was an issue between players or management, that simply isn't the case anymore. Frustration can cause conflict and the Penguins have little to be frustrated about these days. So, would further roster tweaks disrupt that? It's definitely something that Rutherford will need to consider.
Asset Management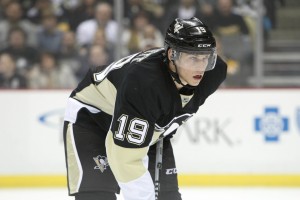 Rutherford has been responsible for both very good trades and complete duds but in my opinion, his good decisions have outnumbered the bad. Things will get very tricky for the veteran GM now, as the Penguins are simply low on attractive assets that they can part with and not set themselves back. They're currently dressing multiple AHL forwards due to injuries to Beau Bennett and Nick Bonino, plus Sergei Plotnikov's inability to grow into the NHL as many had hoped. So, who do they move, if anyone?
It's safe to say that Bennett has no value on the trade market. While NHL GM's are famous for agreeing to head-scratching deals, I can't imagine anyone would be willing to give up much for a 24-year old with only 121 games under his belt due to being injured so often. Especially considering that his production is far from jaw-dropping throughout those 121 games.
I was once in favor of moving Patric Hornqvist, as he's the most likely candidate to fetch a true top-four defenseman. However, given the situation Pittsburgh has found themselves in on the wing, I'm not sure it's a viable option to move him unless you're getting a defenseman and someone who can fill the void he leaves. That's asking a lot.
Though I don't think it's likely, the Penguins could consider moving Nick Bonino or Eric Fehr. At this point, it's clear that Rutherford's gamble of unproven defensemen combined with Ian Cole and Ben Lovejoy isn't paying dividends, so having this much depth at center is essentially an unnecessary bonus. Pittsburgh also has Oskar Sundqvist in the AHL in case they run into an injury situation in the future. What kind of value do either of those players hold right now? A healthy Bonino with a pick or prospect could potentially get a solid return, despite his inability to produce thus far with the Penguins. Fehr has proven to be a valuable commodity and now that it's evident his elbow won't be a lingering issue, I'd imagine there would be interest there. Again, unlikely but worth throwing out there.
Derrick Pouliot is likely the most attractive name that Pittsburgh can shop. The Penguins would like to keep him but I'm not sure they still hold him to the same standards as they did when Rutherford refused to include him in the Phil Kessel deal. In fact, I imagine there's at least a bit of buyer's remorse, as he may keep Kasperi Kapanen around if the two parties were to make that deal today. Is he being showcased for other teams right now while Cole sits in the press box? I wouldn't be surprised at all if that's the case.
That brings us to the most controversial part of this conversation, as it always ruffles feathers when discussed…
The Pittsburgh Penguins Have a Goalie Surplus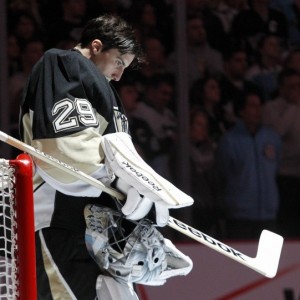 I discussed this topic previously and it was met with mostly negative feedback. And, that's ok. It's a tough conversation to have, as you never want to part with a goaltender of Fleury's caliber and you'd hate to see a promising prospect head elsewhere. At some point though, the Penguins will need to make a decision on the future of their goaltending position.
It basically boils down to two scenarios. Rutherford has to be open to offers on Matt Murray. However, as I've said in the past and recent history has shown, the return for a young goaltender is normally fairly small so while the Rutherford should be listening, it's tough to imagine him getting a fair price. Scenario two is simply wait and then make a decision this summer. That decision could mean trading Fleury, which means the Penguins would clear a lot of cap space and Murray would be the guy next season. He's going to be ready sooner rather than later and can't be hidden in the AHL forever. Unfortunately, choosing between this stable of talented goaltenders is a necessary evil in the salary cap era. Is the between Fleury and Murray enough to warrant a $5.75 million cap hit as opposed to roughly $900,000?
The Penguins' front office will have to ask themselves whether or not there's a deal out there that will put this team over the edge. Is there a move that launches them into Stanley Cup conversations? Personally, I don't think they're far off. Rutherford is known to pull the trigger on blockbusters this time of year so the next month could be quite interesting.