Calling the 2015-16 season an emotional rollercoaster for the Pittsburgh Penguins faithful would be the understatement of the year. Expectations were launched into high gear this past summer when the Penguins acquired Phil Kessel, while seemingly adding a new piece to their offensive depth on a weekly basis. Of course, there were plenty of questions about their blue line but it shouldn't matter, as this team should be able to outscore anyone, right?
Fast forward to mid-season and the Penguins are a team on the brink of missing the playoffs. Yes, there's a ton of time left in the season and Pittsburgh is very much in the post-season conversation but if they don't start finding ways to get points from their solid efforts, things will get interesting in the next six weeks.
The question of whether or not the Penguins can indeed compete for a Stanley Cup is an interesting one and likely one that you can't definitively answer just yet. With the trade deadline approaching and Mike Sullivan instilling his values, there's plenty of change that will occur before now and April 9, when Pittsburgh closes out the regular season against the Philadelphia Flyers at Wells Fargo Center. Also, if you're currently panicked about where the Penguins sit in the standings, simply look back to 2009 and you'll recall that the Penguins were well out of the playoff picture when Michel Therrien was fired on February 15. So, there's time. And, recent trends show that the Penguins are on the right track to be right in the mix of those biding for a chance to hoist the Cup.
Pittsburgh Penguins Then and Now
Obviously, the biggest factor for the Penguins this season was the firing of Mike Johnston and the promotion of Mike Sullivan from their AHL affiliate, Wilkes-Barre/Scranton. Despite glimpses of what we assumed the Penguins to be this season, Johnston's short stay to start the 2015-16 campaign was near disastrous. The team looked lost, having been built around offensive depth and scoring ability but deployed in a fashion that coveted strong defensive play and no room for creativity. Then, things changed drastically under Sullivan's leadership and the Penguins are improving in all facets of the game.
Statistically, it's easy to see that the Penguins are playing much closer to their potential these days. Consider the following metrics, which represent even-strength play with Johnston at the helm. All of the stats below are courtesy of waronice.com.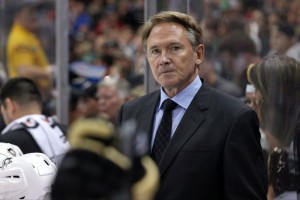 Goals-For Per 60 Minutes – 1.9
On-Ice Shooting Percentage – 6.3%
Total Goals-For – 41
Total Goals-Against – 40
Corsi-For Percentage – 48.4%
Somehow, the Penguins' star-studded cast of forwards were unable to produce on the score sheet and the Penguins were a bottom-three offensive team. After all of the bold predictions and assumptions this past summer, most of which were based around Kessel netting 50 goals and Crosby winning the scoring title with well over 100 points, stale mate. Maybe the most interesting aspect of the Johnston era is that you would think their defensive numbers would trump what I listed above due to the focus on that aspect of the game. That's how they survived, right? Wrong. Their defensive numbers were just as bad and they survived on the back of stellar goaltending.
Thankfully for the sake of Pittsburgh, they had an ace up their sleeve with Mike Sullivan. The Penguins started slow but have steadily improved in every aspect of the game. In order to give leeway for Sullivan's message to make its way through the locker room, lets look at how things have shaken out in January. That leaves his first two weeks on the job in December as an adjustment period.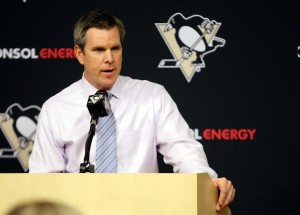 Goals-For Per 60 Minutes – 2.6
On-Ice Shooting Percentage – 7.9%
Total Goals-For – 21
Total Goals-Against – 18
Corsi-For Percentage – 53.4%
The Penguins tallied five goals in a single game once with Johnston at the helm this season. With Sullivan behind the bench, they've done it five times.  Pittsburgh has also erased four 2-0 deficits to storm back and win, something that was unthinkable prior to their New Years Eve game in Detroit, which seemed to be a true turning point for this lineup. Pittsburgh's stars are shining bright, with Crosby and Malkin leading the way and while everyone is still waiting for Kessel to break out with a scoring flurry, he's playing good hockey and may have opened the floodgates after his two-goal performance against Philadelphia just days ago.
So, with all of this team's tangible improvements, are you ready to say that they're capable of competing for the Stanley Cup?
Why Not the Penguins?
I posed a question on Twitter last week asking whether or not fans believe that this team can be a contender. The results? 58-percent of those that voted said yes, they can. My follow-up question for those that voted no is simply, why not? Why can't these Pittsburgh Penguins make a run for hockey's ultimate prize?
I admittedly had the Penguins written off when it came to discussing those that are capable of getting hot at the right time. That was prior to them showing the resiliency that we've seen as of late. When a team can accomplish the type of comebacks they have in recent weeks, there's something special happening in that locker room. They never look defeated. They never look like they're out of a game. These slow starts will be problematic in the playoffs but the Penguins are as capable as anyone else in the East, with an obvious red flag on the Capitals, who look unbeatable at the moment. Do they still have needs on defense? Sure. Will they possibly need another NHL-caliber forward? Maybe. Despite those shortcomings, I wouldn't bet against the Penguins this Spring if they continue to excel in Sullivan's system.
Thanks for reading. Follow me on Twitter at @Michael29Angelo for more Pittsburgh Penguins coverage.