Eric Staal is in the final year of his contract. His seven-year $57.75 million contract ends this year. So, too could the Staal era in Carolina, new contract or not. At 31, Staal is not necessarily old, but it could be argued that he is past the halfway mark of his career. Unless he goes straight Jaromir Jagr on us.
Up and Down
Staal's career with the Hurricanes has been up and down. It's been a love/hate relationship with the fans. From a Stanley Cup victory where he was the future of the franchise, to a six-year playoff drought, coaching changes and various injuries Staal has seen the good and the bad over his career. He's taken the lion's share of the blame through the playoff drought.
Some of that blame can be said to be justified. Staal can be seen leaving the ice slowly at times during a shift change, and sometimes not crashing the net on rebounds.
If they resign Eric Staal for next season, I'll be really pissed. He's absolutely terrible and doesn't put any effort in

— Chase Groom (@chase_groom) January 16, 2016
Before the "young guns" were called up in December, and throughout much of last year, the post-game mantra for the 'Canes after a loss was, "we didn't start on time." While Staal was rarely singled out as to blame during the times of repeated lackluster play by the team, the truth is that part of the responsibility of the team captain is to motivate, to fire up, and make sure that the team is motivated to get out and compete.
Silence on the Contract
It is very interesting that there has been little if any hint from either Staal or Francis on the status of his contract negotiations. Francis announced a few weeks ago that they would wait until after the first of the year to get down to the business of Staal's contract. It's almost the All-Star break and not a word has been heard from either camp. Of course this is not unusual.
https://twitter.com/NicholsOnHockey/status/689151865682968576
Hockey management is traditionally very closed on what's happening off the ice. But outside of the plethora of unfounded rumors, nothing seems to be going on with Staal and Francis.
The trade deadline is February 29 this year, "leap day." As mentioned, there have been myriad rumors about a Staal trade, with an equal number of scenarios. Given that Staal has a no-trade clause, I've not taken any of them seriously. That's not to say that he could not waive the clause, but he's gone on the record numerous times as wanting to stay in Raleigh with the Hurricanes. But, I do think that unless it's a good deal that puts him on a playoff-contending team, he's going to try and stay in a 'Canes sweater.
And what is Staal worth at this point in his career? Another seven-year deal and $50+ million? Most would likely say, "No way, that's too many years and too much money." So what then, five years and $25-$30 million? (Feel free to comment and add your thoughts below as to what you think the Hurricanes or another team should offer Staal).
Staal Era Fading?
If Staal does get traded at some point then obviously his era in Carolina would be over. But, what if he is re-signed? I believe that the time to pass the torch is closing in on Staal. This team has played significantly different since December 4, 2015 when Francis called Jaccob Slavin, Brock McGinn and Phil Di Giuseppe up from their AHL affiliate Charlotte Checkers. What changed?
I have no hard data on this, but in my opinion, these "young guns" have not been subjected to weeks and months and even seasons of a lethargic, "not starting on time" culture. They want to play at the NHL level and are going all-out to make the most of their opportunities to earn and keep a spot.
I maintain that it is the core group of young players who have turned what has been in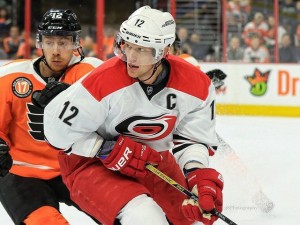 recent past a dismal, "we're not going to make the playoffs again" season by this time in January, into a team that is fighting and doing its best to stay in the hunt. The question is whether or not Staal is adding to this energy or if it's happening in spite of him. Are the young guys feeding off of him, or is he feeding off of them?
Time will tell if Francis and Staal reach an agreement that keeps him in Raleigh or moves him elsewhere. He's not really helped his case for a huge deal with his score sheet thus far: nine goals and 20 assists. But, hockey is a strange bird when it comes to players, management and contracts.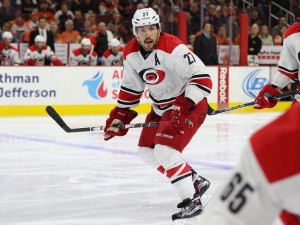 Don't be surprised to see Staal get a large offer, either from the Hurricanes or another team who is enamored with his size and the aura that has surrounded him for years. If he stays in Raleigh, will he continue to wear the "C" or will someone like Justin Faulk emerge to lead the team?
What do you Think?
Again, I'd love to hear your thoughts as to whether the Staal era is fading to black in Carolina. If you think so, who do you see as the next logical choice to lead this team going forward?
By the way, I'm not a Staal-hater. I'm not intending to bash him in this article. I think he has provided leadership for the 'Canes for a long time and has often been criticized for things out of his control. He has gutted it out at times, playing through injuries when others might have chosen to sit on the sideline.
I just wonder if the team is at a turning point that will continue with him as the team leader, or if it's time for someone else to emerge in that role. We will see.