Arguably Ottawa's best player during their playoff run last season, Mark Stone is playing during his second full season in the NHL. Although he is on pace to get close to his season total in points from last season, he has had more difficulty scoring goals this season. This has come in part due to multiple scoring slumps, including more recently, with one goal in his last 13 games. He has also failed to register a point during his last seven games, which is his longest pointless streak yet. Whereas last season it seemed like every time he touched the puck would result in magic, the results have come more sparsely. He currently has 11 goals in 47 games.
Other Scorers Helping Carry the Weight
With a Senators team that is currently sitting seventh in goals for, Stone's defensive play has been more valuable. It's one of the good things about all this, where he does not have to carry the team's offense this season. Teammates such as Mike Hoffman and Bobby Ryan have taken charge of scoring important goals, as made evident with the 3-0 against the New York Rangers on Sunday. At the moment, it does not seem like Mark Stone scoring on his regular pace would be a difference in the team winning and losing. Therefore, there is not as much pressure on him to score compared to the past.
Hard as Stone in Other Areas
Although not putting the puck in the net, he has been doing all other things as well as he's been doing. According to sportingcharts.com, he leads the league in turnover plus/minus by a wide margin.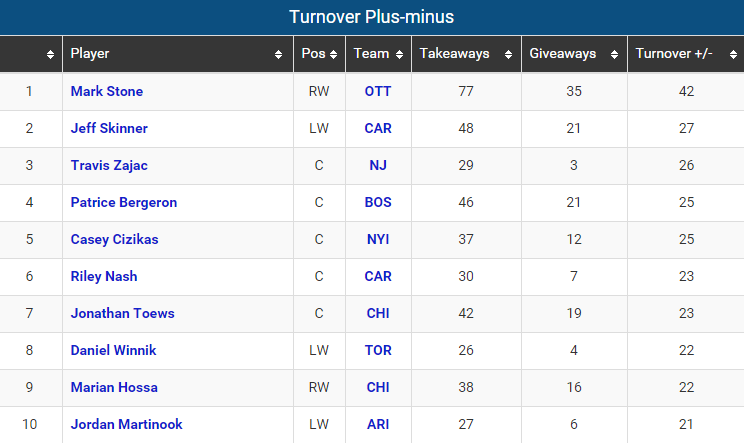 It has not been for a lack of good opportunities that has haunted him. There have been chances in which he would barely miss the net, or not getting the shot off as cleanly as he would have liked, allowing the opposing goaltender to make a seemingly great save.
Sometimes, it shows in his play that it has affected his confidence somewhat, holding the puck a moment too long or deciding to pass when the shot was clear for him to take, but the fact of the matter is, Stone is often getting those good looks during games, meaning that he is doing many other things well. It's just a matter of getting that next one and building off that. He had many moment where he showed frustration with one missed opportunity after another, so when he does score again, you can expect a very elated celebration.