The Toronto Maple Leafs are six games in to what should be a month without Auston Matthews after the forward suffered a shoulder injury against the Winnipeg Jets and while the team is playing .500 hockey, there have been a few players who've stepped up in his absence.
This week, the Maple Leafs Round Table got together to discuss which players have upped their game with the 21-year-old Matthews out for a while longer. Joined by David Petrie and Ryan Ferizovic, the round table sat down to discuss who their impact player has been through the past six games for the Maple Leafs.
Forbes: Andersen Standing Tall
Say what you will about the offence and how it's been able to continue to produce without Matthews in the lineup, the back end and goaltending have held the Maple Leafs in games at times over his six-game absence.
While the defence has been strong, there's been one player who has stepped up in a big way – and that's Frederik Andersen. Andersen has a 3-2-0 record since Matthews went down, including a shutout over the Pittsburgh Penguins on Nov. 3.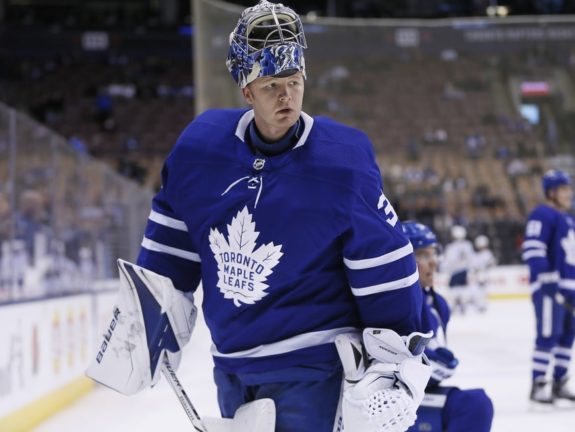 In five games without their star player, the Maple Leafs' goaltender has a 1.22 goals against average (GAA) and .962 save percentage (SV%) lowering his season numbers to a 2.10 GAA and .933 SV%.
The fact is, even when Matthews returns, the Maple Leafs will need Andersen to continue this torrid pace. While they can put the puck in the net, their defensive play will be so much more important down the stretch. That said, an impact player is someone who can stand up in key situations throughout the season and Andersen is doing just that when his team needs him to.
Petrie: Bottom Six Making Noise
My answer to this question is Connor Brown and the rest of the bottom-six wingers (Josh Leivo, Andreas Johnsson and Tyler Ennis). Yes, I understand that picking four players instead of one is cheating and yes, I understand that there are some far more obvious choices, like John Tavares, Nazem Kadri, Frederik Andersen and Mitch Marner, but hear me out.
Related: Maple Leafs – What's Nylander Actually Worth?
Not only are the Maple Leafs missing Matthews (34 goals last season), but they also don't have William Nylander (20 goals), James van Riemsdyk (36 goals), Tyler Bozak (11 goals) and Leo Komarov (7 goals). Of course, adding Tavares is a huge help and Kasperi Kapanen has stepped up into an expanded role really well, but that is a lot of goals to make up for. It's going to take more than one player to step up to cover that.
Kyle Dubas put the focus on skill throughout the Maple Leafs lineup, so instead of having goons in the bottoms six, the Leafs have skilled forwards, but they haven't scored nearly enough so far this season. Brown, Leivo, Ennis and Johnsson have combined for just seven goals to date, and just one on the power play. Brown and Ennis have both scored 20 goals in a past season, Johnsson scored 25 in 54 games last season with the Toronto Marlies, and Leivo has a shooting percentage of just 4.5% this season, compared to a career rate over 10%. These four players are capable of stepping up their games to help fill the void created by Matthews' injury, and need to do so for the Leafs to continue winning.
Ferizovic: Marner, the Main Man
With Matthews out of the Maple Leafs' lineup, I expect Marner to double-down as the team's impact player. Marner contributes points consistently, he is a constant offensive threat and his confidence is propelling his game forward.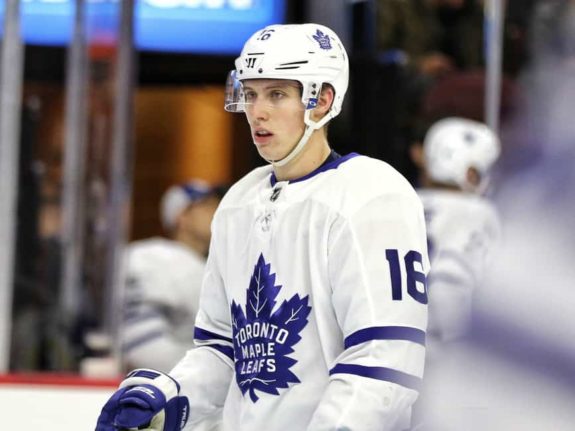 In the six games the Maple Leafs have played since the Matthews injury, Marner has contributed five points to his team's tally. His four assists and one goal have come against difficult opponents like the Boston Bruins and Pittsburgh Penguins. It is clear he has the ability to directly impact the Maple Leafs' point totals and win hockey games.
Marner is most beneficial to his team in the offensive zone. On the power play and at even strength, he quarterbacks the attack with tape-to-tape passes and quick skating. Marner does an excellent job finding open ice to receive the puck. His skating and hockey sense get him to critical areas on the ice where he can dish the puck for a scoring chance.
Marner possesses a great shot which he will need to use more with Matthews out of the lineup. This season he has registered 54 shots and converted five goals, resulting in a shooting percentage of 9.3%. Matthews maintains a shooting percentage of 26.3%. Marner has the shooting ability to boost this percentage in lieu of Matthews' absence.
Confidence and leadership are instrumental to Marner's game as well. Penguins' captain Sidney Crosby mentioned how much better Marner is driving to the net and protecting the puck this season. Crosby attributes these improvements to confidence, a characteristic teammate John Tavares notices in his linemate as well. 
Through his style of play, Marner leads by example and will drive others around him to play a higher level.
While we've all had our say on who's been the impact player for the Maple Leafs so far with Matthews out, who do you think has stepped up their game in his absence? Be sure to share your thoughts by commenting below, or tune in next time for more from the Maple Leafs Round Table.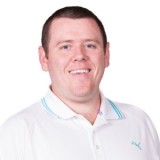 Andrew is in his 8th year reporting for The Hockey Writers covering the Toronto Maple Leafs. He began his broadcasting with CBC's Hockey Night in Canada team as well as being part of their coverage of the 2014 Winter Olympic Games in Sochi. He's the former play-by-play voice of the London Jr. Knights for Rogers TV and currently hosts the Sticks in the 6ix podcast. You can follow him on Twitter at @AndrewGForbes.