After a forgettable trio of games last week, the Pittsburgh Penguins had a rocky start to the new week but finished it off with two strong performances, the second of which snapped a five-game losing streak.
Following a 5-1 loss at the hands of the New Jersey Devils on Monday night, general manager Jim Rutherford made a harsh evaluation of the Penguins' play this season prior to Wednesday night's game against the Washington Capitals on his bi-weekly, GMJR radio show on 105.9 FM. His comments included suggestions that changes were coming if the struggles continued; along with his thoughts on the lack of secondary scoring and inconsistency in net. It appears Rutherford's radio appearance lit a fire under his team because the Penguins looked like a different team over the remainder of the week.
A last minute goal from T.J. Oshie sealed a 2-1 victory for the Capitals and handed the Penguins their fifth consecutive loss on Wednesday — their longest losing streak since the 2015-16 season — but the Penguins took a step in the right direction with their best effort in three weeks. They outshot the Capitals 42-22 — their largest margin of the season — controlled the pace of play and played well in all three zones.
Led by Sidney Crosby's two points and Casey DeSmith's 39-save shutout on Saturday night, the Penguins got their first win of November against the Arizona Coyotes by a score of 4-0. All it takes is a few games for the momentum to switch sides and with the winless monkey off their backs, the Penguins could be starting to turn it around.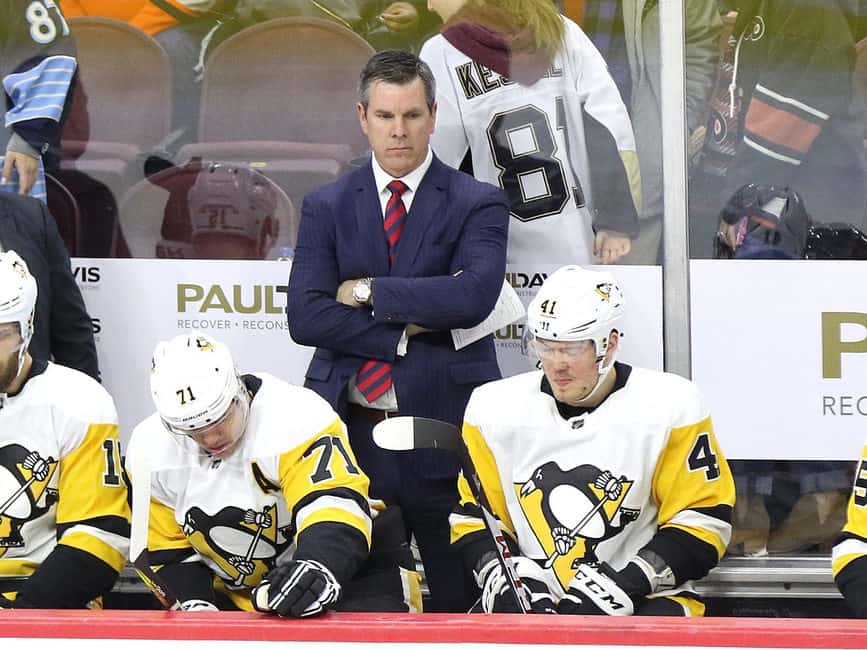 This week's Penguins Pulpit takes a look at Rutherford's comments on his team, DeSmith putting pressure on Matt Murray and Daniel Sprong potentially being on his way out.
2018-19 record: 7-5-3, 17 points (sixth in Metropolitan Division, 11th in Eastern Conference, 24th in NHL Standings)
Rutherford Unhappy With Penguins' Performance
Before the Penguins took on the Capitals on Wednesday night, Rutherford shared his thoughts on his team's performance during the first month-plus of the 2018-19 season. Rutherford made it clear that he isn't afraid to make a few moves if the problems continue.
We really believed coming out of camp we were a contending team. We start those first four or five games and we were very inconsistent, then we played very well for four games, and then we went back to being a bad team where we didn't play well at all. We have the players that can work through it. Sometimes they can. Sometimes they can't. I wonder if this group has been together for too long and maybe we need to change it up, but that's what I will watch for in the next (few) games.
Struggles to begin the season aren't new to the Penguins. On Christmas day 2017, they were seventh in the Metropolitan Division with a record of 18-16-3 and had a goal differential of minus-14. The Penguins ultimately finished the season with a 49-27-6 record and a plus-22 goal differential before being eliminated in the second round by the Capitals.
Despite their recovery during the second half, the Penguins looked like a shell of themselves for long stretches of time. Though it could be attributed to the fact they played 213 games between the regular season and playoffs over the previous two seasons. With no extended playoff run to use as a scapegoat this time, the struggles are becoming more of a skill concern than a fatigue one.
While Rutherford will give his team an opportunity to get themselves back on track, his comments shouldn't be taken lightly. Over his five seasons with the team, he's made 28 trades — almost six per season; which has seen players like James Neal, David Perron, Ian Cole, and Brandon Sutter shipped out to other teams. If the Penguins inconsistent play continues, could a name like Olli Maatta, Carl Hagelin or Sprong join the list?
If Rutherford chooses the path of a roster shakeup, it won't be the first time it's happened during his tenure. After all, the Penguins' turnaround in their 2015-16 Stanley Cup championship season was sparked by the promotions of Bryan Rust, Conor Sheary and Scott Wilson; along with the acquisitions of Trevor Daley and Hagelin. Nobody knows the Penguins better than Rutherford; and if he feels a big move is what it will take for his club to pick up their play, he'll make it.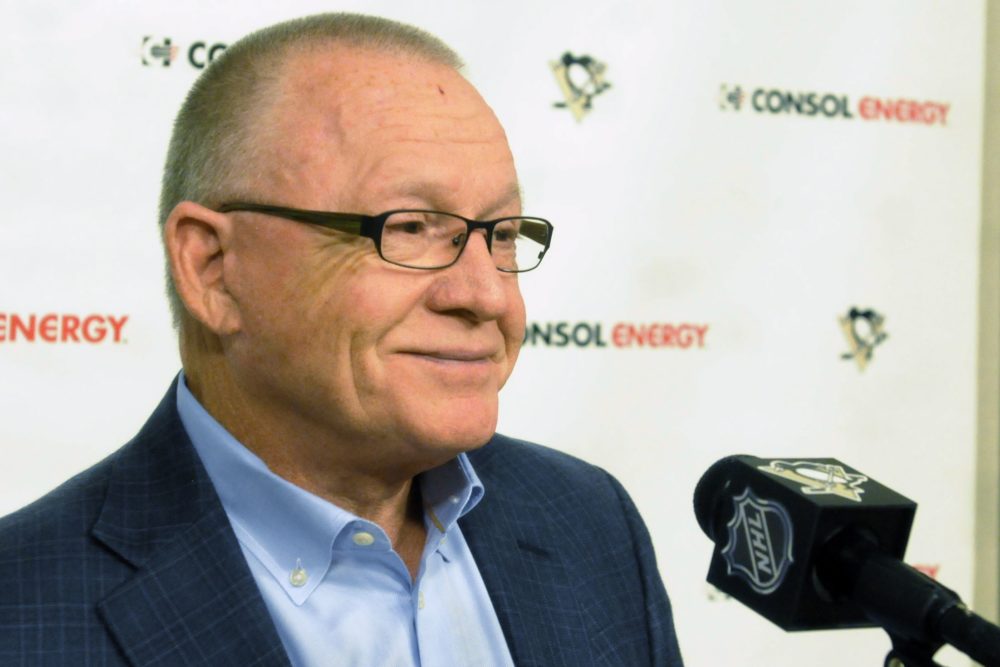 Rutherford also voiced his concerns about his team's lack of secondary scoring. Of the 51 Penguins goals this season, Evgeni Malkin, Phil Kessel, Kris Letang, and Crosby have been a part of 32 of them (63 percent). Regardless of how good a team's leading players are, there's no winning in today's NHL with numbers that top heavy. If the Penguins are going to kick their struggles, they need a healthy Derick Brassard and players like Hagelin, Bryan Rust and Riley Sheahan to start putting their names on the scoresheet.
It's almost like the guys come to the games and say, 'Let's just let the top guys do it.' Let's let Sid, Geno, Phil, and Letang carry us. We'll just get through the game and move on to the next game. Forget about the work ethic it takes or forget about the role they play. But when those top players aren't getting it done, whether they're shut down or they're just not having a good game, that's when we need those other guys to come in and contribute and help win games. We're not getting it.
While a lot of the blame has to be shouldered by the players, Rutherford needs to take the fall for at least some of the Penguins' struggles. As he's had two consecutive bad offseasons. In 2017, he signed Matt Hunwick, and Antti Niemi, traded a first-round pick (Klim Kostin) and Oskar Sundqvist for Ryan Reaves and re-signed Sheary to a three-year, $9-million contract. Niemi was waived in October after three starts and Reaves was traded to the Vegas Golden Knights as part of the Brassard trade in February. His 2018 moves were questionable as well; trading Sheary and Hunwick to the Buffalo Sabres in a salary dump in June, only to use the savings to sign Jack Johnson and Matt Cullen. To put it simply, his recent summer moves have gone against the philosophy that won consecutive Cups for the Penguins.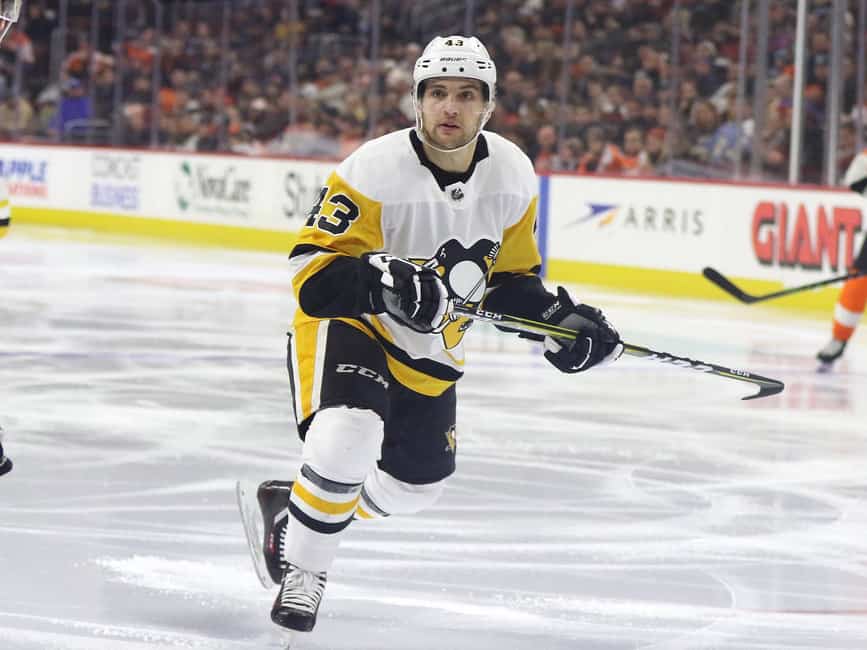 Rutherford may end up making a move, but even if he doesn't, the Penguins are going to be fine. This isn't the first time the team has looked like they're finished. It happened in the first halves of 2015-16 and 2017-18, and after Letang went down with a neck injury in 2016-17. But the Penguins have consistently found a way to rally and remain a top team in the NHL. They'll likely be in the top half of the league standings again because of their top end talent, but as the core ages, it's going to become less of a certainty in the future.
A Brewing Goaltending Controversy?
Goaltending was also a topic of discussion for Rutherford, and he pointed out how the Penguins had stretches like this before, but they were receiving top-notch goaltending. But right now it isn't happening.
In the two years we won the Cup we were playing at times the way we are playing now. But between (Marc-Andre) Fleury and Murray, they were phenomenal in goal. They were hard to score against. That is not what we're getting now. We are getting inconsistent goaltending.
Rutherford isn't wrong. The Penguins posted regular season team SV%'s of .921 and .917 in 2015-16 and 2016-17, respectively. They also received elite goaltending during their playoff runs, with SV%'s of .920 in 2016 and .929 in 2017. Since then, the Penguins have been plagued by inconsistency in net. Last season, they had a team SV% of .906 in the regular season and .908 in the playoffs, which attributed to a second-round exit. This season, the Penguins have improved their team SV% to .911, but it hasn't been because of their number one netminder, Matt Murray's play. In fact, it's been led by the backup; DeSmith's, play between the pipes.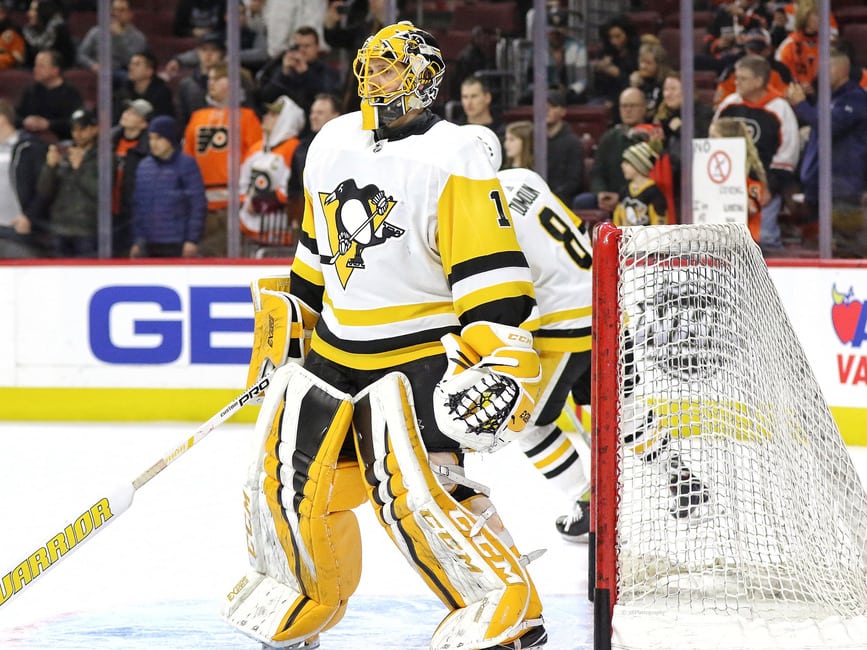 So far this season, DeSmith has been among the top goalies in the league when called upon. Following his 39-save shutout on Saturday night, the 27-year-old has a 3-1-2 record, .942 SV%, 1.89 GAA and two shutouts in nine games (six starts.) His SV% is second in the league among qualified goalies and his GAA is third. DeSmith is also just one of five goalies with two or more shutouts. He's made timely saves on a number of occasions and has kept the Penguins' heads above water in games they haven't deserved to be in. If DeSmith continues to shine, and Murray continues to struggle, he could push for even more time in net. Additionally, it could cloud the future for top prospect Tristan Jarry in Pittsburgh.
It's been a different story for Murray over the last two seasons. He endured a difficult 2017-18, both on and off the ice, which saw Murray post a 27-16-3 record with a .907 save percentage (SV%) and 2.92 goals against average (GAA) in 49 games. He entered the 2018-19 season with a clean slate, but so far, it's not gone the way the Penguins or Murray had hoped it would.
In nine games, he holds a 4-4-1 record with a .886 SV% and 3.87 GAA and one shutout. While Murray has shown flashes of his old self — notably during his 38-save shutout against the Toronto Maple Leafs on Oct. 18, and his 37-save performance against the Calgary Flames on Oct. 25 — he's been beaten by a number of weak shots and has posted sub-.900 SV%'s in six of his nine starts.
While Murray's been hurt by poor defensive play and deflected pucks, he hasn't been as consistent as a starting netminder needs to be. Rutherford feels the same way. "I agree in the Toronto game (a game the Penguins lost 5-0.) if it wasn't for Matt making some of the saves he made, it could've been 10-0," Rutherford said. "But in some of these games other than the Toronto game, there are pucks that are going in that when he's on his game he's stopping, and we need that to be better."
Rutherford believes Murray has the ability to work through his struggles and isn't concerned with this becoming a long-term issue. While he admits the Penguins have never been a defensive-minded team, Rutherford says Murray's improvement starts with the team in front of him playing better.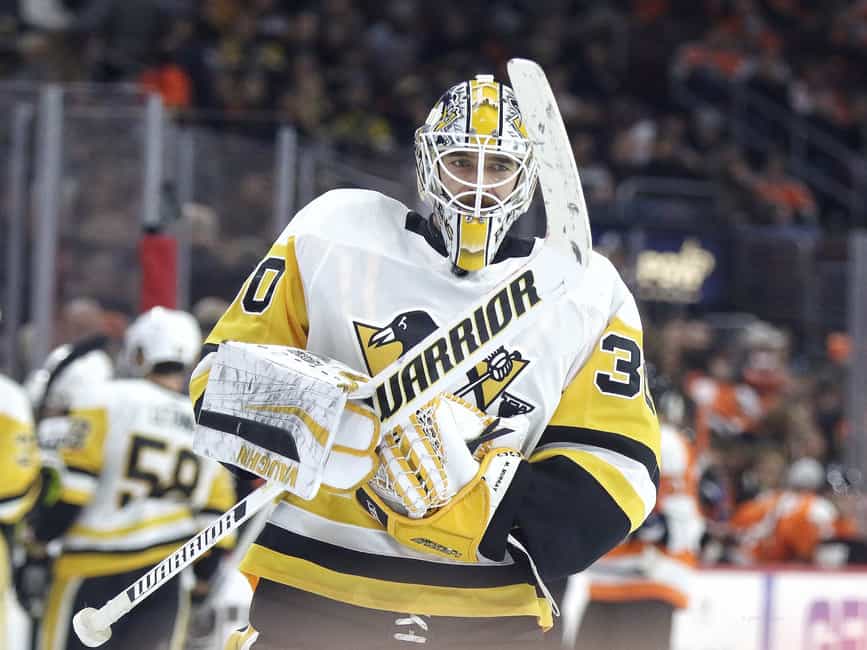 Murray is the present and future of the Penguins' crease. Something the team made it clear when they let Fleury go to the Vegas Golden Knights in the 2017 expansion draft. But with a team desperate to get back on track and DeSmith playing a high level; it's hard to justify going back to Murray on a consistent basis until DeSmith's performance starts to decline.
Is Sprong on the Way Out?
After a point per game performance in the AHL last season (65 points in 65 games), Sprong was expected to play an important role with the NHL club in 2018-19; but following an unimpressive preseason and rough start to the regular season; it seems Sprong is heading down the same path which led to Derrick Pouliot's exit from Pittsburgh. A young, talented player who was a star in major junior and impressed in the AHL, but hadn't put it all together at the NHL level before being traded.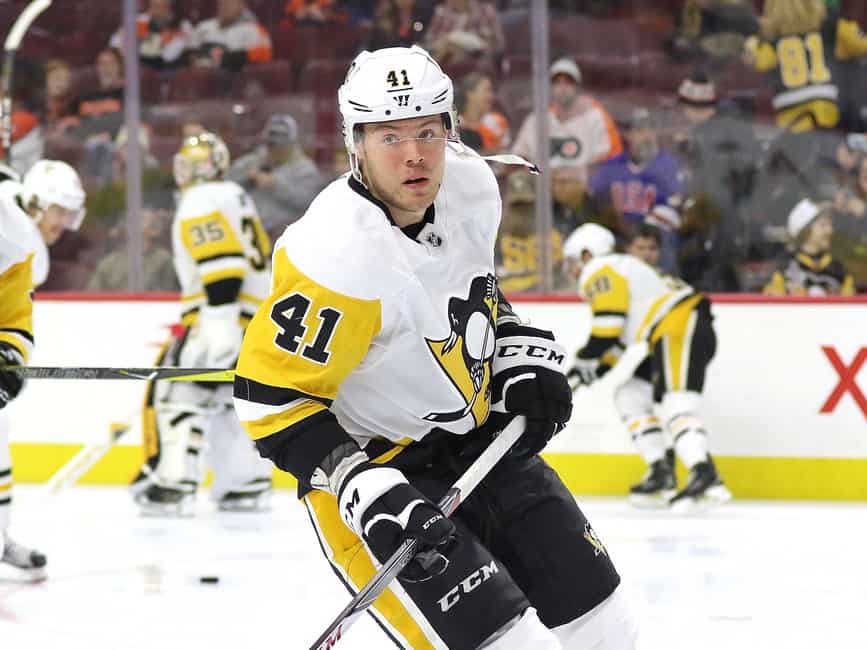 Much like Pouliot, Sprong hasn't been given much time to prove his worth. He's averaging just 8:45 of ice time per game and has been a healthy scratch for the last two games. Sprong isn't a fit with the Penguins if he's not playing top-nine minutes, but with the number of forwards ahead of him on the depth chart — Patric Hornqvist, Kessel, and Rust (if he's on his natural side) —, it doesn't look like space will be opening up in the near future.
The Penguins' hands are tied with Sprong, as he can't be sent down without being exposed to waivers, and they can't scratch him every game. The coaching staff has tried to turn an offensive-minded player into a two-way forward and it isn't working the way they hoped. It's an underwhelming development, as one of the oldest and most cap-strapped teams in the league; the Penguins could use Sprong's goal-scoring skill set, youth (21 years old) and affordable cap hit ($750,000). These factors were mentioned in an August piece on THW which outlined Sprong's development as key to the Penguins' success.
Related: Penguins Need Sprong to Step Up
All of these factors have led to Sprong's name being involved in trade rumors in recent weeks. Darren Dreger of TSN was on TSN 690 Montreal last week and said the following on the topic of the Penguins making a move to escape their struggles. "I don't know that it's going to be drastic," Dreger said. "My sources yesterday (were) telling me it might start with a smaller deal. You know Daniel Sprong, who is a 21-year-old second-round pick of the Pittsburgh Penguins has been as you know, a limited player in the organization the last couple of seasons. He's out there for trade."
Dreger went on to mention a possible connection between the Penguins and the Los Angeles Kings, who are also struggling. Potential names on the Kings side could include Tanner Pearson, Jake Muzzin or Alec Martinez. Although everything is just speculation at this point.
Sprong has scored at every level he's played at, is young and is cheap, so his trade value isn't going to be low. But it's taken a hit since the beginning of the season. If he's traded, it'll be a disappointing end for him. But for a consistent contender like the Penguins, young players are given a short window to impress the organization; which he hasn't.
After a difficult start to the week that prompted their general manager to rip his team, the Penguins ended it on a high note; a goalie controversy could be brewing in Pittsburgh, and one of the team's talented prospects could be on his way out.
What's Up Next
11/13/18: @ New Jersey 
11/15/18: Vs Tampa Bay 
11/17/18: @ Ottawa 
Leading scorer of the week: Sidney Crosby, three points (two goals, one assist)
Three Stars of the week:
Casey DeSmith: .959 SV%, one shutout
Sidney Crosby: three points
Jack Johnson: two points
What are your thoughts on the Penguins' recent struggles? Make sure to leave a comment. 
Conner McTague is a recent graduate of the Journalism program at Durham College. He covers the Pittsburgh Penguins for The Hockey Writers. He hopes to make a career out of sports reporting.