After a Calder Cup championship season, there are plenty of players from the 2017-18 Toronto Marlies who have deservedly earned spots with their parent club, the Toronto Maple Leafs. This leaves room for some of the Marlies' promising youngsters to earn a call up to the Leafs at one point or another this season.
Travis Dermott and Kasperi Kapanen continued to progress last year and ended up spending more time with the Maple Leafs than with the Marlies. They have nothing left to prove in the minors. As well, Garret Sparks and Andreas Johnsson were terrific with the Marlies last year and took home league awards (AHL goalie of the year and Calder Cup MVP, respectively) in addition to hoisting the Calder Cup.
Frederik Gauthier, Justin Holl and Martin Marincin also played their way on to the Leafs' season opening roster, although they've all been healthy scratches so far.
It may be dependent on how injury-plagued the Maple Leafs may be this season and whether or not the parent club feels players in the minors deserve a spot ahead of someone who may be under performing, but here is a look at some Marlies we could see make their NHL debut this season.
Timothy Liljegren
There's a longer development curve for most defencemen, and the Maple Leafs are showing patience with Liljegren — but it's also clear he's come as advertised. The 19-year-old was drafted 17th overall by the Leafs in 2017. Many felt he could have been a top-10 pick if he hadn't missed a lot of his draft year due to mononucleosis.
In his rookie season with the Marlies, he showcased the elite skating and puck moving ability that makes him such a highly touted prospect in the Maple Leafs system. Dermott, who played about half of last season with Liljegren on the Marlies, spoke highly of the teenager, saying it won't be long before he's in the NHL.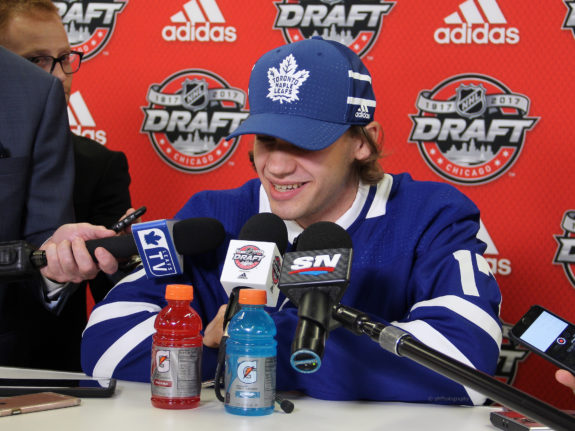 Liljegren, who drew comparisons to fellow Swedish defenceman Erik Karlsson heading into the 2017 NHL Draft, has showed great poise with the puck and showed he can quarterback the power play. At 6-feet and 190 pounds, he has a decent frame for someone his age. He still needs to get stronger and work on his play without the puck, but if there is a spot that needs to be filled on the Maple Leafs defence at some point this season, he has the offensive tools required to give them a boost.
Carl Grundström
Grundström has done a lot in just a little bit of time with the Marlies. Selected in the second round of the 2016 draft, Grundström spent most of the last two seasons with his Swedish club, Frölunda, but was with the Marlies for a few stints, including their past two playoff runs.
Last season with the Marlies, he was one of the team's strongest players, recording eight goals (including three game winners) and 14 points.
Carl Grundstrom can shoot le biscuit. pic.twitter.com/75JJZM8xni

— Scott Wheeler (@scottcwheeler) May 20, 2018
The 19-year-old has drawn praise for his strong shot, as well as his work ethic. He may not be the biggest player on the ice, but he doesn't shy away from contact and works hard to get back and take care of the defensive zone when required. It's not easy being a third or fourth line player in the NHL, but Grundström's versatility should allow him to fit into that role to start off with.
He could eventually turn into a player you could rely on to help shut down other team's top lines.
Pierre Engvall
Like his countryman Grundström, Engvall hasn't played much with the Marlies, but he was able to excel in a short sample size. After joined the team late in the regular season, he scored eight points in nine games before going somewhat quiet in the playoffs with eight points in 20 games. He also collected a goal and an assist in the Marlies' 2018-19 season-opening victory.
A late selection of the Leafs in the 2014 draft, Engvall played for multiple teams in Sweden before earning his entry level contract with the Maple Leafs in May. Prior to signing his deal, he excelled with HV71 in the SHL, collecting 20 points in 31 games.
While he has shown decent offensive skill so far, what makes Engvall intriguing is his size. He stands in at 6-foot-5 and 214 pounds, and as he becomes more accustomed with the North American game, he should definitely be able to hold his own and withstand the physicality of the NHL.
Jeremy Bracco
The talented American forward has one AHL season under his belt after helping the Windsor Spitfires win the 2017 Memorial Cup, and he remains one of Toronto's most sought after prospects. Bracco fits the mold of modern-day stars such as Mitch Marner, Johnny Gaudreau and Patrick Kane, all of whom lack size, but more than compensate for it with their dynamic skill sets.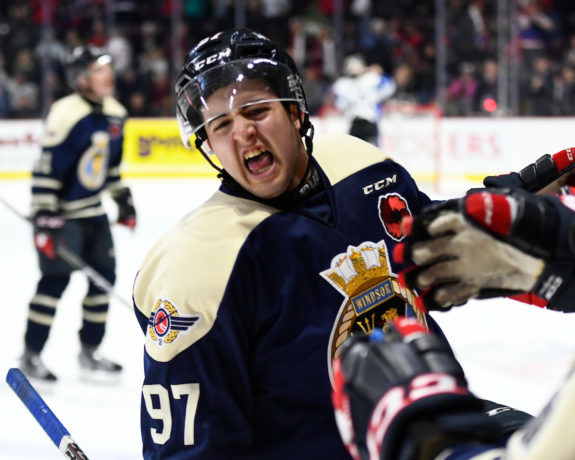 Last season, it didn't take long for Bracco to establish himself as a promising playmaker. He registered 32 points, including 26 assists, in 50 games, but was limited to just four playoff games.
The Maple Leafs have no shortage of skill up front, so it may be a challenge figuring out where Bracco fits in, but if he continues to work on getting stronger and honing in on the defensive areas of the game, he could convince the parent club that he's worthy of a late-season look if spaces open up.
Born and raised in Toronto, Iain has been a sports writer with the Mississauga News since 2010 and has been covering the OHL for Hockey Now Magazine since 2015. A graduate of the Centennial College Sports Journalism program, Iain has now signed on to provide Ottawa Senators coverage with The Hockey Writers.