Following a media conference where the current (for now) Toronto Maple Leafs' general manager talked about his future and the potential of returning to the team as the GM next season, there is wide speculation and insiders are trying to read between the lines of what Kyle Dubas said.
---
---
Noting he needed to speak with his family before making any big decisions because this past season was so "taxing" on them, he also noted that he didn't "have it in him" to move on to another organization and be their GM. That didn't necessarily mean he was open to coming back to Toronto, but he did answer questions about what he might be open to doing with the roster if he did return.
Related: Maple Leafs Risk Losing Matthews if They Let Dubas Depart
Among the things the interesting Dubas quotes, he said "We really need our own guys to continue to develop and jump in and come along, and continue to find good value bets in free agency. Now, we'll have more cap space this year than in the past, but we'll have a lot more to address…" He also noted he was "interested in doing anything" with the roster this summer once he evaluates and then said, "I would take nothing off the table at all."
So what does all that mean?
Expect Multiple Bombs Says Insider
Chris Johnston of TSN was on OverDrive and discussed Dubas' comments. When asked if he thought there would be change, either at the coach, GM, or Presidency level, Johnston responded, "We should be bracing for a bomb and potentially multiple bombs." He then went on to say that he's been around a lot of locker room clean-out days in Toronto and this was by far "the most unusual day I've spent down there."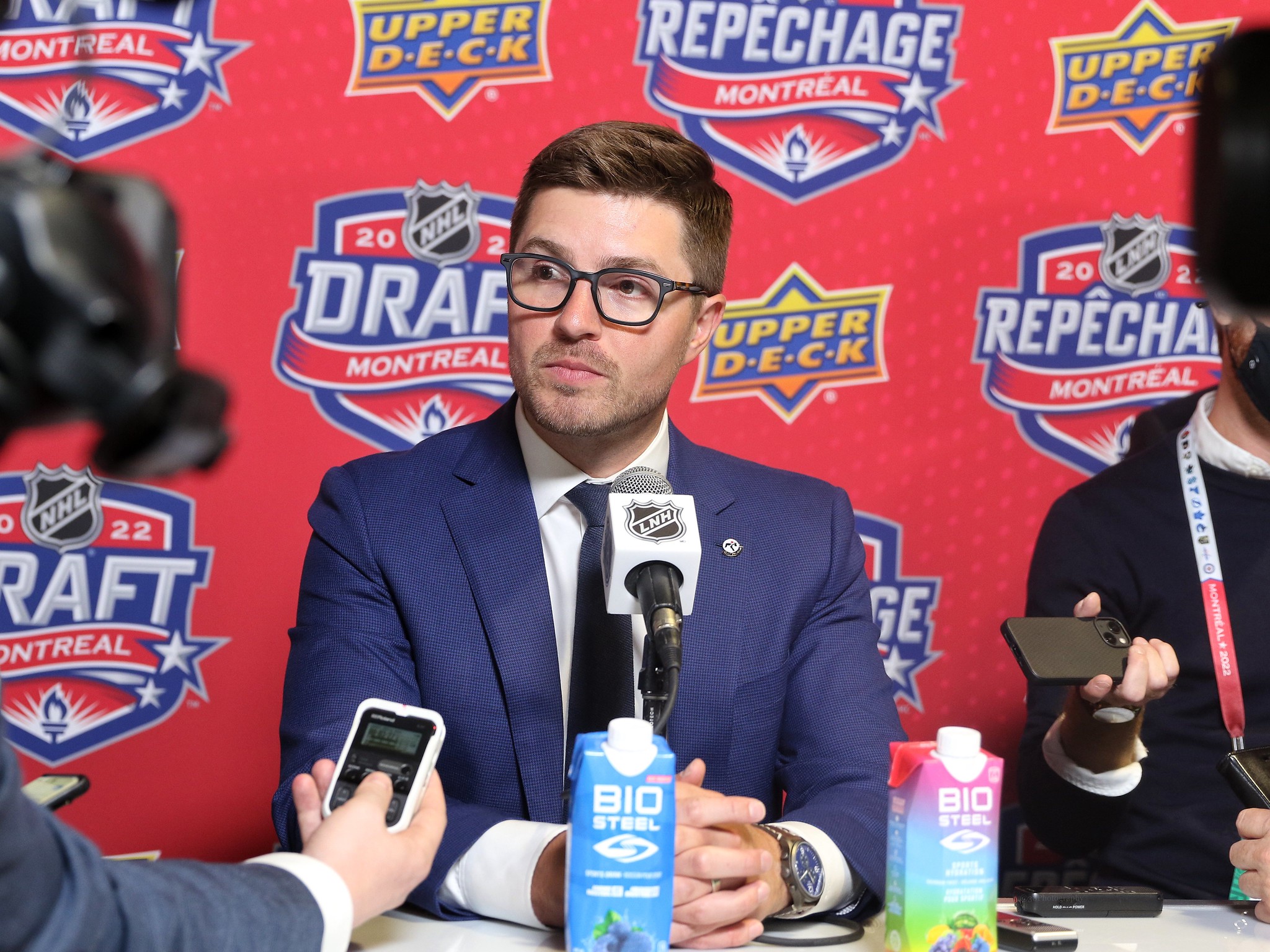 He noted it was a departure from years past when everything was quite organized and said it felt like a lot was up in the air. "It speaks to where they're at as an organization, they're hour by hour right now." As of now, the Leafs don't know who their GM is going to be, and "the summer is coming quick." Johnston said that even if Dubas comes back, this is the first time the GM has been on record saying he would even contemplate trading one of his "core four".
Dubas Has Had a Major Change In Thinking
Assuming Dubas is offered an extension (or accepts one), the fact that Dubas finally appears ready to move on from the idea that the core of Auston Matthews, William Nylander, Mitch Marner, and John Tavares is huge news. When Dubas talked about the calculated trade between the Florida Panthers and Calgary Flames that saw Matthew Tkachuk, Jonathan Huberdeau, and MacKenzie Weegar moved, it was clear Dubas has already given a deal like that some thought. And, when you add in the fact he said he's got ideas on how to fix the team because any GM who doesn't should probably ask themselves if it's time to move on, that suggests he's already sketched out what a deal might look like.
---
Latest News & Highlights
---
As for who would move, that's not clear. Nylander and Matthews have one year each left on their contracts and it would likely be best if either were moved before July 1. Tavares might have an untradeable contract and Mitch Marner would certainly be intriguing, but moving him could have a ripple effect on what Matthews chooses to do.
What If The Bomb Isn't Player Related?
The other thought here might be that MLSE is thinking about a total overhaul of management and coaching. There's some thought that perhaps Brendan Shanahan is relieved of his duties and Dubas isn't offered a new contract as GM. One would expect then that coach Sheldon Keefe would be linked to their departures and an announcement of his release would soon follow. Those three not returning would certainly qualify as "multiple bombs."
If that happens, the Maple Leafs have very little time to get their ducks in a row and find a new President and general manager. As Johnston pointed out, the summer is coming quick, the draft is around the corner and free agency isn't far away.