Recently, the name Timo Meier has come up among Toronto Maple Leafs fans and hockey writers as a possible trade deadline acquisition. In this post, we'll take a look at Meier and the possibilities of the Maple Leafs actually bringing him to the team.
Who Is Timo Meier?
Meier is a 26-year-old Swiss hockey player that presently plays for the San Jose Sharks. The 6-foot, 210-pound, right winger was drafted ninth overall in the first round of the 2015 NHL Entry Draft.
Meier started the 2016-17 season with the San Jose Barracuda of the American Hockey League (AHL). There he played 33 games, scoring 14 goals while adding nine assists for a total of 23 points. He was called up to the Sharks in December 2016. He played 34 regular-season games for the Sharks that season, scoring three goals and adding three assists for a total of six points.  He also played five postseason games for the Sharks that season but failed to register a point.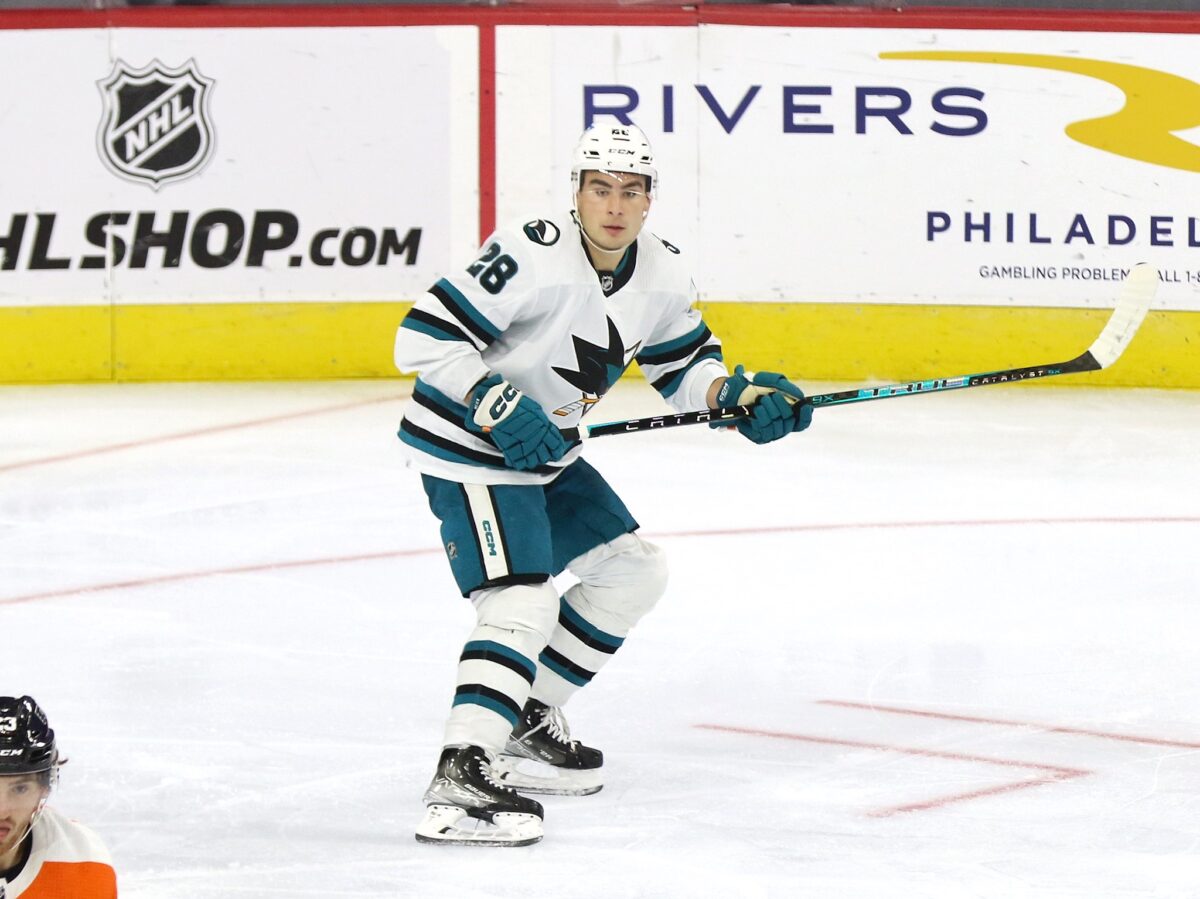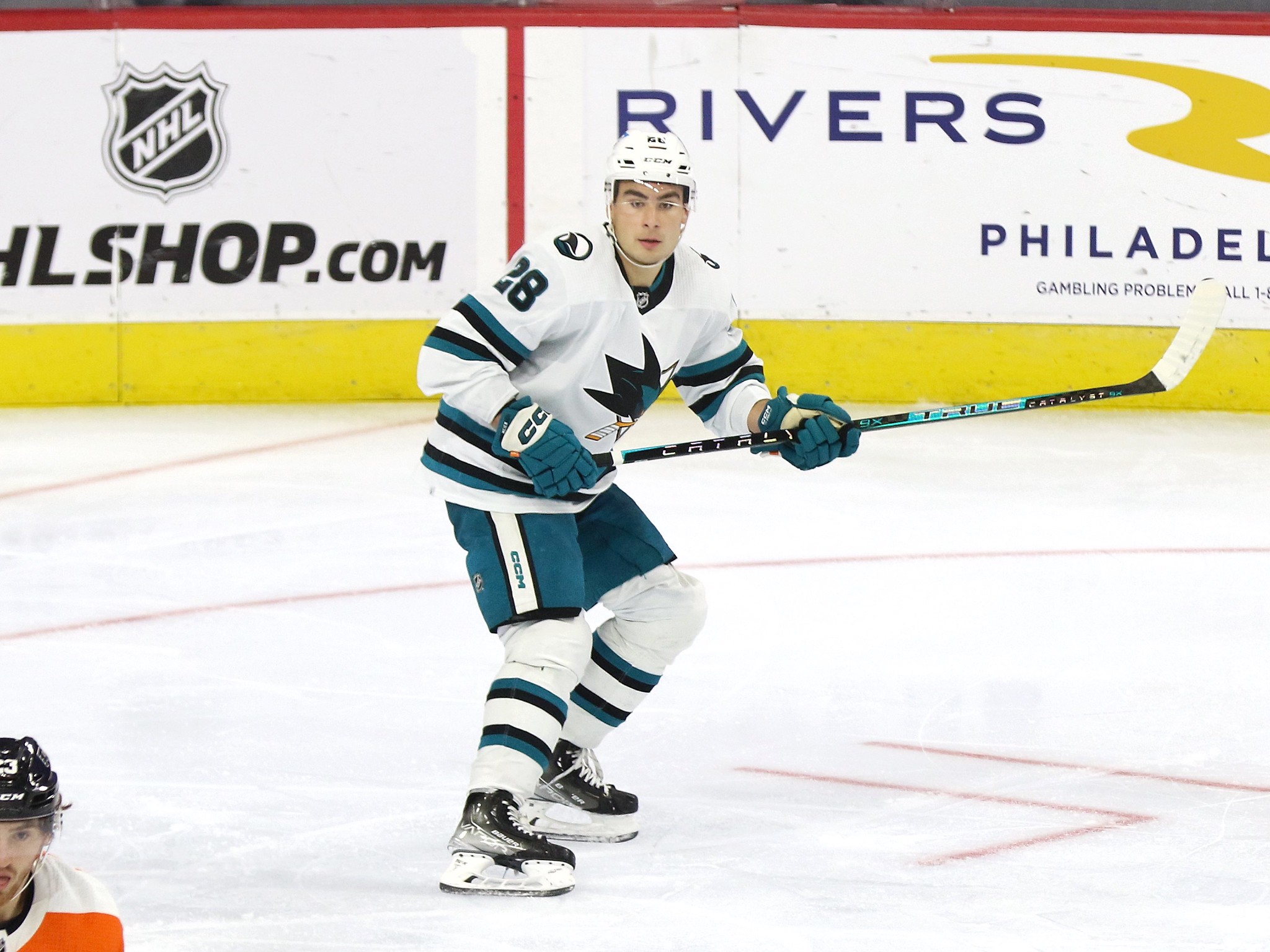 The following season, at the age of 21, Meier played his first full season. He immediately showed his potential, scoring 22 goals in 81 games. In his six full seasons in the NHL, Meier's stat line looks like this:
| | | | |
| --- | --- | --- | --- |
| Games Played | Goals | Assists | Points |
| 411 | 148 | 158 | 306 |
| 82 Game Pace | 30 | 32 | 62 |
Last season Meier scored 35 goals in 77 games played. This season he's scored 28 goals in 51 games, an 82-game pace of 45 goals. 
One statistic that jumps off the page for Meier is his 767 hits. Last season, he had 162. He is on a 172-hit pace this season. He's definitely not shy about throwing his weight around. 
Related: Insider Hints at Bold Leafs' Strategy To Acquire Timo Meier
---
Latest News & Highlights
---
Another notable stat is his 236 blocked shots. A quick check with Naturalstattrick.com shows that Meier does not play on the penalty kill for the Sharks, so his blocked shots are all at even strength. 
One last note, on a team as bad as the Sharks have been in recent seasons, at five-on-five, Meier has been on the ice for 105 goals for and 87 against in the last two seasons. His Expected Goals at five-on-five last season was 52.5%. This season it is 58.6%
Where Would He Fit On The Maple Leafs?
Meier has been a top-six winger for the Sharks for the past five seasons. He has been their top right winger for the past two, averaging just under 20 minutes per game. Although he's been used primarily on the right wing, Meier is a lefthanded shot. Watching highlight videos shows that Meier takes advantage of having his stick toward the center of the ice on the right wing to give him better shooting angles.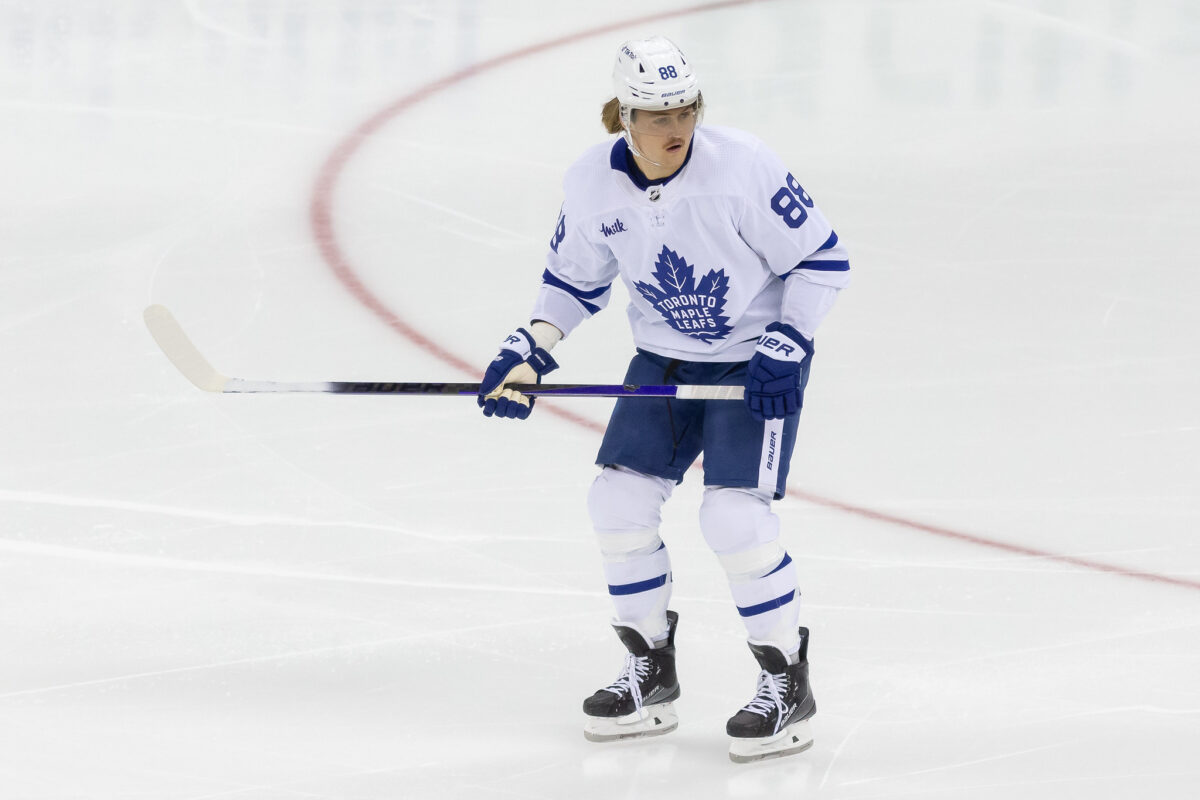 On the power play, Meier often plays the left side and appears just as comfortable on the left wing. There's no reason why he couldn't play there for the Maple Leafs. If he does feel more comfortable on the right side, William Nylander has shown the ability to play on the left. In fact, Nylander appears to be stronger on his skates moving left to right than he does right to left. Mitch Marner, meanwhile, is usually all over the ice when he plays and could easily play the left wing.
As such, Meier won't have any problem fitting into the Maple Leafs' top six.
Could The Maple Leafs Afford Meier?
This is where things get difficult. Meier is on an expiring deal with a cap hit of $6 million. He still has one more year of restricted free agency which would normally be a good thing. However, his present deal has him earning $10 million this coming season. That means his qualifying offer would have to be at least that.
Related: Maple Leafs News & Rumors: Lamoriello, Meier, Greig & ZAR
It would not be difficult to fit Meier under the cap this season. With Jake Muzzin on long-term injured reserve (LTIR), the Maple Leafs have about $3 million in cap space. With the Sharks only having to pay a small portion of Meier's remaining salary, getting them to retain half of his $6 million cap hit should be no problem. 
The problem would be affording to keep Meier beyond this season. According to Capfriendly.com, the Maple Leafs do have close to $13 million in cap space for next season but only have 11 players presently on their roster signed beyond 2022-23.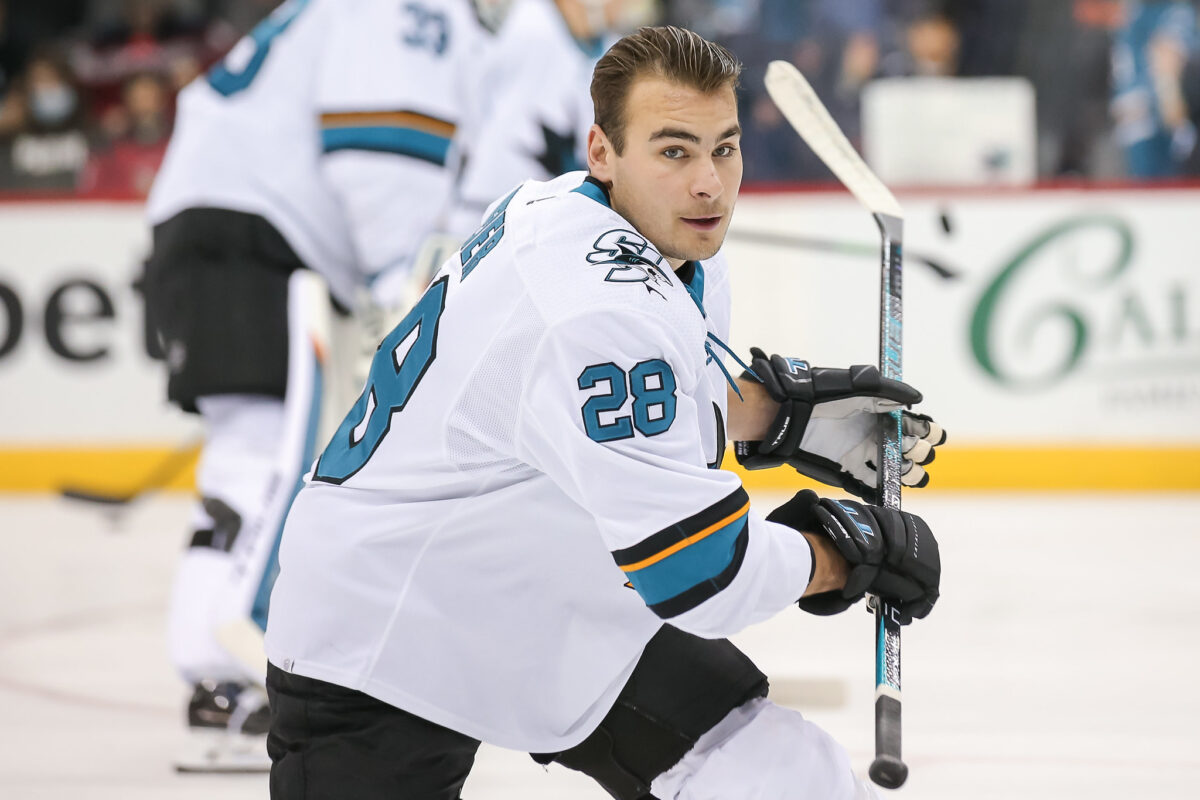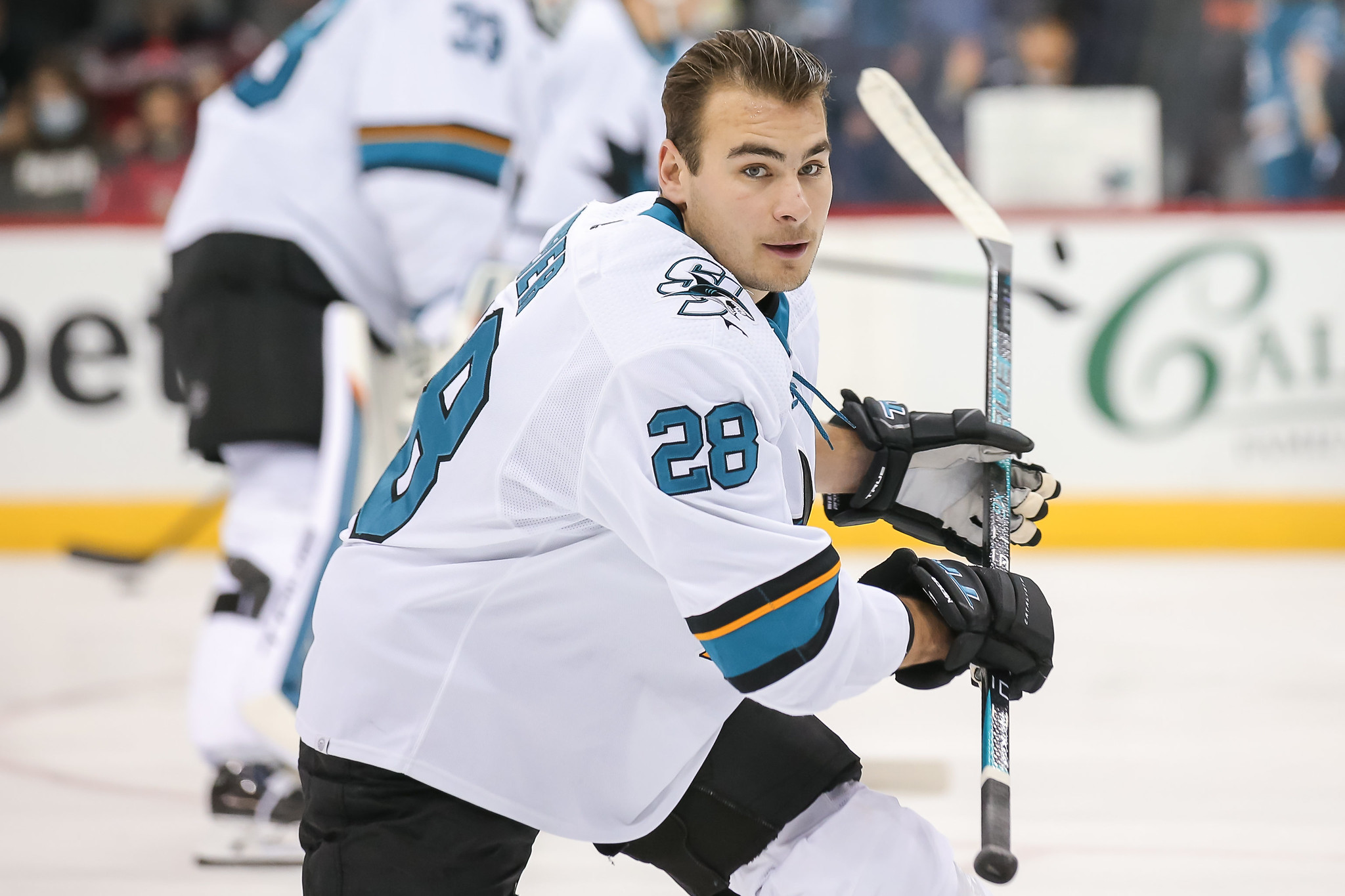 Those players are Auston Matthews, John Tavares, Mitch Marner, William Nylander, Calle Jarnkrok, Morgan Rielly, T.J. Brodie, Timothy Liljegren, Rasmus Sandin, Mark Giordano, and Matt Murray. 
Adding Meier Next Season Seems Impossible
Adding Meier, and a minimum $10 million cap hit, gives the Maple Leafs 12 players and only $3 million in cap space. The minimum roster is 20 players. The remaining eight players needed to fill their roster would have to earn an average of $375,000, less than half of the NHL's minimum wage. It can't happen.
The NHL's minimum wage for this season is $750,000. Let's assume the league minimum stays the same next season. Let's also assume the Maple Leafs want to bring back the 11 players they have signed for next season. If eight of the nine remaining players were to make $750,000 it would leave a maximum salary for the ninth player at $7 million ($750,000 X 8 =  $6 million, subtracted from $13 million = $7 million).
Related: 3 Maple Leafs Salary-Cap Sacrifices for the 2022-23 Season
There is absolutely no way the Maple Leafs could re-sign Meier for as little as $6 million a season, even if they could figure out a way to fill the rest of the roster with league minimum-wage players.
The only way the Maple Leafs would be able to retain Meier past this season is to divest themselves of one of their core five players. One of Matthews, Marner, Tavares, Nylander, or Rielly would have to go. We don't know if there is a desire by the present management to do that. 
At best it would seem that, if the Maple Leafs were to acquire Meier, he would be nothing more than a rental for the remainder of this season. 
The Bottom Line with Acquiring Meier
There's no doubt that Meier would be an excellent addition to the team's roster. However, he makes sense as a rental only. That brings up the question of how desperate the Maple Leafs are. Would they be willing to pay the price for that all-in one-shot deal to go for it?
Related: New York Islanders' Greatest of All-Time
General manager Kyle Dubas still does not have a contract signed beyond this season. His job is on the line and might depend on whether the Maple Leafs have some postseason success. Is he willing to throw caution to the wind? As a lame-duck general manager, does Dubas even have the authority to do as he pleases? Would president Brendan Shanahan veto a deal he feels would hurt the team beyond this season?
So many questions. Not a single answer.
[Note: I want to thank long-time Maple Leafs' fan Stan Smith for collaborating with me on this post. Stan's Facebook profile can be found here.]