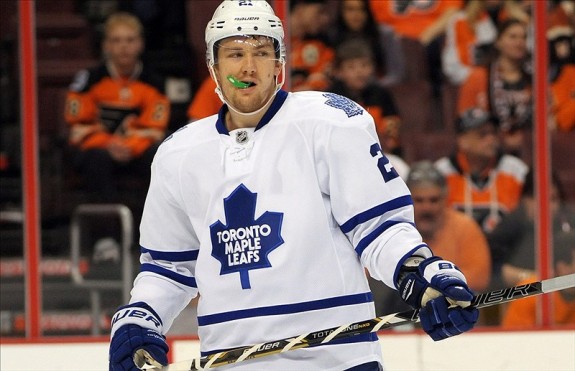 Just over half way into the season, the Maple Leafs have enjoyed a 15-10-0-1 record and are sitting in fifth in the Eastern Conference.  They have accomplished a lot without the services of Joffrey Lupul their second leading scorer from a season ago, a man who elicits about as much excitement as anyone on the club.
With Lupul prepared to come back from injury in the coming weeks, the Leafs will be forced into making some moves on offense that may cause the coach and general manager to lose some sleep.
I propose that Randy Carlyle go ahead with this plan from the summer.
The JVR Experiment:
During the summer months, Carlyle talked about a plan to bring in James van Riemsdyk as the starting line center between Lupul and Phil Kessel. Although he hasn't played much center in recent years, he had played center in college and for much of his time growing up.  Back then #21 didn't seem adverse to the idea, in fact he welcomed it with open arms.
[Also: Maple Leafs Panel: Playoff Chances, Trade Deadline and Mike Brown]
His sample size is minimal but the young American has a 60.9% face-off winning percentage with the Leafs this season. He also has a lot of other tools.
> He has breakneck speed.
> Mammoth Size.
> He can body check with the best of them, as witnessed on his bone crushing hit Saturday night on Evgeni Malkin which has sidelined the Pittsburgh star for the next two weeks.
Aren't these all reasons why you have to do it, if for no other reason than to try it out?
Or if you're making the decision, do you squash the idea simply because of the success that JVR has had by playing as a true power-forward in front of the opposition's net?
Investigating the top three lines and knowing what the Leafs' options are I think the best option is to engage JVR as the top line center. At least for now.
Let's take a deeper look.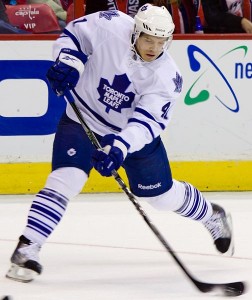 Line 2
Mikhail Grabovksi, Nik Kulemin and Jay McClement have been more of a shut down line or checking/energy line than the club's second scoring line. On any given night, with a healthy roster, Carlyle may be inclined to insert Leo Komarov in place of McClement depending on who the Leafs are playing against.
Is Lupul a fit here?  No.  I believe that Lupul's talents would be wasted on this line.
Instead, the question being asked by Leafs' fans at this point is whether or not paying your checking line centerman a hefty 7.5 million in salary and bonus this season for a cap hit of 5.5 million is going to cut it in the long term.  This by the way, was a Burke signing.
Line 1
Phil Kessel and James van Riemsdyk have complimented each other well. They have combined for 43 points in 26 games and have been a threat in most games. van Riemsdyk leads the Leafs with 14 goals and he is tied with his draft year partner Patrick Kane for sixth in the league. Check out this lethal passing play with the two speedsters against the New Jersey Devils.
http://youtube.com/watch?v=R68G_ZUixIo
So do you really want to break that up? My guess is no, but it's also safe to say that Joffrey Lupul and Phil Kessel had a similar ability to play together.
Hmmm.  Are you thinking what I'm thinking?
If you do move JVR to center, what do you do with Tyler Bozak? He has played well above his expectations which is great if you're looking to make a trade. If you're Dave Nonis or Randy Carlyle you're really benefitting from his torrid face-off winning pace, and his lead penalty killer role. But is he a top line center? I say no. So what do you do with him?
I suggest the Leafs should find a home for him in place of Clarke MacArthur on the third line or even with Grabovski and Kulemin on the second line.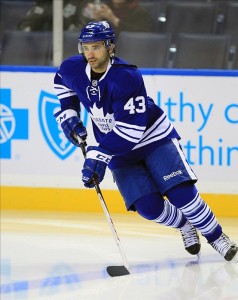 Line 3
Nazem Kadri and Clarke MacArthur have complimented each other well of late and both players have benefited on the scoresheet. In addition to leading the club in points, Kadri is ranked 18th in NHL scoring, is a + 14 and is the only player among the top 30 to play less than 16 minutes per game.  Jakub Voracek from Philadelphia  is the only other player who has played less than 17 minutes.
Prior to his injury Matt Frattin was captain clutch on a line with Kid Kadri. His return will likely complete the Kadri line and leave out Mr. Lupul.
So does it matter who you play with Nazem Kadri?  Could you put just about anyone on the line and see them benefit accordingly, especially now that the young London native's confidence is growing exponentially?
Here's what happens when Kadri is on his game:
If the Buds are trading MacArthur, although doubtful based on Carlyle's recent praise of the tweener forward, I can see either Bozak or Lupul being poised to replace him on this line. Lupul as a sniper and Bozak as a man to help Nazem with face-offs and to add to the defensive responsibility of the line.
A Good Problem to Have
While his return will definitely cause the club some anxiety, though the problem of Joffrey Lupul returning from the IR is a good one to have. It does further complicate who to go with for the rest of the year on the top three lines, but it is bound to make the Leafs a more dangerous club to play against as the games start to matter that much more.
It also reminds Leafs fans that the club is missing a big powerful center and the GM's main job this off-season is to find a way to acquire one.
Could JVR be that guy?  It's worth a try.
Twitter: @StonemanStephen | Email: stoneford@yahoo.com | Stephen's archive
For every Maple Leafs article on THW, follow @THW_MapleLeafs  on Twitter
Also check out The Hockey Writers – Maple Leafs on Facebook