It's a moment forever etched in the history of the Toronto Maple Leafs, the Los Angeles Kings and even Wayne Gretzky. One of the best goalies in Maple Leafs' history, Felix Potvin still can't watch it. Potvin opened up about that moment, series, season and one of the best Toronto teams in the modern era. If you bleed blue, here is your warning, the production of "I was in Net for…" is tough to watch.
Gut-wrenching isn't? Toronto was so close to facing the Montreal Canadiens in the Stanley Cup Final. This was the last series played in the historic Montreal Forum. The Canadiens won the series 4-1. That said, it's nice to see Felix "The Cat" again. The 49-year-old, father of three, is coaching the midget AAA Magog Cantonniers in his home province of Quebec.
Trip Down Memory Lane
To refresh your memory, or for the newer Leaf fans, the trade referenced in the video saw Grant Fuhr moved to Buffalo along with a fifth-round pick for Dave Andreychuk, Darren Puppa and a first-round pick. Fuhr only played 65 games in Buffalo, while Andreychuk played 223 in Toronto. The following season Andreychuk scored 46 goals in 83 games. Potvin, a second-round draft pick in the 1990 NHL Draft, played in Toronto until the 1998-99 season. He became expendable when the Maple Leafs signed Curtis Joseph. The Leafs traded Potvin and a sixth-round pick to the New York Islanders for Bryan Berard.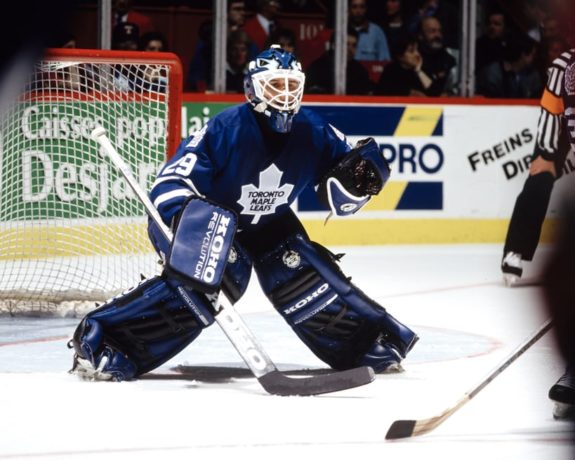 Still, Potvin's name is all over the Maple Leafs' record book. He played the third-most games for a Toronto goalie with 369, behind Johnny Bower at 475 and Turk Broda at 629. He is also behind those two for all-time wins at 160. Potvin made 10,107 saves, had a 2.87 goals-against average, a .908 save percentage and 12 shutouts during his time with the franchise.
He still holds the club record for saves in a season when he stopped 2,214 pucks during the 1996-97 campaign. He also won the Molson Cup Award in 1996, 1997 and 1998. That award is presented to the Leaf player who accumulated the most three-star selections in a season. Before their 2016-17 home opener, Potvin was named number 45 during the team's Centennial Anniversary. The club announced "The One Hundred," a list of one hundred of the greatest players in team history. Let's remember those facts instead of that moment.