The Maple Leafs announced four cuts today: they re-assigned recent draft pick William Nylander and placed Colton Orr, Frazer McLaren, and Korbinian Holzer on waivers with the intent to send them to the AHL's Toronto Marlies, should they clear.
This is great, and frankly, shocking news. The Leafs' head coach, Randy Carlyle, seemed poised to keep at least Orr on the roster, and with rumours swirling that the team would trade or waive Carter Ashton, it seemed like more of the same for the Leafs. Taken for granted that the Leafs would act like, well, the Leafs, this was a disappointment to all who  thought this summer's hiring of Brendan Shanahan as well as noted analytics supporter Kyle Dubas as assistant GM, the firing of Claude Loiselle, Dave Poulin and Carlyle's entire coaching staff, plus the addition of several Money Ball-esque value signings marked a change in direction for the franchise.
But, credit where credit is due: The Leafs made the right decision to do away with the enforcers role and not repeat the Colborne/Holland fiasco a year later with Ashton Carter. By doing so, they now have the option of dressing four lines that can score and, most importantly, skate. Myself, along with, I am sure, thousands of other Leafs fans, breathed a sigh of relief today when the news of the cuts came across the wire. From a competitive standpoint, from a roster management standpoint, and a philosophic team-running standpoint, this is a move that not only is the right move, but that speaks volumes about the nature and direction of the franchise.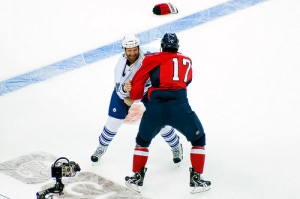 Going Forward:
It is now easier to trust in the vision of Shanahan and Nonis knowing that they aren't just paying lip service to an idea while just falling back into old habits and styles. The same goes for Carlyle. To the surprise of many, he was brought back after a terrible season last year. The condition, apparently, was that he get new assistants and adapt to the team's new direction.
Personally, as the Leafs kept Orr and McLaren around the entire camp, I was getting doubtful. I did not think that Carlyle would cut Orr. From the things he said, to Orr dressing in most of (if not all) the pre-season games and just because he is Randy Carlyle, I thought Orr would be on the team. No, scratch that, I just assumed he would be.
Without an enforcer, for what I believe the first time , the Leafs will hopefully have a fourth line that can contribute on offense and not be used as sparingly as it was last year. While people are saying the team will have to "have more toughness up and down the lineup," I think this is ridiculous, since I think not having an enforcer will change nothing. Ever since the instigator rule came into the NHL, enforcers have basically been relegated to having staged fights against each other. Personally, I love to watch a good fight and don't think it should be legislated out of the game. I do, however, have a hard time getting excited about one enforcer fighting another at a scheduled time and place.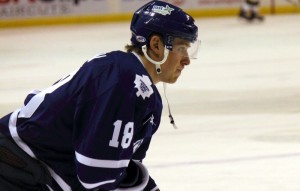 The worst part is not even the staged fights. It's the avatar system: Say a player slashes Kessel or gives him a cheap-shot. Kessel doesn't fight that guy (and he shouldn't) but neither does Orr. Because some guy hits Kessel, Orr has to go out and fight that guy's team's designated tough-guy. What exactly is the  point of that?  It'd be one thing if Orr could play a regular shift and stick up for his teammates by fighting the perpetrator, but it's pointless and bordering on nonsensical to fight his representative. I mean, the two enforcers were bound to fight at some point anyways, so all the cheap shot on Kessel did is move the fight up a few minutes.
Anyways, I think Orr is a good guy and a class act. I don't feel good about feeling good that he got cut. From a personal perspective, I actually kind of feel bad for him. At l east until I realize that I'd play for the Marlies for about a tenth of his salary (probably less, actually).  He did his job and if anything, he has improved his acutal hockey abilities quite a bit and worked hard to do so. You have to respect that, but ultimately, it's the times more than anything. Ten years ago, Orr would have been the toast of this town – it is, after-all a place where we exalted Tie Domi to the point that he was honored in  a pre-game ceremony, and where we questioned if Sundin or Phaneuf are good enough "leaders" to be Captain, and then complain that Phil  Kessel is too fat.
Honestly, with the, at times, certifiably insane notions of popular opinion in this town, the constant losing, the history of terrible roster and personal decisions, and, did I mention the constant losing? With all that, it can be a hard team to cheer for sometimes. That is why today is such a positive development for the franchise. It may be rough for the guys they cut, but for everyone who wants to watch a professionally run, progressive franchise it was the right move.