Buffalo Sabres fans are only going to have to wait just a few more days to see Sam Reinhart make his NHL debut.  The Sabres made the announcement on Monday that the 2nd overall pick in the 2014 draft will remain with the team as they break camp.
It isn't certain how long he will stay in the NHL, but he is eligible to play in nine games before his contract kicks in.  If he doesn't stick with the team he will be sent back to junior.  Here is a quote from Reinhart from an interview he did with Sabres.com
"I'm always going to be trying to prove myself no matter what the situation is, no matter what game it is in the season.  My focus right now is just the first one not the next however many I have to make a statement. I'm just going day-by-day and focusing on that." – Sam Reinhart
While the news is fun and exciting for one, it may be a little disappointing to another.  Battling for a roster spot with Reinhart was Mikhail Grigorenko.  Grigorenko was sent to Rochester of the American Hockey League to start the season down there.
OFFICIAL: The #Sabres have assigned forwards Zac Dalpe (pending waivers) & Mikhail Grigorenko to @AmerksHockey.

— Buffalo Sabres (@BuffaloSabres) October 6, 2014
One of the things that has been well documented in the Sabres community during training camp were player battles.  Ted Nolan and company have stated that they wanted the decisions they had to make regard the rosters to be difficult.  Grigorenko had a great training camp and did all that he was asked.  Playing in AHL games will only further his game and get him ready when he makes the jump for good.
If the practice lines the Sabres had on the ice on Monday are any indication of how they lineup on Thursday, Reinhart will be playing between Cody Hodgson and Brian Gionta on the third line.  It is an interesting combination but could be the perfect place for him.  Hodgson is looking to build on his 20-goal season from a year ago, while Gionta displays his veteran leadership for which he was signed this offseason.
Another player that is staying in Buffalo (for how long is unknown) is defensemen Nikita Zadarov.  Zadarov, like Reinhart, is eligible to play in nine games.  The Sabres have until Tuesday evening to set their roster.
The long awaited announcement for the captains of the team still hasn't been made.  It is likely that they will announce the players holding those positions around the same time they set the roster.  It is hard to speculate who will hold those titles.  I for one am hoping they don't decide to do co-captains or the former regime's favorite of naming a captain every month.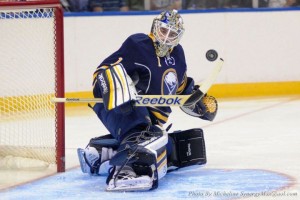 Another battle that hasn't been officially decided is who will man the net on a regular basis.  The battle between Jhonas Enroth and Michal Neuvirth took shape during training camp.  Enroth seemed to have played himself into the starters role, but we will have to wait and find out.  Enroth was first out on the ice Monday during practice if that is any indication.
The Hockey Writer's Power Rankings were published today, and they were a little short on love for the Sabres.  After a very disappointing campaign last season, THW has them in the 30th spot.  Their additions this offseason obviously weren't enough to get them out of the basement and playing for the right to draft Connor McDavid or Jack Eichel.
[THW Preseason Power Rankings can be seen HERE]
Buffalo opens the season on Thursday night against a much improved Columbus Blue Jackets team.