In this edition of Toronto Maple Leafs News & Rumors, I'll share news about Dennis Malgin, who's currently playing in Switzerland. I'll also talk about Nick Robertson's determination to make the Maple Leafs' roster and head coach Sheldon Keefe's response to that determination.
Related: Maple Leafs News & Rumors: 2020-21 Season, Canadian Division & Rielly
Finally, I'll share some of the line matchups from the early days of the Maple Leafs' training camp. Interesting things are happening, which hints at how coach Keefe might deploy his players. Obviously, over the course of training camp and as regular-season games begin, things can change and new decisions can be made. However, it's interesting for Maple Leafs' fans to see what some of these initial ideas might be.
Item One: Maple Leafs Place Denis Malgin on Waivers
The Maple Leafs have placed Swiss player Denis Malgin on waivers. Malgin's been on loan to Lausanne HC of the Switzerland's National League this season and, during his time there, has been better than a point-a-game player. He's scored 11 goals and 11 assists (for 22 points) in 19 games.
My guess is that Maple Leafs' general manger Kyle Dubas still believes Malgin has value to the organization, but that – given the unique context of COVID-19 – it might be good if Malgin stayed "home" to play in Switzerland. If he does clears waivers, the Maple Leafs would have the option to keep him in Switzerland during this upcoming NHL season.
Item Two: Nick Robertson's Done Everything Right: Can He Make the Roster?
There's no question what Nick Robertson's agenda is. He's made it abundantly clear from the start that he'll be happy with no less than a spot on the Maple Leafs' roster. He's determined to make that happen. If you're looking for a good soldier, Robertson is that soldier. From my perspective, he's done everything right.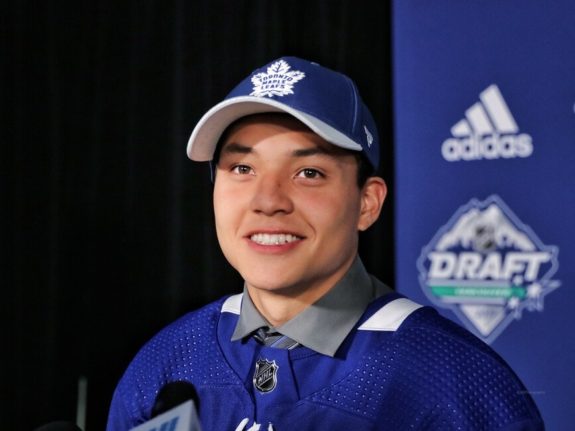 The question is, can he make the Maple Leafs' roster this season? The team must think he has a shot. Robertson was not released to play for Team USA at the World Junior Championship, which gave him the chance to compete for the job in Toronto he really wants. 
Head coach Keefe spoke specifically about Robertson's commitment to his goal: "He has been here in Toronto since the bubble (ended in August for the Leafs). He has been absolutely committed to make himself a better player. His experience in playing in the NHL in the bubble has him focused and primed for this camp. He knows he's in a fight to make our team, and with how much he has put into it, I'm not so sure he would have forgiven us if we had put him in a situation where he had to miss the opportunity to compete in camp. He is as focused an individual as I've seen coming out of junior hockey." (from "Not at world juniors, Robertson deserves full chance to make Leafs: Keefe," Terry Koshan, Toronto Sun, 05/01/21).
Related: Top 3 All-Time Stars Goalies
To read Keefe's comments, I have the feeling that he, too, is rooting for Robertson to make the team. At the same time, Keefe's clear that his bigger goal is putting the best Maple Leafs' team possible on the ice. He simply isn't giving Robertson a roster spot because he likes him. The youngster has to earn it.
As far as a camp update, on day two Robertson – who showed himself to be a scorer when he led the CHL in goals during the 2019-20 season with 55 goals in only 46 games with Peterborough and even scored a postseason goal (his first NHL goal) against the Columbus Blue Jackets – has started training camp partnered with Pierre Engvall and Joey Anderson. The prognosis is that Robertson will start the season moving in and out of the Maple Leafs' game-day lineup.
Item Three: Joe Thornton Starts Training Camp on First-Line Left-Wing
In one of the huge surprises of the Maple Leafs' training camp, coach Keith announced that Joe Thornton would be starting training camp at left wing on a line with Auston Matthews and Mitch Marner. That makes Thornton a key piece and the Maple Leafs' plans for the upcoming regular season.
It's an interesting place for the great NHL forward – and future Hall of Fame player – to begin his Maple Leafs' season. Hockey pundits seemed to believe Thornton would take up a spot as the team's third-line center. But, Keefe had other ideas.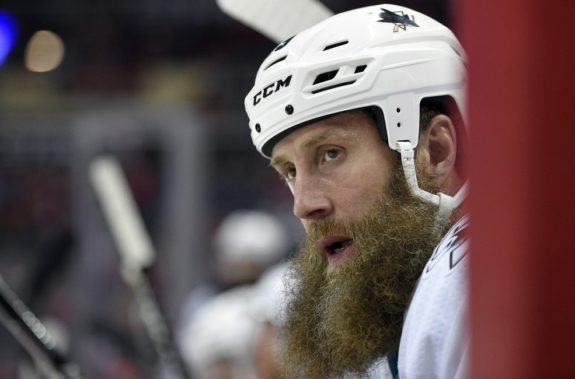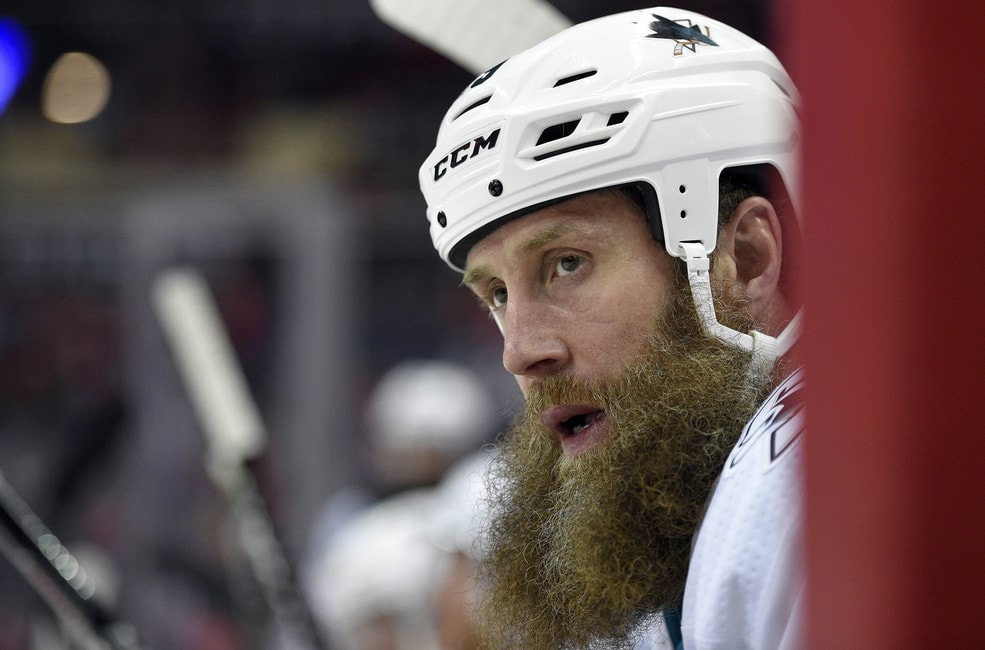 Obviously, line matchups could change before the start of the regular season; however, one can imagine that if this plan works, the Maple Leafs could create one of the top lines in NHL hockey. It would partner one of the best passers in NHL history and one of the best young goal scorers currently playing in the NHL. And, then there's Marner's history of being almost a point-a-game player (291 points in 300 NHL games) over his young NHL career. As I say, it could become a powerhouse line. However, time will tell.
Related: Six Add Scoring Depth, Leadership with Signing of Fluke
Item Four: Zach Hyman Moved to Maple Leafs' Third Line
As readers of my columns might know, Zach Hyman is one of my favorite Maple Leafs' players. However, one roster move trickles down to impact other roster moves. With Thornton bumped to the top line, that moves Hyman down to the third line.  
Hyman typically plays as a mucker for Marner and Matthews, digging pucks out of corners for his two partners. However, at the beginning of training camp he's skating with Ilya Mikheyev and Alexander Kerfoot.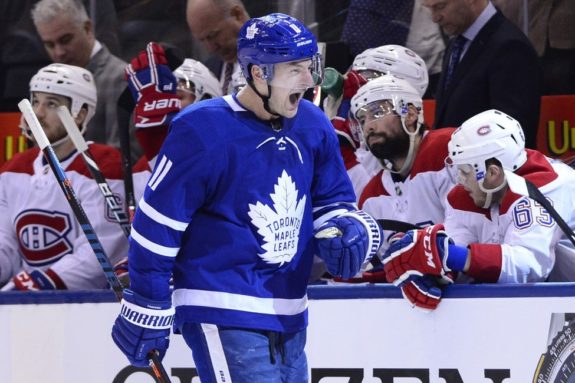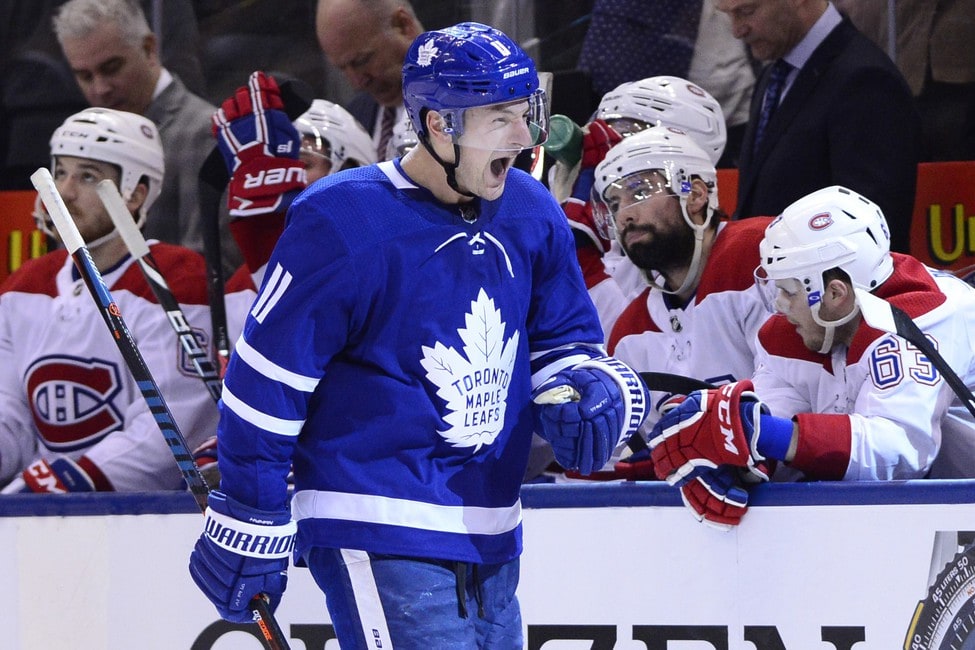 There's no doubt in my mind that Hyman will be value added to the team, wherever he plays. Although he began the 2019-20 season injured, he still had a career season. In his 51 games, he scored 21 goals and 16 assists (37 points).
What's Next for the Maple Leafs
I admit that I find the line matchups early in the training camp interesting. I'm really excited to see what happens to Jimmy Vesey. So far, Vesey is playing with John Tavares and William Nylander. It will be interesting to see how this line does.
Related: Maple Leafs' Rasmus Sandin's Development Derailed For Two Reasons
The countdown has begun. There are only eight days remaining before NHL hockey begins.
---
---