With the world's best under-20 players currently taking center stage at the 2021 World Junior Championships in Edmonton, what better time is there than now to take a look at the best prospects in the Arizona Coyotes' pipeline?
Overall, the 'Yotes don't have as deep of a prospect pool as they've had in years past, but the top-end talent in the pipeline could more than make up for the lack of depth. Here's a look at four players that the team shouldn't consider trading away under any circumstances:
Victor Soderstrom
We covered Victor Soderstrom in our look at the Coyotes' prospects who were on 2021 WJC rosters, and he'll earn another mention here as arguably Arizona's No. 1 prospect.
Since the Coyotes didn't select until the fourth round of the 2020 draft, and don't own their first-rounder in 2021 thanks to sanctions from the John Chayka-era prospect fitness testing scandal, Soderstrom is Arizona's most recent first-round choice, and could be their only one in a three-year span from 2019 to 2021.
Luckily for Arizona, it looks like they got a very, very good one in the 19-year-old Swedish defenseman.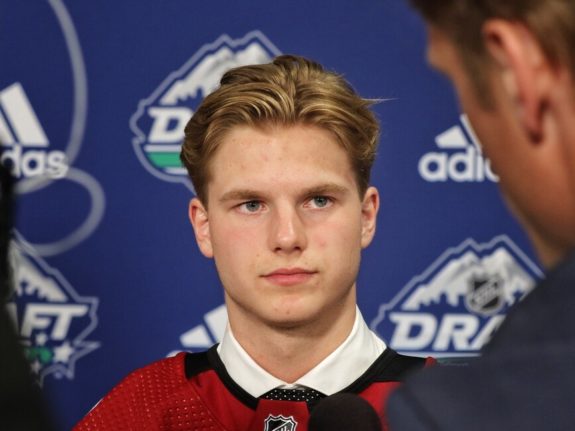 As previously mentioned, we most recently saw Soderstrom take the ice for Team Sweden at the 2021 World Juniors. Victor posted six points in seven games last season's tournament, and was even better this year, scoring at a point-per-game pace with five assists in five contests. Prior to the WJC, Soderstrom posted 6 points in 12 games for AIK while playing over in Sweden's second-tier league.
Soderstrom has yet to make his professional debut in North America, but that should change very soon. He's still only 19, but he's skilled enough to make the move over to the Tucson Roadrunners of the AHL this season. As of this writing, he's under a mandatory seven-day quarantine period after returning to Arizona following Sweden's exit at the WJC, but he'll be able to participate in training camp starting on Jan. 10.
I'm not sure Soderstrom will be able to crack the NHL roster out of training camp in 2020-21 since Arizona is returning all of their seven top D-men, but look for him to play top-pairing minutes in Tucson while also being one of the first call-ups when COVID-19, contact tracing, or injuries inevitably strike Arizona's blue line.
Barrett Hayton
It seems like Barrett Hayton has been in the Coyotes' system for a while now, but he's still only 20 years old. The No. 5 overall pick in 2018, Hayton made the Coyotes' opening night roster last season and got out to a hot start, with four points in his first six NHL games from Oct. 10 to Nov. 2. However, he cooled off significantly in the rest of November, posting no points across the final eight games of the month.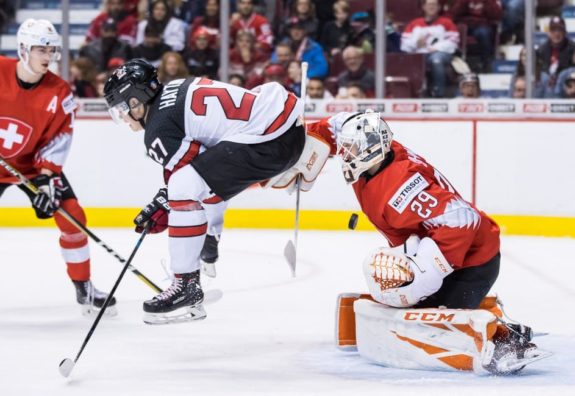 With Hayton finding himself as a healthy scratch throughout December, the Coyotes released him to play for Team Canada at the 2020 WJC, and he certainly made the most of his final chance to play internationally at the junior level. Hayton was named as captain for Team Canada, and he immediately made an impact at the tournament, scoring twice against Team USA in the opening game to help Canada to a 6-4 victory.
Hayton ended up in some hot water in the aftermath of Canada's second game, though – after his team suffered a 6-0 defeat at the hands of Russia, Barrett failed to remove his helmet for the playing of the Russian national anthem following the contest. He immediately found himself at the center of an international controversy, with some even calling for him to lose the captaincy. Hayton and Team Canada issued a swift apology, though, and both the player and the team quickly put the issue behind them by dominating their next four opponents to reach the gold medal game, where a rematch with Russia awaited.
Hayton had suffered a shoulder injury in a semifinal win over Finland, however, and there were doubts as to whether he'd take the ice for the Russia game. Captain Canada did indeed take the ice, and he proved to be one of Canada's heroes, as he scored a late game-tying power-play goal before Akil Thomas won it a few minutes later.
The shoulder ailment, a Grade 1 AC injury, kept Hayton out of NHL action until Feb. 20. He ultimately played six more regular-season games prior to the COVID-19 shutdown, posting no points, then skated in three playoff games in the Edmonton bubble, also without recording a point, to finish the season on a 17-game scoring drought.
Although the 2019-20 NHL season didn't go as planned for Hayton, the door will be wide open for him to step up and earn an expanded role for himself in 2020-21. Centers Brad Richardson, Carl Soderberg, and Derek Stepan, who played big roles in Arizona last season, all will be playing in other cities this year. While general manager Bill Armstrong did sign some free agents in an effort to replace the players that were lost, none outside of 33-year-old Derick Brassard really have the potential to produce more than 20 or 30 points in a season.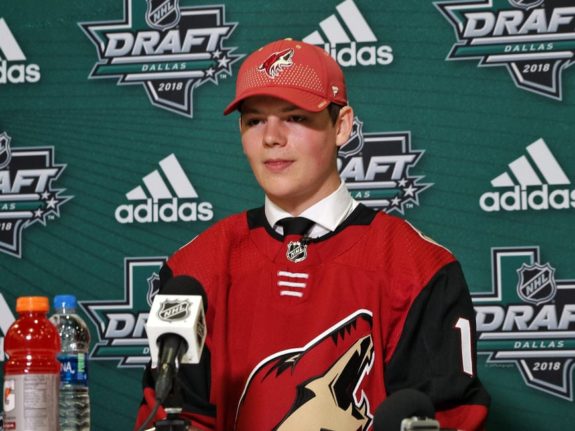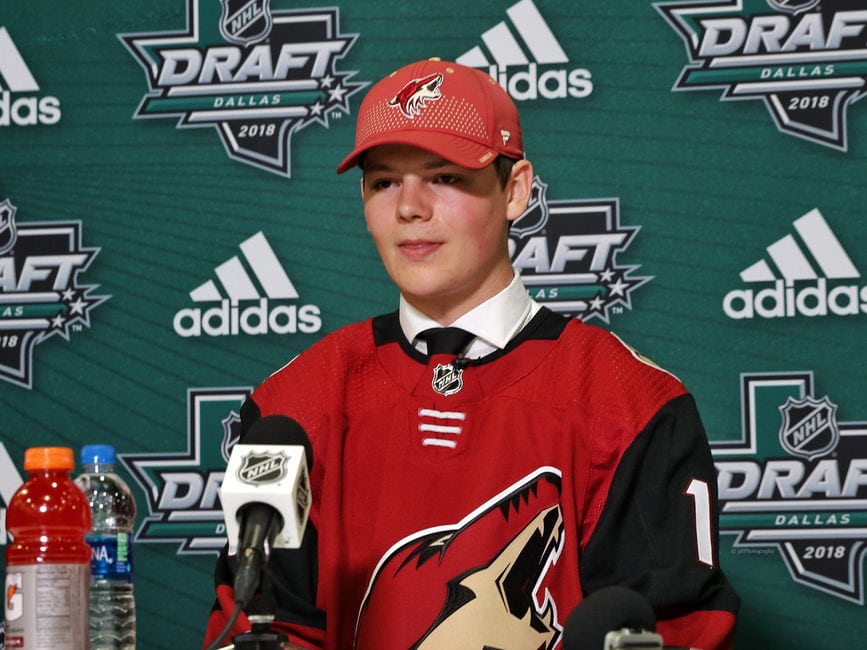 That leaves Hayton with a golden opportunity to step up and play important minutes for the Coyotes this season. However, if he's not yet ready for a meaningful role with the big club, he'll be able to play first-line minutes in Tucson and come up to Glendale when he's ready – something he was unable to do in 2019-20 due to the rules of the CHL-NHL Transfer Agreement.
Either way, look for Hayton to take a big step forward in his development in 2020-21.
Jan Jenik
The No. 65 pick of the 2018 draft, Jan Jenik has the potential to be one of the steals of his draft class.
Jenik experienced some of both the highest highs and lowest lows that hockey players can reach in 2019-20. He may have been the best player in the Ontario Hockey League last season, with an absurd total of 2.07 points per game for the Hamilton Bulldogs.
However, these totals came in just 27 games because of a season-ending injury. While representing the Czech Republic at the 2020 World Juniors, Jenik went down with a right knee injury in a game against the United States on Dec. 30, 2019, after an awkward collision along the boards. The hit resulted in a torn ACL, torn MCL, and a torn meniscus, and his WJC before it really even started.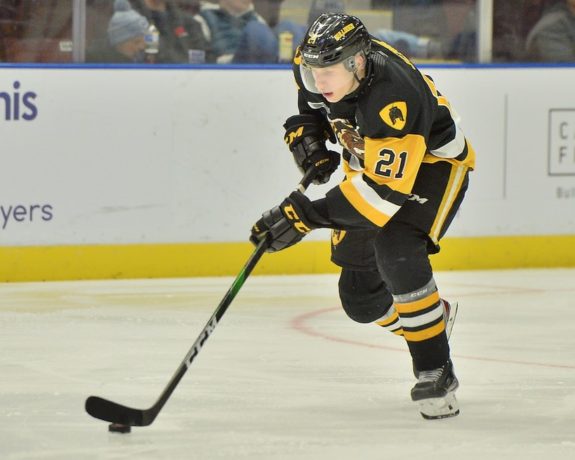 "I felt like a twist and a pop. The pain was probably the worst pain of my life so I knew it was bad," Jenik told Craig Morgan of AZ Coyotes Insider. "I tried to get off the ice but that was really hard because I couldn't step on my leg. I went to the locker room with the team doctor. He did a quick test and he knew right away that my ACL was torn for sure and he thought my MCL was, too. The next day, I had an MRI and it was true: torn ACL, torn MCL and a cracked meniscus in my right leg." (from 'Return to action has Jan Jeník in Finnish heaven', Craig Morgan, AZ Coyotes Insider, 12/1/20)
A lengthy rehabilitation process obviously followed, but Jenik has returned to the ice and has so far shown no ill effects from his knee injury. The Coyotes loaned Jenik to Kettera Imatra of the Finnish Mestis (the country's second-tier league), where he posted eight points in seven games before returning to Arizona for training camp.
Jenik is eligible to play in the AHL this season, so look for him to play in Tucson as he makes the adjustment to the North American professional game before joining the Coyotes in 2021-22.
Matias Maccelli
Matias Maccelli was a fourth-round selection back in 2019, but he could have a bright future in the NHL if he continues to develop.
After collecting 72 points in 62 games with the USHL's Dubuque Fighting Saints in 2018-19, Maccelli was rewarded by being one of the first 100 players taken in his draft class. The 5-foot-11 forward then took his talents back to his native Finland for the 2019-20 season, where he skated as a 19-year-old for Ilves Tampere of the Finnish Liiga.
Despite the fact that he was playing in a senior league with professionals just one season after wrapping up his junior hockey career, Maccelli didn't miss a beat as he transitioned to pro competition, collecting 13 goals and 17 points across 43 games before the world came to a halt due to COVID-19. His play earned him a runaway victory in the Liiga's rookie of the year voting – he finished with over two-thirds of all first-place votes from the Finnish media.
Matias has picked up right where he left off this season, posting 19 points through his first 21 Liiga contests, which, as of this writing, is tied for the seventh-most among all skaters. It might be another year or two before we see Maccelli in a Coyotes uniform, but he's on track to beat the odds and become an NHLer as a fourth-round selection.
---
---