It's beginning to look a lot like hockey season!
After what has seemed like an eternity, the NHL is officially set to resume play on Jan. 13, as they announced their key dates, COVID-19 protocols, rule changes, and divisional alignments for the truncated 2020-21 season earlier this week.
The Arizona Coyotes also got in on the action, releasing their schedule on Wednesday, as well as these photos from ice painting day at Gila River Arena:
I don't know about you, but, for me, seeing the crescent moon logo at center ice brings back great memories of the old days at America West Arena, when Jeremy Roenick, Keith Tkachuk, Shane Doan, Teppo Numminen, and others led the Coyotes to the playoffs in five of their first six seasons in the Valley of the Sun.
If you're too excited and can't fathom the thought of waiting three more weeks for the season to start, there's some good news: the 2021 World Junior Championships (WJC) get underway on Friday with a Christmas Day slate of three games, and three Coyotes prospects will represent their respective countries at the event.
2020 WJC Recap
Last year's edition of the WJC saw Coyotes' 2018 first-round pick Barrett Hayton captain Team Canada to the gold medal. Memorably, Hayton played through a Grade 1 AC shoulder injury in the gold medal game and scored a late third-period game-tying goal against Russia before Akil Thomas put the Canadians ahead for good a few minutes later.
In addition to Hayton, the Coyotes had six other prospects play in the 2020 WJC. Jan Janik (2018, No. 65 overall) posted three points in three games for the Czech Republic before going down with a knee injury, while Victor Soderstrom (2019, No. 11 overall) won a bronze medal, collecting a goal and five assists across his seven games for Team Sweden.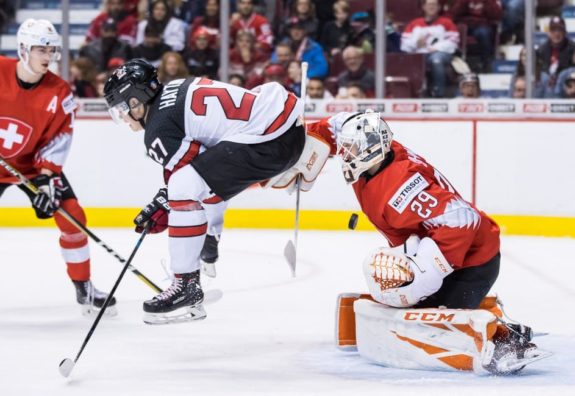 Finland boasted two Coyotes prospects on their roster – Aku Raty (2019, No. 151 overall), the brother of 2021 top prospect Aatu Raty, recorded two goals and an assist in seven games, while Matias Maccelli (2019, No. 98 overall) collected two goals and three assists, also in seven games.
Valentin Nussbaumer (2019, No. 207 overall) put up some big numbers while playing for Switzerland, scoring twice and adding five assists in five games, while defenseman Ty Emberson (2018, No. 73 overall) played in a stay-at-home role for Team USA, posting no points and a plus-two rating in five games. Now a college junior at the University of Wisconsin, Emberson was named the Badgers' captain for 2020-21.
When it comes to the 2021 edition of the event, two players will be returning for another crack at WJC glory, while one player will be making their first appearance with their country's U20 team. Let's dive into it:
Victor Soderstrom – Sweden
As we previously discussed, Soderstrom had a big 2020 WJC in the Czech Republic, and he'll be back for his second go-around with Team Sweden at this year's tournament in Edmonton.
Related: 2021 World Junior Championship Team Sweden Preview
As part of an absolutely loaded Tre kronor blue line consisting of 2018 first-round picks Nils Lundkvist and Rasmus Sandin along with 2019 first-rounders Tobias Bjornfot and Philip Broberg, Soderstrom, a 2019 first-rounder himself, posted six points in seven games. This tied him with a few other players with the fourth-most points among defensemen, but was good enough for only the third-most on his team.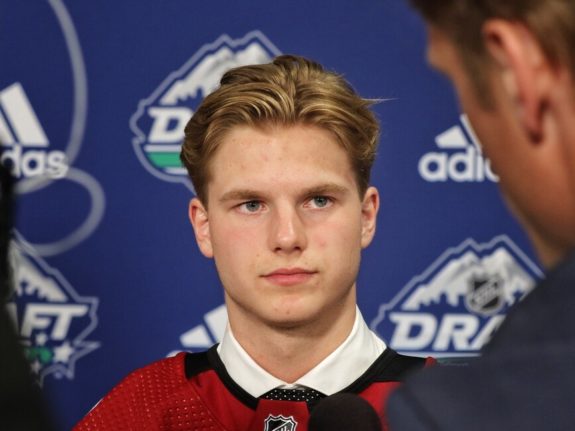 Sandin led all defenders with 10 points en route to being named the WJC's best defenseman, while Lundkvist posted eight points for the third-best total among blueliners. Sandin and Lundkvist both have aged out of this tournament, meaning the door is wide open for Soderstrom to step up and contend for the all-WJC team this year while also making a case to earn a spot on the Coyotes' opening night roster.
Aku Raty – Finland
The second of the two returnees, Raty figures to be a solid contributor for the Finns at the 2021 WJC, as one of just nine NHL draftees among the forward group.
Related: 2021 World Junior Championship Team Finland Preview
Despite being only 19 years old, Raty is already a veteran when it comes to international hockey – he won a silver medal at the 2018 U17 World Hockey Challenge, picked up two goals at the 2019 U18 WJC, and, as previously discussed, posted three points at last year's U20 WJC tournament.
Raty likely won't see top-six minutes unless injury or COVID-19 strikes Finland, but look for him to be a steady, veteran presence on his country's third or fourth line.
John Farinacci – United States
Making his debut on the U20 stage this year will be American center John Farinacci (2019, No. 76 overall). A product of Red Bank, New Jersey, Farinacci will be making his first appearance in an IIHF event for Team USA, but this will not be his first major junior hockey tournament. He previously captained the United States at the 2018 Hlinka Gretzky Cup, posting five points in five games as the Americans controversially lost in overtime to Canada in the semifinals after Dylan Cozens was credited with the game-tying goal at the end of the third period despite time expiring well before the puck entered the net.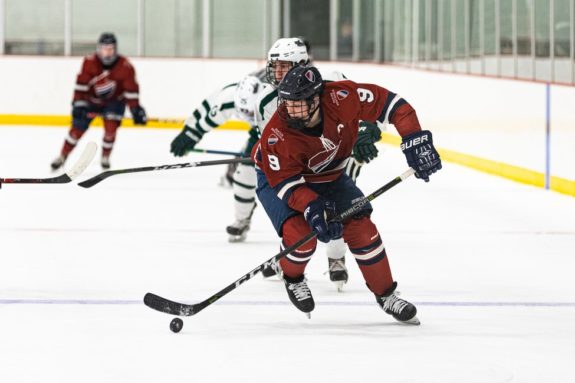 This season, Farinacci is playing for the Muskegon Lumberjacks of the USHL after spending last season at Harvard. The Ivy League has canceled all winter sports due to the COVID-19 pandemic, forcing Farinacci to find an alternative home for the 2020-21 campaign. With Muskegon, Farinacci has recorded four goals and four assists in six games. In a bigger sample size, Farinacci had a successful freshman season at Harvard last year, collecting 22 points in 31 games as an 18-year-old, which earned him a spot on the ECAC All-Rookie team.
Related: 2021 World Junior Championship Team USA Preview
Team USA is loaded with high-end NHL prospects this season, which may force Farinacci into a depth role, but he has earned his spot on the roster. Look for him to make the most of any opportunities he is given at the WJC.
There aren't as many Coyotes' prospects participating in this year's WJC as there have been in years past, but look for Soderstrom to provide the quality over the quantity. He played extremely well last year despite being arguably the third-best defenseman on his own team, and he should take another big step forward at this year's tournament. The future is bright for the young blueliner, and his potential will soon be on display for the world to see.
All the 2021 World Junior Championship Team Information:
Austria — Team Preview — Roster
Canada — Team Preview — Roster
Czech Republic — Team Preview — Roster
Finland — Team Preview — Roster
Germany — Team Preview — Roster
Russia — Team Preview — Roster
Slovakia — Team Preview — Roster
Sweden — Team Preview — Roster
Switzerland — Team Preview — Roster
USA — Team Preview — Roster
Selection Camp Invites by NHL Team
Draft Eligible Players to Watch
One Player to Watch for Each World Junior Team
7 Predictions for the 2021 World Junior Championship
A lifelong Phoenix resident, Louis has been following hockey since 2010, has covered the Arizona Coyotes since 2015, and has been playing hockey since 2020. So far, Louis has visited eight NHL cities, and one of his personal goals is to eventually make it to all 31 NHL arenas. For any questions or concerns, contact the writer via Twitter @LouisPannone.