With the 2021 World Junior Championship (WJC) right around the corner, there are going to be plenty of players who are relatively unknown to a lot of people. Every year, we see players step out into the light and become heroes for their countries such as Akil Thomas for Team Canada last year. Although there are no fans in attendance this year, it is still bound to be an amazing tournament with loads of fun storylines. With that being said, here are five players who are poised to make a big difference for their countries.
Brad Lambert, Finland
A top-two talent for the 2022 NHL Draft, Brad Lambert is going to be a household name in a few year's time. The 17-year-old has spent this season playing for JYP of the Liiga where he has put up a respectable four goals and three assists in 18 games. While there is no denying his talent, many people were surprised to see him make the team simply due to how young he is.
What has impressed me the most with Lambert is how dominant he is with the puck on his stick. With his elite skating ability and his ability to read the play, he can find teammates with a hard pass with defenders draped on his back. In the offensive zone, he is able to effectively cycle the puck and can weave his way in and out of traffic with ease.
When the puck goes into the corner, he is not afraid to battle against bigger opponents and often comes out with the puck on his stick. His transitional game is also something to behold. Lambert is great at using his skating ability to pick up speed through the neutral zone, drive around the defender and drive the net.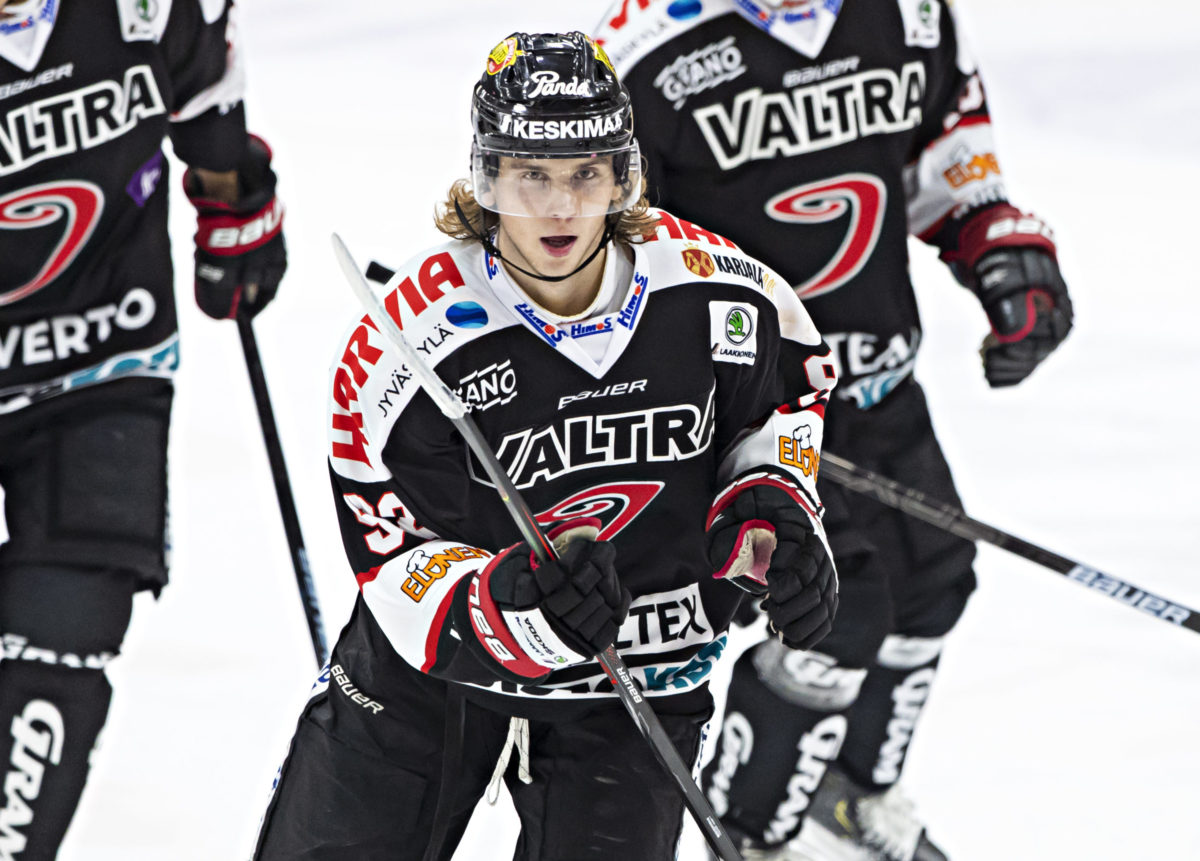 In Finland's only warm-up game versus the United States before the World Juniors start, Lambert was one of the best players on the ice. Although he was one of the younger players on the ice, he did not look out of place and finished the game with two assists. He will no doubt be a difference maker if Finland makes a deep run, and I am so excited to watch him play.
Senna Peeters, Austria
A name that a lot of people have probably never heard of, Senna Peeters is one of the players I think fans should be excited to watch. Currently playing for Rogle BK J20 of the J20 Nationell, he has scored seven goals and added an assist for eight points in six games to go along with 33 penalty minutes.
What has impressed me the most about Peeters is how he does not back down from anyone and gives it his all whenever he steps out onto the ice. He is so good at battling for position in front of the net and is often rewarded for his efforts with an easy goal. With the puck on his stick, his vision allows him to be able to find teammates in the slot and he has great composure with defenders trying to take the puck off of his stick.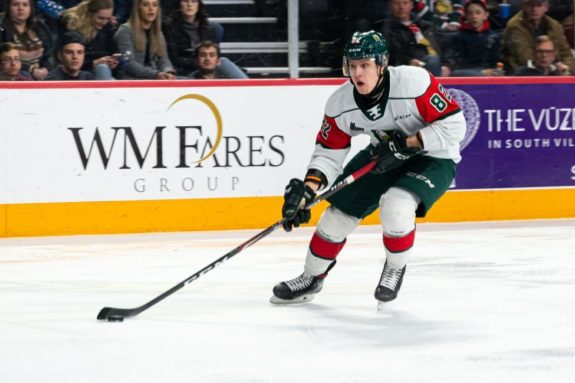 In Austria's warm-up game against Switzerland, Peeters was one of the more dangerous players on the ice. He played a lot of minutes alongside 2020 first-round pick Marco Rossi and they looked like they could develop some good chemistry over the course of the tournament. Although Austria may not win a game, I think a lot of people will see how talented Peeters is and how much of a difference he could make on an otherwise weak Austrian team.
Marco Kasper, Austria
The youngest player on Team Austria, Marco Kasper is a player that a lot of people should be getting excited for. At only 16 years old, he has looked amazing this season playing for Rogle BK J18 of the J18 Region. In seven games, he has scored three goals and added five assists for eight points. He also suited up for six games with Rogle BK J20 where he collected two goals.
While Kasper is still only 16 years old, he has some insane skills that are only beginning to shine through. His ability to find open ice in and around the net is admirable and opposing defenders always have to have an eye on him as he will capitalize on a loose puck if given the chance. His vision is also impressive. While at times, he can make some ill-advised passes, he is able to locate teammates in and around the net as well as the slot with ease. His defensive positioning looks good for someone his age and he is relentless while pursuing the puck.
Kasper proved to his coaches in their game against Switzerland that he can be a play driver for the team. He looked really impressive and had a glorious chance to score a goal but missed wide. Kasper is definitely someone who will become more well known as his draft year inches closer and someone who I will personally be following closely as the tournament begins.
Stanislav Svozil, Czech Republic
Another 2021 NHL draft-eligible player, Stanislav Svozil has a very good chance of going in the first round at the draft in June. The 6-foot-1 defenseman has been playing for HC Kometa Brno of the Czech league where he has been held pointless in 10 games. He has also suited up for one game with HC Prerov of the Czech2 where he collected an assist.
What has impressed me the most about Svozil is his ability to make his presence felt in all three zones. While one may look at his stats and question what I am saying, it is his ability to get shots on net and make plays that have impressed me. He is great at walking the line and is able to spot teammates in and around the net. He uses the cycle game well and is effective in shielding the puck from his opponents. Svozil's skating is also really good. His stride is clean and fluid and this allows him to get to top speed quickly. He is great at gaining speed through the neutral zone and poses a threat when he jumps up into the rush.
Svozil may not make as much of an impact on the scoresheet as other players will on this list, but I am excited to see how he plays against older competition. He has a lot of talent and while the Czechs will have their work cut out for them, I expect Svozil to be one of the main play drivers from the back end. I am extremely excited to see him play and expect big things from him.
Oskar Olausson
One of the draft-eligible players who has risen the most since the start of the season, Oskar Olausson has been off to a great start since October. Currently playing for HV71 of the Swedish Hockey League, he has collected four points in 11 games. He has also suited up for HV71 J20 of the J20 Nationell were he has scored 14 goals and added 13 assists for 27 points in 16 games.
What has impressed me the most about Olausson is the fact that he is so dangerous with the puck on his stick. He has amazing patience in the offensive zone and can hold onto the puck until he finds an open passing lane. He uses his great edges to dart in and out of lanes and is a havoc in and around the net. He has a great shot as well. Given time and space, he is able to pick and choose where he wants to put the puck. Going from 6-foot-0 to 6-foot-2 over the last year has helped Olausson gain a lot of traction from NHL and public scouts, and it is easy to see how good of a player he can be.
While Sweden has some incredible talents in players like Lucas Raymond, Alexander Holtz and Philip Broberg, a lot of people will be keeping their eye on Olausson. I figure he will be a key cog if Sweden wants to make a deep run at this year's tournament and it will be exciting to see how he fares against some of the best competition in the world.
Exciting Tournament
Every year, we see players go from relative unknown to a known commodity in the hockey world. Everyone dreams of making a difference for their country and these players have the opportunity to do just that. Millions of eyes will be watching their every move and it will be exciting to see how these players will do because I believe they all have the chance to break out over the next few weeks.
All the 2021 World Junior Championship Team Information:
*Links to come throughout December
Austria — Team Preview — Roster
Canada — Team Preview — Roster
Czech Republic — Team Preview — Roster
Finland — Team Preview — Roster
Germany — Team Preview — Roster
Russia — Team Preview — Roster
Slovakia — Team Preview — Roster
Sweden — Team Preview — Roster
Switzerland — Team Preview — Roster
USA — Team Preview — Roster
Selection Camp Invites by NHL Team
Roster Breakdowns by NHL Team
One Player to Watch for Each World Junior Team
7 Predictions for the 2021 World Junior Championship
---
---