Across the board, 2020 was a pretty terrible year in both sports and the world at large. However, there were still moments to be excited over. For the Bruins, there were triumphs, such as winning the Presidents' Trophy for the best NHL regular season record for 2019-20. There were also some tough losses and key departures that hurt both on and off the ice.
Related: Bruins Release Their Training Camp Roster & Schedule
Let's take a look back at the three best and three worst moments for the Bruins in 2020.
3. Worst: 9-3 Loss to Vancouver Canucks
In a league with as much talent as the NHL, it isn't often that there are complete blowouts. Most games in a season are competitive and exciting to watch. Any given night, any team could pull out a win. It's what makes NHL hockey exciting to watch. 
Unfortunately, on Feb. 22, 2020, this did not work in the Bruins' favor. The team was coming off a close win in Calgary the night before and at the end of a week-long road trip through Western Canada. They arrived in Vancouver on a five-game win streak and looked unstoppable until taking the ice against the Canucks that night. 
Related: Bruins Who Need to Make Their Mark on the 2020-21 Season
From the very beginning, the team didn't look sharp, but at least through the first period it still looked like they could potentially pull off another win. Thanks to an early goal from David Pastrnak, the Bruins were only down by one going into the second period. Then the Canucks scored four answered goals, including one from former Bruin Loui Eriksson.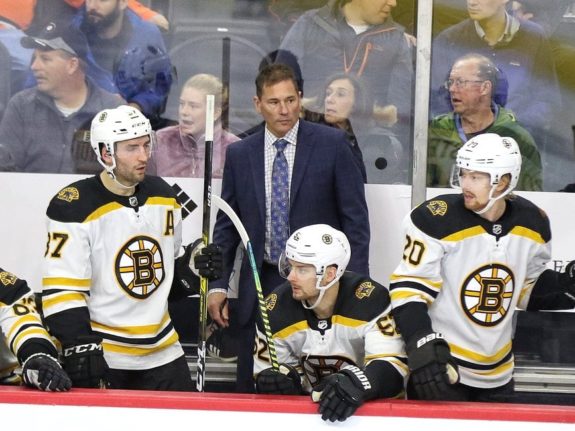 Tuukka Rask allowed six goals on 27 shots before being pulled during the third period. It was an ugly game and an ugly loss, their worst of the 2019-20 season.
3. Best: Presidents' Trophy Win
Despite their 9-3 loss to Vancouver, the 2019-20 regular season as a whole was a great one for the team. They finished 44-14-12 on the season and led the NHL with 100 points before the season was paused on March 12. It's the third time the team has ever won the trophy, the last time coming at the end of the 2013-14 season. Coincidentally, that win was also met with a loss in the second round of the playoffs.
While the team was far from perfect, there were many great moments and exciting wins in the regular season. Before the pause and consequential end to the regular season, things were generally auspicious for the team. General manager Don Sweeney made several moves at the trade deadline to address issues at depth scoring and general toughness that were hopeful to bolster the team for another run at the postseason. 
Related: 5 Things Bruins' Fans Can be Thankful For
As great as it is to be the best team in the regular season, winning this award is not ranked higher on this list because it unfortunately did not lead to wins when it mattered most.
2. Worst: Second Round Loss to Tampa Bay Lightning
On Aug. 31, the Bruins lost Game 5 of their series against the Tampa Bay Lightning 2-3 in a game that went to double overtime. Despite beating the Carolina Hurricanes in five games in Round 1, the team was met with a Lightning team that had a chip on its shoulder and incredible talent. Despite winning the first game of the series and an overtime loss in the second game, they were blown out 7-1 in Game 3 and the Lightning never looked back. 
You may be wondering why this isn't first on the list. Well, frankly, the Bruins shouldn't have won this series. The Lightning were a superior team and it showed. From the moment the playoffs started, things seemed off and it didn't look like the same team that won the Presidents' Trophy.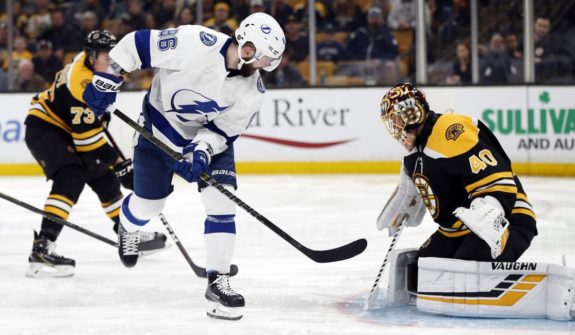 Overall, they looked sloppy on defense, despite Jaroslav Halak's best efforts, Rask was missed, and no one could generate offense at even strength. In the five-game series, the Bruins only scored five goals on 5v5. No team is going to win a Stanley Cup when putting up numbers like that.
No one likes to lose, but sometimes you just have to admit that you were the weaker team.
2. Best: Zdeno Chara 1,000 Games with the Bruins
The now-former captain of the Boston Bruins, Zdeno Chara, hit two major milestones in the 2019-20 season. One of them, his 1,500th game, was reached on No. 6, 2019, and the second, his 1,000th game as Bruin, was achieved on Jan. 13, 2020 against the Philadelphia Flyers. He became the sixth player in franchise history to play 1,000 games for the team, joining a list of Ray Bourque, Johnny Bucyk, Don Sweeney, Wayne Cashman, and Patrice Bergeron. This list will gain one more this upcoming season as David Krejci is only 12 games away from reaching 1,000.
Related: The Value of Zdeno Chara's Leadership
What differentiates Chara from his peers is that he is the only one to play all 1,000 games as captain of the team. He has been a special and integral part of the team since his arrival to Boston on July 1, 2006, with a free agency deal of five-years, $37.5 million. Those five years turned into 14. During his time with the Bruins, he cemented his place in franchise history and achieved a lot, including a Norris Trophy win in 2009. Chara had this to say about his achievement and sustained success in the NHL over his 22-season career.
"I think there's a number of things involved. You've got to be, obviously lucky, too, but I think it really comes down to loving what you do. Having passion for it and you've got to have the will, whether it's sometimes going above and beyond and sacrificing and doing all of these things will eventually pay off.

And believing, I think you've got to accept that it's not always going to be great, you're going to hit some adversity and challenges. But that's just the nature of our lives, no matter what you do. Once you hit those you, you kind of have that mindset that you never give up and always go after it.

You've got to love what you do."

Eric Russo, NHL.com
No one reaches 1,500 total games and 1,000 games with one team if they don't love what they do and, clearly, Chara is one of the most passionate players in the NHL. Even as his play has taken a dip in the past few seasons, he has remained a model of professionalism and hard work.
1. Worst: Loss of Krug and Chara
This brings us to the worst moment of 2020 for the Bruins and that is the loss of defensemen Torey Krug and Chara to free agency. Krug signed a seven-year, $45.5 million contract with the St. Louis Blues on Oct. 9 while Chara was announced to have signed a one-year, $795,000 on Dec. 30 with the Washington Capitals. Both players have been stalwarts on the blue line and leaders both on and off the ice. As the team has added younger pieces in recent seasons, both players have played big roles in incorporating them into the locker room and their presence will surely be missed.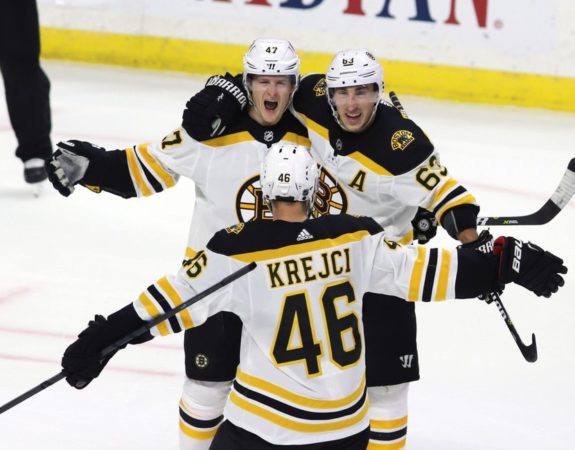 Theoretically, the team could have signed both players by not bringing back Kevan Miller and trading away a forward such as Nick Ritiche or Anders Bjork. But Sweeney and head coach Bruce Cassidy seem to be committed to giving some of their young defensemen a shot this season. While it may make sense business-wise, this offseason has turned one of the Bruins' biggest strengths in recent seasons into a question mark. 
Krug and Chara have been fan favorites and instrumental parts of the team for years. Their departures are only made worse by the teams they are heading to. The Blues beat the Bruins for the Stanley Cup in 2019 and the Capitals have been the team's Achilles' heel for years, who they will now play eight times this season. 
It'll be interesting to see how the blue line performs in 2020-21 and who will step up to fill in the giant skates (quite literal in Chara's case) left behind by Krug and Chara.
1. Best: David Pastrnak Wins Maurice "Rocket" Richard Trophy
As the team loses two longtime, important pieces, it's reassuring to remember the young talent that exists on this roster. Pastrnak is shaping up to be a superstar in this league. The 24-year-old was selected by the Bruins in the first round of the 2014 NHL Entry Level Draft with the 25th pick. He quickly made an impact with the team, playing 49 games in the NHL in the 2014-15 season and scoring 10 goals and 27 points. 
Related: 3 Bruins Prospects Ready to Make an Impact in 2020-21
Since his first season, Pastrnak has seen an increase in goals and points every year. He's only 20 goals away from reaching 200 career goals and has established himself as a premiere scorer in this league. The Maurice "Rocket" Richard Trophy win is the icing on the cake.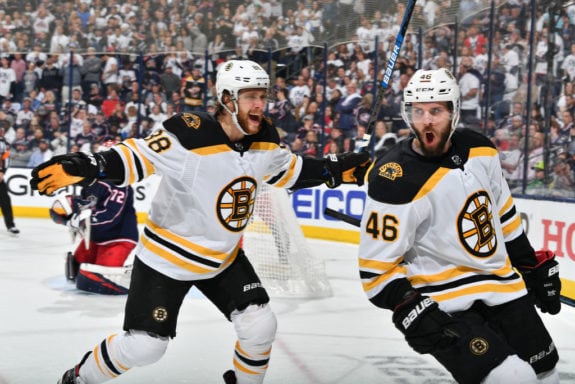 For the 2019-20 season, Pastrnak had 48 goals and 95 points in 70 games. If the season had been able to play out to the end, he almost certainly would have hit 50 goals and 100 points, important NHL milestones. He shared the trophy with Alexander Ovechkin, who won it for the record-setting ninth time in his career. Ovechkin has been one of the best goal scorers in the NHL for the last decade and if Pastrnak wants to be one of the best for the next decade, this is a great start.
Looking Forward
The 2020-21 season should be interesting for the Bruins. There will be a new captain for the first time in 14 seasons and opportunities for young rookies to make an impact in the wake of injuries and offseason signings. The team seems committed to a youth movement this season, and while there will surely be some growing pains, it'll be exciting to have some new faces on the bench. It is not as clear as previous seasons whether or not they will be a dominant force in the NHL, but they still have many bright pieces. 
Happy New Year everyone and here's to the 2020-21 season!
---
---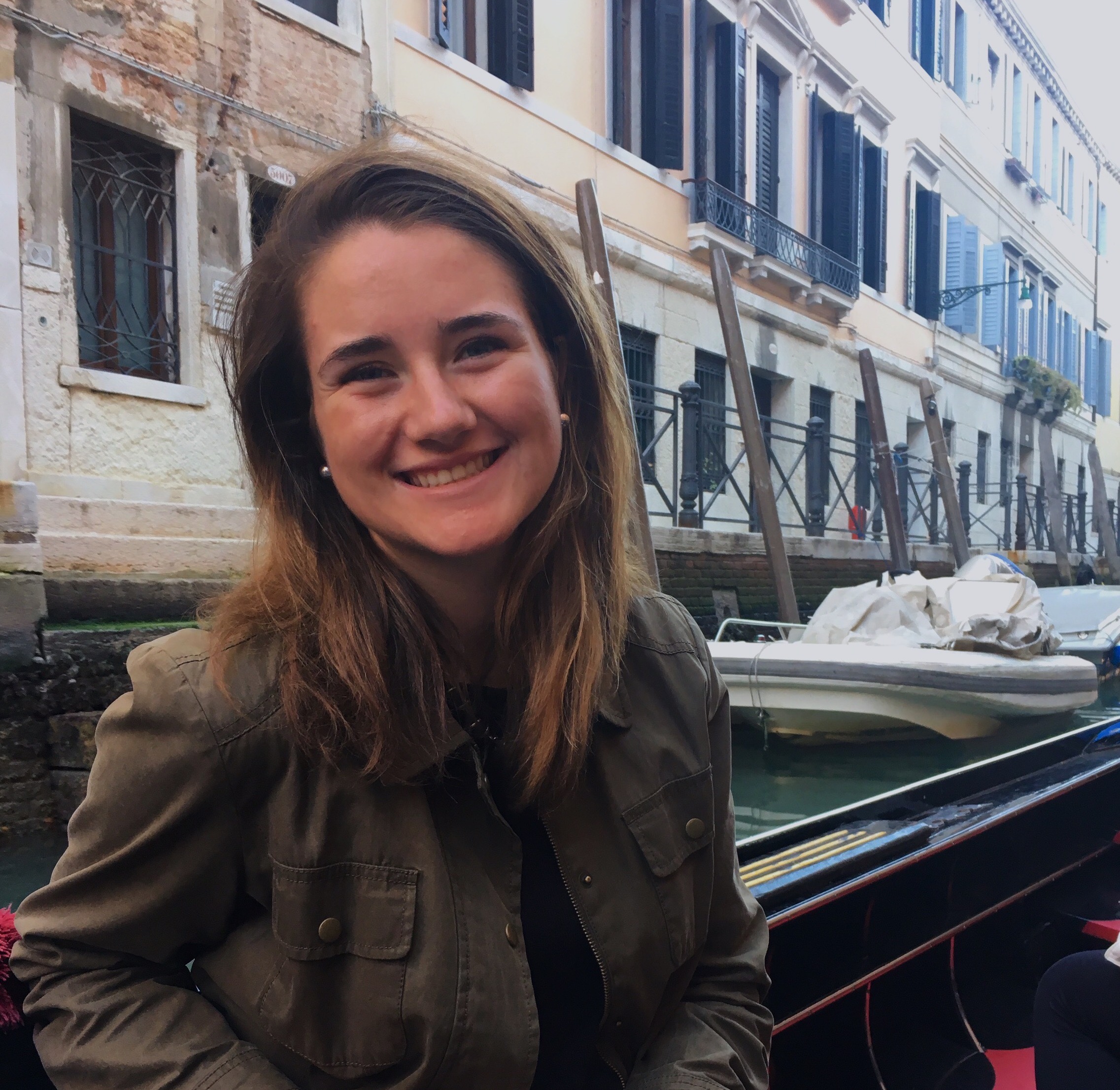 I'm Hannah Garfield, a graduate of Elon University with degrees in Film and Media Analytics. Currently, I'm pursuing my MFA in Screenwriting at Boston University. I'm a lifelong, passionate Boston sports fan and love all things Bruins.