In this edition of Toronto Maple Leafs News & Rumors, I'll look at an interesting player sighting, even if it's only a practice, that brings together both Connor McDavid and Auston Matthews – that's noteworthy. I'll then review Jonas Siegel's article in The Athletic about Auston Matthews' ability to carry his own line and speculate what that might mean for the team's success.
Item One: Has Auston Matthews Found a Buddy in Connor McDavid
Between the NHL's COVID-19 forced suspension of the 2019-20 season on March 12 and the beginning of the postseason, Auston Matthews hosted his great friend Frederik Andersen, who also doubles as the Maple Leafs' starting goalie, at his Arizona home. Yesterday, there was news that Matthews was seen hanging out with another friend in Arizona. This time it was the Edmonton Oilers' Connor McDavid, who also doubles as the NHL's best hockey player.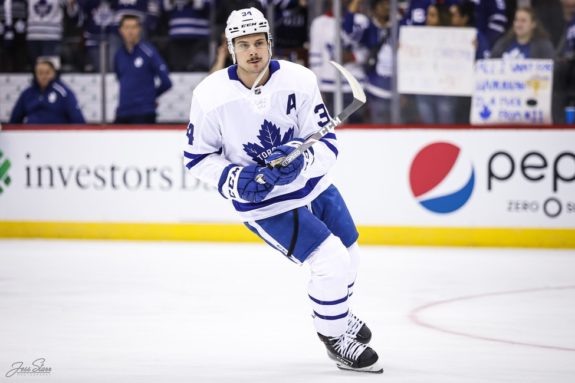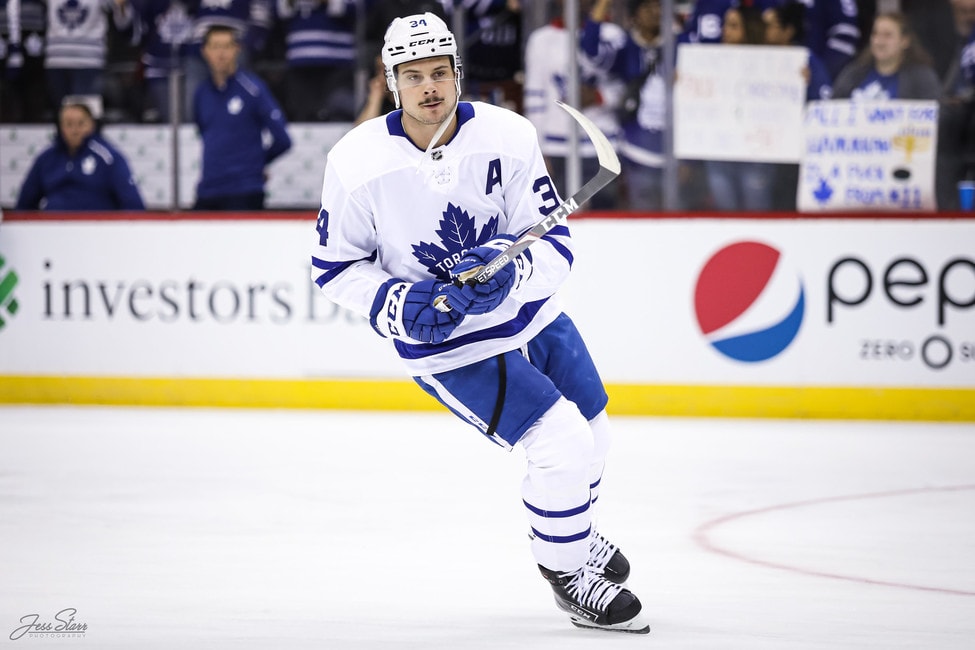 There wasn't news that McDavid was staying at Matthews home – although because both tested positive and now seem fully-recovered from the COVID-19 virus they seemingly wouldn't threaten each other's health off the ice. However, the two have been skating and working out together in practices organized and supervised by Shane Doan, one of hockey's true class acts who had a great career with the Winnipeg Jets-turned-Phoenix Coyotes.
It's also not likely that McDavid and Matthews would threaten each other on the ice either. Probably respect is a better word than threaten anyway.
Related: Toronto Maple Leafs' Nick Robertson Must Play Regularly This Season
That group included Chicago Blackhawks' Jonathan Toews, free agent Anthony Duclair, Minnesota Wild's Matt Dumba, new Ottawa Senators' forward Alex Galchenyuk, and Carolina Hurricanes young defensive prospect Jake Bean. Other Arizona Coyotes players also joined. But make no mistake, the two headliners were the Oilers' McDavid and Maple Leafs' Matthews.
Friedman's article is one of the best I've read in a while, and I think is valuable reading for all NHL fans. It hints at two intangibles that help set McDavid and Matthews apart from other players – their work ethic and their seriousness about improving their game.
Both obviously benefit from good coaching, and the article notes that Doan speaks with each player about what that player wants to improve and then creates drills to help each reach his goals. Friedman highlights the attentiveness to detail Matthews and McDavid bring to their game. These stars take hockey seriously and practice really, really hard.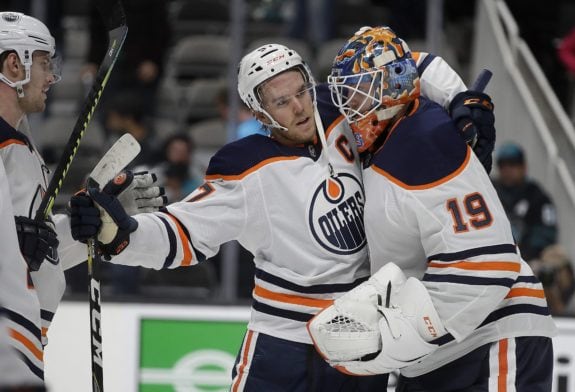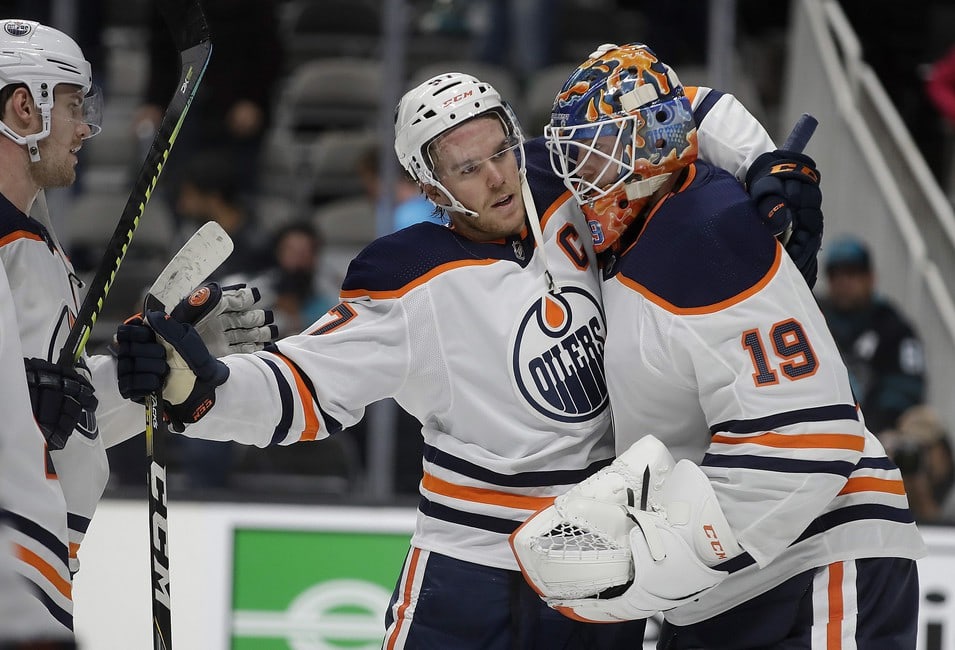 Interestingly enough, McDavid and Matthews have had some time to hang out after practice. When Friedman talked to both about what they liked in each other's game, McDavid highlighted Matthews' shot and Matthews highlighted McDavid's skating ability.
Item Two: Should Auston Matthews Carry His Own Line in 2020-21?
Part of the offseason fun, now that Maple Leafs general manager Kyle Dubas has completely filled his roster to the best of the organization's ability, is to figure out who's partnered on lines and how effective those lines might become. This is true for all NHL teams, but for the Maple Leafs it's especially interesting because they are loaded with high-quality top-six forwards. In fact, critics believe the Maple Leafs might be too loaded because higher-skill usually correlates to higher-salary.
Related: Top 3 All-Time Rangers Goalies
Over recent seasons, Maple Leafs' coaches have worked to find the best line combinations by mixing the "Core Four" forwards attempting to discover consistent magic. There's been flashes of such magic. For example, during early August's qualifying postseason round, who would've bet the Maple Leafs could erase a three-goal deficit with four minutes in regulation to force and then win a 4-3 overtime victory on Matthews power play goal that forced Game 5?
Although these players are obviously capable of such magic, it's sporadic and only bits of magic remain. Then, how to best to deploy the possible combinations of Matthews, Mitch Marner, John Tavares, and William Nylander?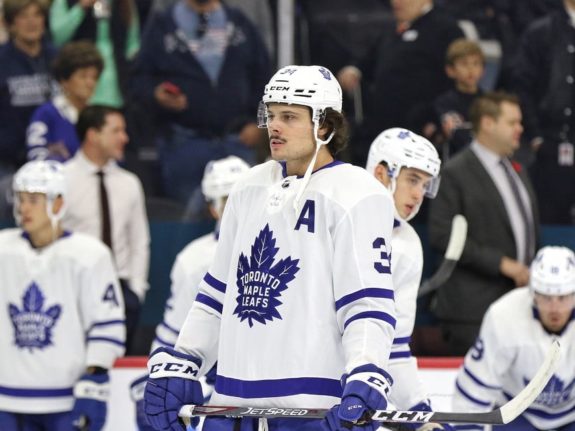 In a recent article, Jonas Siegel of The Athletic discussed the possibility of Matthews running his own line rather than partnering him with either Marner or Nylander. Siegel believes Matthews would be productive with just about any player. If so, could head coach Sheldon Keefe use him to elevate other players? (from "Projecting Leafs' lines, defence pairings and special teams for next season, Jonas Siegel, The Athletic, 16/11/20).
Specifically, Siegel wrote that the Maple Leafs could experiment "with a more balanced approach, the main crux of which would removing Marner and Nylander from Matthews' side. I tend to think Matthews could score with just about anyone on his wings, and that he could elevate two lesser talents in the same way Sidney Crosby has players such as Conor Sheary, Chris Kunitz, and Patric Hornqvist."
If Siegel's assessment is correct, that offers forwards down the depth chart a bigger opportunity to prove their value. One move, however, I would not make is to take Zach Hyman away from Matthews. Those two, I believe, have – if not chemistry – then complimentary skill sets. Hyman is dogged in digging out pucks on the boards and getting them to his partners. Given Matthews' shot, that works.
The one depth forward I'd like to see with Matthews would be Jimmy Vesey. He hasn't yet lived up to his promise, but that doesn't mean all promise has disappeared. Siegel noted this possibility, and I agree.
Related: NWHL Roundup: Mastel Back in Boston, Rosenthal Returns to Whitecaps
In fact, Siegel even speculated further by suggesting that Marner return to play with Tavares and Nylander get to play with newcomer Joe Thornton at center. That gives the Maple Leafs three strong lines. How that works for ice time distribution, I don't know yet. However, having three power lines can't be bad.
For those who've read my posts over time, you know that – in keeping with the season just a month away – thinking of Thornton playing Nick Robertson makes visions of sugar plums dance in my head. I really want to see those two together. Thornton might be the best passer in the NHL; and, while he isn't as fast as he was, a line partnering him with Nylander and Robertson wouldn't hurt for speed.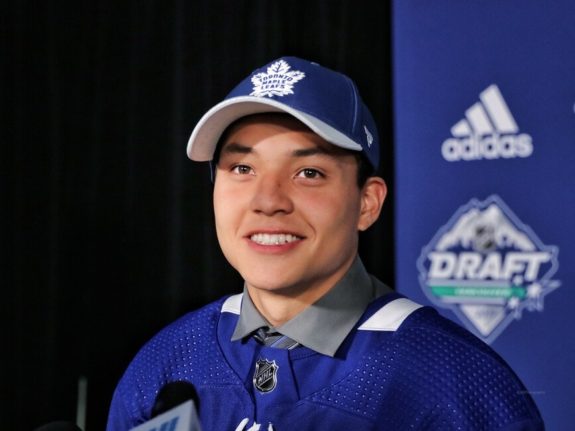 Siegel suggested the following line combinations. That I haven't mentioned his other choices for the top three lines – Alex Kerfoot and Ilya Mikheyev – only suggests the number of possibilities that exist.
| | | | |
| --- | --- | --- | --- |
| Lines | Left-Wing | Center | Right-Wing |
| First Line | Jimmy Vesey | Auston Matthews | Zach Hyman |
| Second Line | Alex Kerfoot | John Tavares | Mitch Marner |
| Third Line | Ilya Mikheyev | Joe Thornton | William Nylander |
| Fourth Line | Alexander Barabanov | Jason Spezza | Wayne Simmonds |
Siegel's speculation rests on one key factor. He believes Matthews can carry a line without another of the Core Four and can also help other forwards flourish. I'm buying what he's selling. I believe that Matthews will take another step forward; and, better yet, I believe he's capable of carrying others with him.
What's Next for the Maple Leafs?
Yesterday, I quoted head coach Keefe suggesting that the Maple Leafs' three young stars – Matthews, Marner, and Nylander – will continue to improve as they mature. This is the season where that might become evident.
Related: Marner Could be Moved if Maple Leafs Decide to Retool
If the team is to make a more extended Stanley Cup run, it will likely be generated from the improved play of these three young stars.
---
---