The Leafs just swept Alberta on back-to-back nights. Not really such a surprise. Unless you actually watched the games that is…
Maple Leafs: have been outshot in 11 straight games…..have won 7 of those games.

— Mike Kelly (@MikeKellyNHL) October 31, 2013
Once again, Toronto was thoroughly outplayed by both the Oilers and Flames and yet they won. They allowed 43 shots on goal in EACH game and were outshot 86-48 overall. They're Corsi For was 91, while their Corsi Against was 150, for a measly percentage of 37.8%, meaning the opposition directed a hell of a lot more pucks on the net than the Leafs. Which leads to me to agree:
https://twitter.com/vaswani_/status/395830539342450688
But will it continue? It can't… right? That's what the stats are saying.
So far the Leafs have averaged 26.5 shots on goal per game, 28th in the NHL. In fact, against Edmonton and Calgary, teams who on average allow over 30 per game, Toronto only managed 26 and 22 respectively. Yet Toronto is 3rd in the league in Goals For per 60 minutes (GF60) at 3.33 and 1st in the NHL in team shooting percentage at 12.7%. Toronto currently has FIVE players with a shooting percentage of 17% or higher. That is insane. Last year by season's end only 20 players in the entire league were above 17% and only two were Leafs. This means inevitably the Leafs will stop getting so lucky on the offensive end.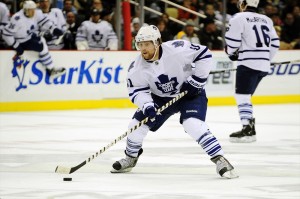 On the other side of the rink, the Maple Leafs are 29th in the league in Corsi For % (43.3%), yet hold down 1st place in the East with a 10-4-0 record. They are 29th in the league in Shots Against per 60 minutes (SA60) at 35.8. This unbelievable team save percentage plus inconceivable team shooting percentage creates an unsustainable PDO of 106.4.
But the statisticians have been saying that for weeks. There has to be a point where you are no longer just "capitalizing" on your chances. When will the luck run out?
I hope it runs out this Saturday when the Leafs visit Vancouver.
While the Oilers had a team save percentage of below .900 and the Flames weren't much better at .908%, Vancouver is better at .912%. The Oilers and Flames don't have good goaltending, and while the Canucks save percentage numbers are only marginally better, they have a goaltender named Roberto Luongo who is 8-0-0 in his career against Toronto. He carries a .932 SV%, something that IS significantly better than the Leafs have been facing so far in Western Canada. You can fully expect him to get the start Saturday, as he is coming off a solid performance against the Wings (although they did lose).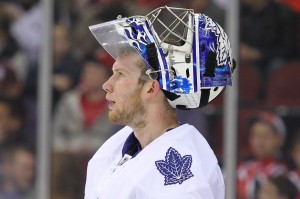 On the Leafs defensive side I don't see Reimer and Bernier holding up a combined save percentage of .937. And since each one of them has only one career start against the Canucks (Reimer was pulled by the way), what better time for a wake up call, which is exactly what Toronto needs.
The Leafs need to get pummelled so they realize they can't keep playing this way. Giving up close to 40 shots per game and scoring four goals on 22 shots won't help you come playoff time. Come playoff time, good teams manage to find good goaltending and manage to bury their chances. The Leafs-Hawks game from earlier this year is an indication of what will happen in April and May if Toronto keeps this up. For those who don't remember, that game didn't end too well for the blue and white and unless something changes, we're going to see many more similar outcomes.