News broke yesterday that Colorado's Steve Downie was being shipped to Philadelphia in exchange for Max Talbot.
Almost immediately, the Flyers' fan base began knocking the trade.  Maxime Talbot was a fan favorite in Philadelphia.  He gave it his all every shift, played a great defensive game, was a upstanding person to be around, and carried with him a cheap contract relative to his production.  The fans who started hating on Downie as soon as the trade was announced clearly haven't seen a single game of his since he left his first stint in Philadelphia.
Let's break down the players.
Maxime Talbot
A full-fledged warrior, Talbot is a helluva player.  He plays in all scenarios and is very successful on the defensive side of the puck.  His knack for being in the right position at the right time has followed him throughout his career and continued this season for the Flyers.  One of Philadelphia's sole bright spots on an otherwise dismal team, Talbot did very well on the PK.  Talbot sticks up for his teammates and walks the walk.  His charm, charisma, and demeanor captivated fans in both Pittsburgh and Philadelphia and it's likely he'll win over the fans in Denver.
Not the biggest player on the ice, Talbot is effective in using his size to shield players from the puck and throw solid body checks from time to time.  He chips in offensively when the opportunity is given and is one of the better even-strength forwards on the ice at any given time.
Steve Downie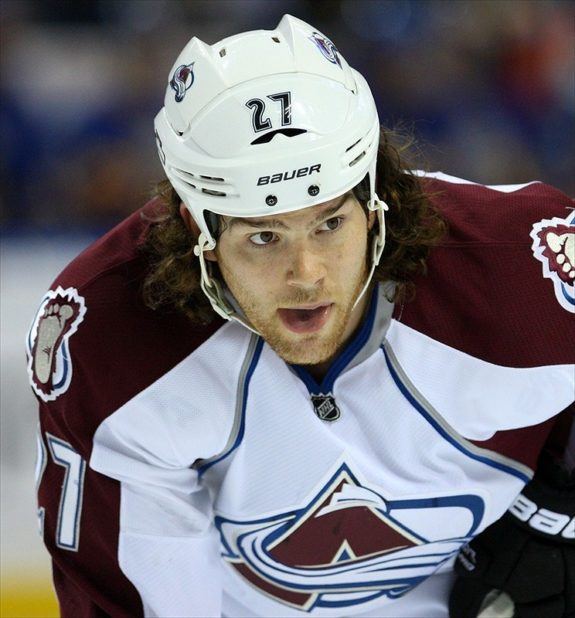 I firmly believe the Flyers gave up on Steve Downie too early when he first played for the Flyers.  He was young, reckless, and couldn't really keep his emotions under control.  Certainly in his NHL career he's had some questionable hits from Dean McAmmond to Roman Josi, but plain and simple, the kid is a gamer.  He exudes Flyers hockey.
After being traded from Philadelphia the first time, Downie went on to be very successful in Tampa Bay alongside Vincent Lecavalier.  The consensus is that Downie will play with Claude Giroux and Lecavalier to start and hopefully rekindle the offense that the former teammates had in Tampa.
Downie is a very underrated player.  Most people see the vicious side of him, but Downie is very talented.  He has a deceptively quick shot and great stickwork.  The knock on him may be his recent injury history.  Last year he missed 80 games with the Avalanche and hasn't played more than 60 games since 2009-10.  But in the right situation, Downie is a very efficient all-around winger with a higher offensive upside than most people give him credit for as evidenced by his stays in Tampa and Colorado.
So Who Wins The Trade?
The Avalanche already have a great group of young, talented players so Downie was expendable.  Likewise, Philadelphia has its fair share of defensive forwards (Couturier and Hall) plus a few coming up through the farm system (Cousins and Laughton).
The Flyers are lacking any sort of scoring so placing Downie on the first line could be very beneficial to a team who is struggling to put pucks in the net.  It should do more to boost other players to compete.  Fans expected players like Jakub Voracek and Scott Hartnell to have big years, but they have laid goose eggs for the most part.
Colorado is on a tear, but was in need of some added defensive presence at the forward position.  Talbot aides the Avalanche in rounding out their forward lines by giving a balance between the top six and bottom six.  His contract is also an advantage – three years at $1.75M.
Lest we forget, Downie is a pending RFA at the end of this season so he'll have something extra to play for this year.  You tend to see players turn it up a notch when they're playing for a new contract, so Downie may get off to a hot start in the coming weeks.
All in all, the trade is a draw.  Both teams get assets that address specific needs for their respective clubs.
Follow Shawn Reznik on Twitter: @ShawnTHW