After an abysmal season that Toronto Maple Leafs forward William Nylander would like to forget, he made the 2019-20 season one to remember. In addition, it was a message to let the fans know that he's still the same, high-end offensive player that he was in his rookie and sophomore season. 
After a very impressive comeback season, the 24-year-old forward took a different approach to making his presence felt. Yes, he still had his blazing speed and shot on display, but there seemed to be more of a sense of urgency when he was in the offensive zone. He appeared to be more aggressive in the battles along the boards while also generating a lot of opportunities in the middle of the ice, particularly right in front of the net. 
What Would Have Been a Career Year
Many thought that Nylander's time in Toronto was coming to an end due to a lengthy contract dispute, only to be resolved minutes before the deadline to sign a deal. While many were relieved that it was over, it was far from being done, as many in Leafs Nation started to grow discouraged with him. His play took a major dip, as he was one step behind, making costly mistakes, and wasn't playing up to his standards.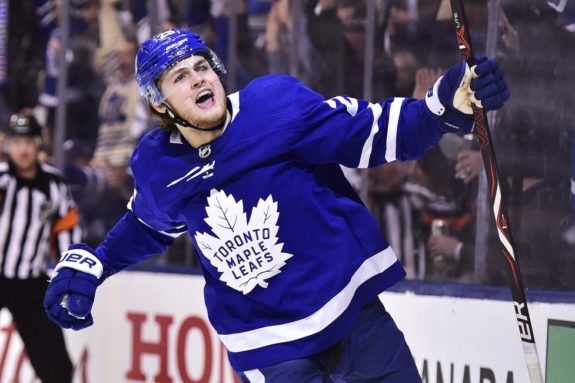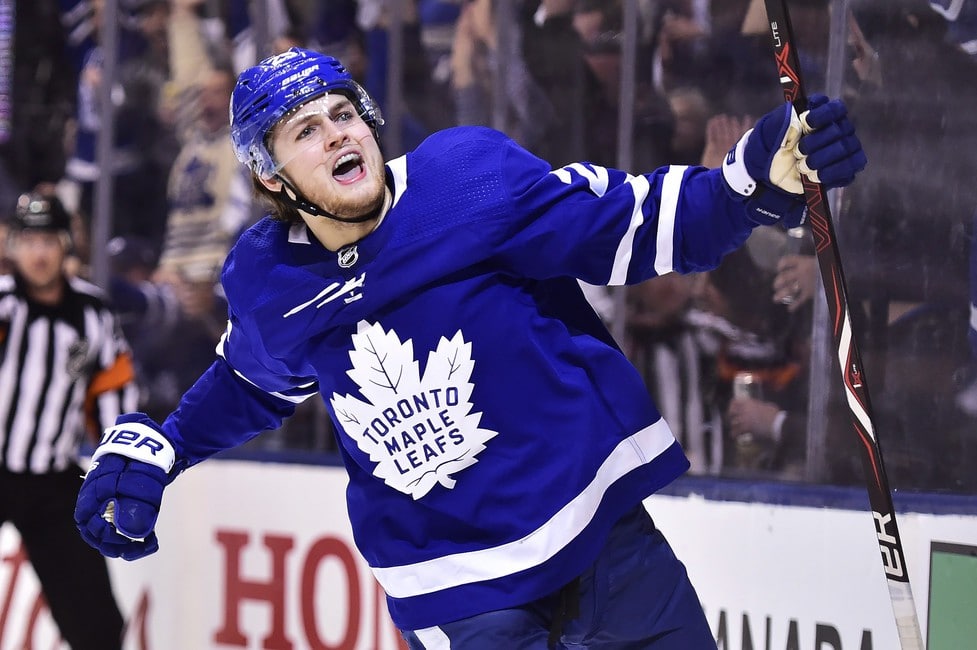 With a fan base that was growing frustrated with him, it was too early to give up on a player of his caliber. I can understand moving him for a player that is hard to turn down, but to move him just for the sake of one bad season doesn't make sense. Nylander put that season behind him and made a statement to the fan base. He was more determined than ever to prove that he hasn't lost his game, despite still being in his prime. This season was going to be a career year for him had it not come to an end due to the COVID-19 pandemic.
Nylander recorded his highest point per game rate (0.87). In the process, he set a career-high in goals with 31, which was well over the 22 he recorded in 2016-17. Although he didn't quite match his career-high of 61 points, if he played a full 82- game season, Nylander definitely would've surpassed that mark with 71 points. That would've been a more impressive point total for him, considering he just came off a season where his point per game average was at 0.50. 
With the possibility of another shortened season, everyone's point total isn't going to be as high as the previous season. But if it's to be adjusted to reflect an 82-game schedule, who's to say that Nylander couldn't match his pace last season and continue to exceed his expectations on the ice.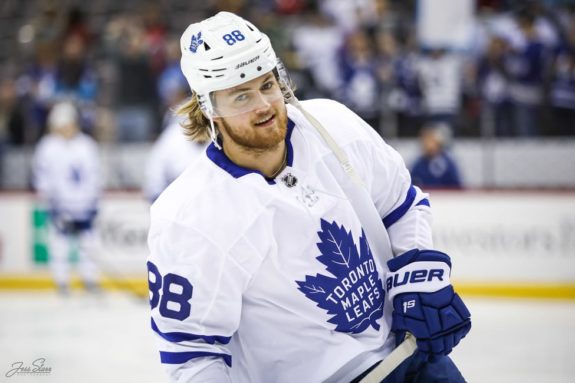 While he did see time playing with captain John Tavares, Nylander still spent 34.3% of his ice time with Auston Matthews and Andreas Johnsson on the other wing at even strength. When looking forward to the 2020-21 season, it isn't out of the question that we could see Matthews, Nylander, and Zach Hyman again.
Now that all three have matured and have experience, a reunion is definitely possible, as that line had great chemistry in the past, especially with Matthews. In particular, with Matthews being the star centreman and Nylander being the dual-threat winger. While he can shoot and be a playmaker, there's another aspect to his game that emerged this season. 
More Dangerous in Front of the Net
If there was one thing that was more noticeable in Nylander's game, it was his ability to generate opportunities and get to the high danger area. While we saw glimpses of this in the past, he was more determined to attack the net. 
This season, we saw him on another level of his skillset when he combined his quick hands and positioning in front of the net. Considering that Nylander has an impeccable shot and likes to stay on the edge of the high danger area, he's doing a much better job getting to the front of the net. When he was on the ice at 5v5, the team generated 209 high-danger scoring chances. Individually, Nylander had 83 high-danger chances, which accounts for the highest of his career. 
In 77 games that InStat Hockey tracked for the 2019-20 season, Nylander had a high shot completion rate in all areas of the ice. Here is a look at his shot percentages based on those locations, shots on goal, missed shots, and goals. 
| | | |
| --- | --- | --- |
| Shot Location | Goals/ Shots On Net/ Missed Shots | Percentage of Shots on Net |
| Left Wall- Faceoff Circle | 21/27 | 77.8% |
| Middle Ice- Faceoff Circle | 59/81 | 72.8% |
| Right Wall- Faceoff Circle | 37/44 | 84.1% |
| Front of Net- Below Circle | 80/97 | 82.5% |
While the outside numbers are noticeable, his numbers in the middle of the ice and front of the net are definitely worth looking at. By comparison to games tracked in 2017-18, Nylander had a much lower percentage in those areas. In the middle of the ice of the faceoff circles, he completed 62.9% of shots while only completing 75.4% of shots in front of the net. He had more opportunities in front of the net this season while also having a great success rate of hitting the target.
While his shot generation is impressive, Nylander utilizing his speed, smarts, and ability to use his hands in tight areas has helped him to set his career-high goal tally. We have seen glimpses of that in the past, though this type of play hasn't been on display consistently. The following chart from Hockey Think Tank shows Nylander's goal locations for the 2019-20 season. A good number of those goals are below the hash marks from the faceoff circle.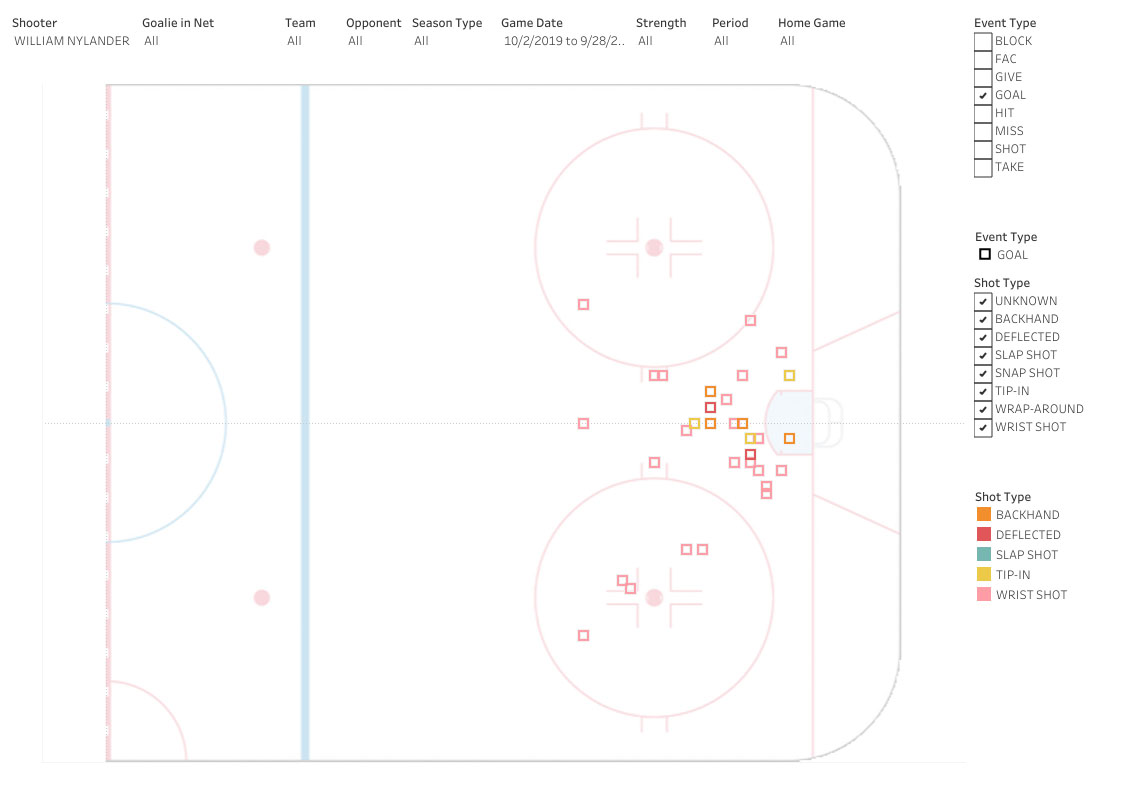 Even when looking at percentages on the ice compared to other seasons, it's important to note where he's starting to score, as he isn't relying on scoring from only one area. When looking at his 2017 goal map from IcyData Hockey, Nylander scored 18% of his goals in front of the net. That number shot up drastically when being compared to his 2019 goal map, where he scored 38% of his goals in that area. This is a sign that he's becoming more involved in the play where he can create a really great scoring opportunity. 
We know that Nylander has an excellent shot from long distance, but he isn't relying on one aspect of his game in order to be successful. The fact that we're seeing him more engaged in the dangerous area on the ice is making him more of a well-rounded threat in the offensive zone. He is starting to follow the play more and put himself in a prime area for a shot or a goal. 
This season was probably the most complete we've seen Nylander play. Although he could still improve on the defensive side of things, the fact that he found another aspect of his game that makes him a goal-scoring threat will bode well for a team that wants to keep one of their core players in the fold.
Stats from InStat Hockey, Natural Stat Trick and Dobber Frozen Tools. Images form Hockey Think Tank and IcyData.Hockey.
---
---