The Toronto Maple Leafs' Saturday night tilt against the Montreal Canadiens was one that a good portion of the fanbase anticipated more than any other game this season. After general manager Kyle Dubas shocked the world with a trade for St. Louis Blues forwards Ryan O'Reilly and Noel Acciari late Friday night, there was a buzz around the team that hadn't been there for a while, perhaps since opening night. And the Maple Leafs rose to the occasion, beating their rival Canadiens by a score of 5-1. 
Related: Maple Leafs Going All In By Acquiring O'Reilly and Acciari
It was the Maple Leafs' first win in their three games against Montreal so far this season, dropping the season opener 4-3 and a mid-January game 3-2. And, riding the wave of adrenaline that came with the trade, the team looked energized all night, a refreshing change from the usual habit of playing down to lesser opponents.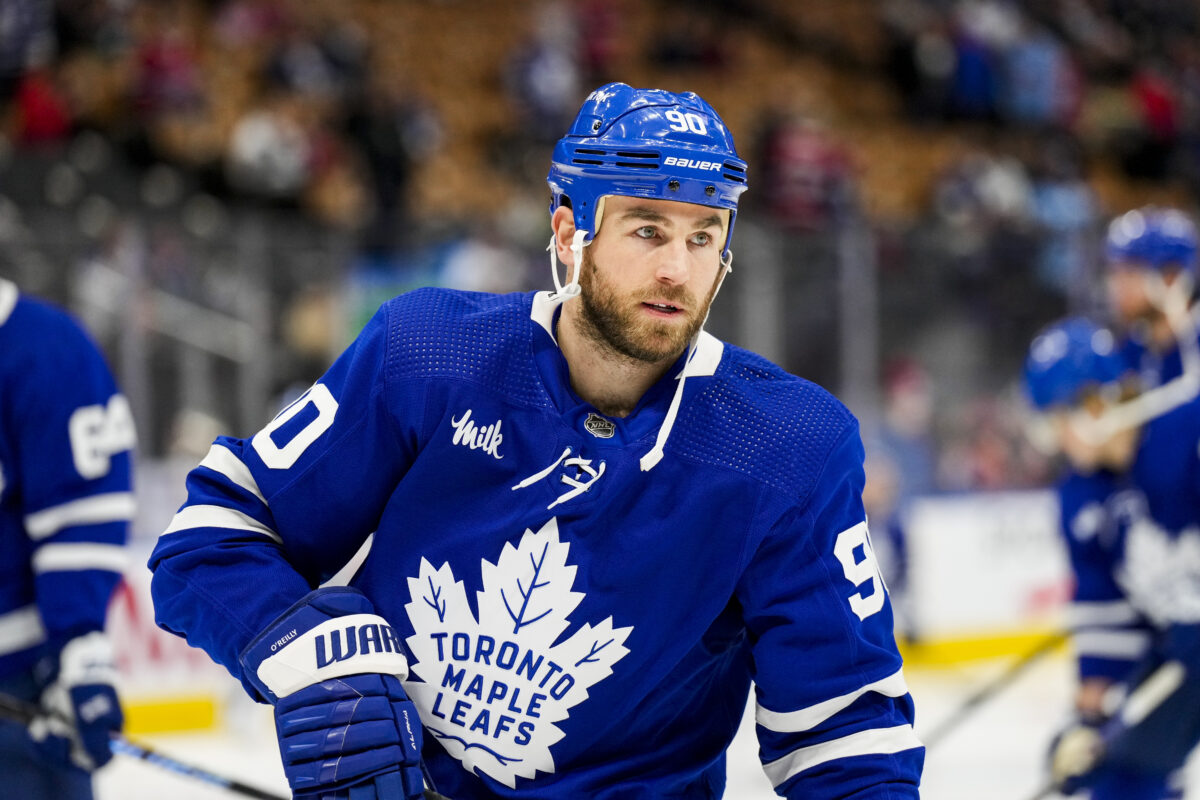 While the Maple Leafs had contributions on the scoresheet from Michael Bunting (x2), Pierre Engvall, William Nylander, and David Kampf, O'Reilly and Acciari made an impact in their own way and offered fans a glimpse into what to expect from each of them down the stretch and towards the postseason. 
Ryan O'Reilly – The New Top-6 Addition? 
In all seriousness, it's probably more likely that the Maple Leafs use O'Reilly as their third-line centre eventually. But, with the Clinton native making a staunch effort to get to Toronto in time for his first game with his hometown team, head coach Sheldon Keefe opted to stick him in between John Tavares, who shifted to left wing, and Mitch Marner. He wasted no time making noise, winning the opening draw and getting his first shot on net. He finished the game with an assist on Bunting's second goal of the game, two hits, and went 12-for-14 in the faceoff dot. 
It's been a bit of a forgettable season for O'Reilly's standards, with that assist bringing him to 20 points in 41 games on the year, but history suggests that his poor play largely had to do with the Blues' struggles. Over the course of his career, he's averaged a roughly 60-point pace per season, and as Keefe noted in his media availability Saturday morning, he's a rare case who has a better point percentage in the playoffs than he does in the regular season, a quality I'm sure the Maple Leafs are grateful to have. 
---
Latest News & Highlights
---
While I wouldn't get used to seeing Tavares regularly used on the wing, O'Reilly showed just how valuable he can be for the team if they use him in his natural position. His faceoff ability will be another layer on a team that's already strong in the dot, and his defensive game is arguably one of if not the best among Maple Leafs forwards. You can't get a smaller sample size than one game, but he certainly left me feeling encouraged about the type of player the Maple Leafs acquired. 
Acciari Ignites the Maple Leafs' Fourth Line 
O'Reilly, being the Conn Smythe and Stanley Cup Winner that he is, rightly got most of the attention in the past 24 hours. But Acciari was certainly more than a throw-in for this trade and cannot be overlooked. Like his former Blues teammate, he can play both centre and wing, and he made his Maple Leafs debut centering Alex Kerfoot and Zach Aston-Reese on the fourth line. While the role of the fourth line was already focused on a strong forecheck, Acciari brought it to another level last night. 
He didn't end up on the scoresheet, but he threw five hits, tallied four shots on net, and made a number of key plays on the other side of the puck. This type of game is perfectly on-brand for Acciari. The Rhode Island native has 173 hits on the season, which is good for first on the Maple Leafs by a whopping 58 hits and eighth in the league overall. 
Fans were already familiar with his game, considering he spent the first seven seasons of his career in the Atlantic Division. Four of those were with the Boston Bruins, helping them eliminate the Maple Leafs from the playoffs in 2017-18 and 2018-19. The Maple Leafs have had him on their radar for a while and for good reason. He's precisely the type of player who has given them a hard time in previous years, so I'd imagine that the team is happy that he's on their side for a change. 
O'Reilly and Acciari Waste No Time Winning Fans Over 
Obviously, fans were excited to see the Maple Leafs slash the speculation and put their money where their mouth was, but the two players seem energized from the trade and legitimately happy to be in Toronto. It was reported on Saturday morning that Blues general manager Doug Armstrong asked O'Reilly where he wanted to be traded to. He said Toronto, and they arranged the trade with Dubas over the course of the day. 
Not only did O'Reilly request the Maple Leafs as his destination, but he also he showed up early to the rink in St. Louis Saturday morning to get his and Acciari's gear to ensure they would be able to make it to Toronto in time for the game that night. Keefe said that both players were "adamant" about getting into the lineup that night despite the back-to-back, which is kind of crazy considering neither player got a proper practice in with the team before making their debuts. 
We've already talked about it a million times, but for the Maple Leafs to finally exorcise their demons and make it over that first-round hump, they will need a winning mindset night in and night out. And for that mindset to stick, there needs to be an understanding that each game from here on out matters more than the last one. O'Reilly and Acciari are two players who will reinforce that notion, and that win against the Canadiens was a good start for the two new guys. 
Maple Leafs Have a Chance to Fight Narrative Sunday Night 
I mentioned it early on in the article, but it's no secret that the Maple Leafs have a known struggle involving their performances against lesser teams, primarily the ones that have nothing to play for but pride. With a back-to-back against the then-last place Columbus Blue Jackets prior to the break, two games against the now-last place Chicago Blackhawks, and last night's game against the seventh-worst Canadiens, they simply couldn't afford to sleep through that stretch. And heading into tonight's game, a second tilt against the Blackhawks, they currently sit at 3-1-0 through those five games with the only loss coming in the second half of that back-to-back against the Blue Jackets.
You May Also Like:
While the last game will be on the second half of a back-to-back, it's important that the Maple Leafs channel the same energy they had on Saturday night, regardless of their level of fatigue. They are more than capable of beating the Blackhawks even if they're not fully rested, and since they're deadlocked in a battle for home ice against the Tampa Bay Lightning, winning these games matters more than it ever has. While it's not likely that Dubas is finished making moves, O'Reilly and Acciari is a great start, and they proved it in their debuts.