For the past few years, the Toronto Maple Leafs have boasted one of the most exciting and promising prospect pools across the NHL. After an incredibly successful 2016-17 season, which saw the Leafs shock the league by making the playoffs despite having a roster littered with rookies, that prospect pool is not what it used to be due to early promotions.
Now, the Leafs are left with several project prospects ahead of the 2017 NHL Draft. Those who remained in junior, Europe, or the AHL had fairly successful seasons for the most part. A large portion of prospects were continuing to learn the ropes of professional hockey with the Toronto Marlies, who had a generally solid year.
There are several prospects that have an argument to be the Leafs' Prospect of the Year, but one stood out a foot ahead of the rest, taking the crown from last year's winner, Andrew Nielsen.
As a reminder, this award is not given to the team's top prospect, but to the prospect who had the best 2016-17 season.
Honourable Mentions:
Players are listed in alphabetical order according to last name.
Statistical rankings in parenthesis are based on league-wide rankings for forwards, and based on ranking among defencemen only for d-men in this list.
Jeremy Bracco – RW – Windsor Spitfires (OHL)
How was he acquired? Drafted in the 2nd round, 61st overall, in 2015.
Personal Info: Born March 17th, 1997 in Freeport, New York. Stands 5'9″ and 181 pounds.
2016-17 Stats: 25 goals (48th) & 58 assists (8th) for 83 points (12th) in 57 games.
Jeremy Bracco began the year as hot as anyone in hockey, and looked primed to be the Leafs' prospect of the year. In his first 27 games with the Kitchener Rangers, Bracco racked up 17 goals and an outstanding 51 points, keeping pace with the leaders of the OHL. However, Bracco would be dealt to the 2017 Memorial Cup host, Windsor Spitfires, as the team prepared to make a long playoff run.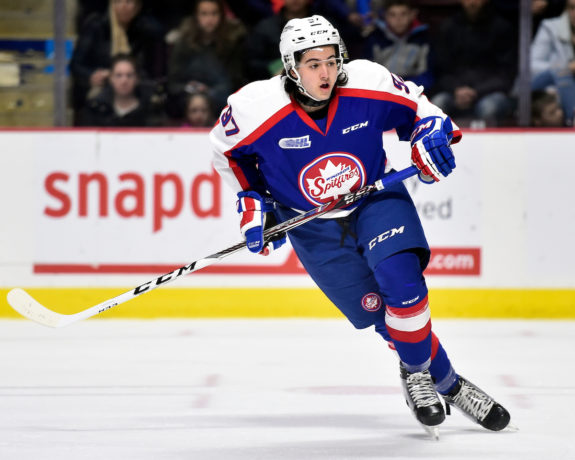 While many expected Bracco's numbers to continue to climb, he was unable to find his footing with the Spitfires in the early going. In the end, he would add just eight goals and 32 points in 30 games with Windsor, numbers that pale in comparison to his time with Kitchener.
Bracco and his Spitfires would eventually be ousted in seven games of the first round by the reigning OHL and Memorial Cup Champion, London Knights. However, Bracco's season is not over, as he continues to prepare for the upcoming Memorial Cup during a six-week break.
Overall, the 2016-17 season was an incredibly successful one for Bracco, and one that Leafs' brass will be pleased with. Aside from the huge OHL numbers, Bracco also represented U.S.A. at the World Juniors, potting two goals and five points en route to a gold medal.
Adam Brooks – C – Regina Pats (WHL)
How was he acquired? Drafted in the 4th round, 92nd overall, in 2016.
Personal Info: Born May 6th, 1996 in Winnipeg, Manitoba. Stands 5'11" and 176 pounds.
2016-17 Stats: 43 goals (6th) & 87 assists (1st) for 130 points (2nd) in 66 games.
Coming off of a 120-point campaign in 2015-16, which was rewarded with a draft selection, it would be tough for Adam Brooks to continue to build on his success. But, he found a way to grow his offensive totals even further as the captain of the Regina Pats. He would finish second in the WHL in points with 130 in 66 games, only one point behind his teammate, Sam Steel.
Alongside Steel, Brooks became just the third player post-2000 to crack the 130-point plateau, with Brendan Shinnimin registering 134 in 2011-12.
While building some ridiculous numbers, he was a key contributor in leading his team to the #1 ranking in the CHL. Brooks' season is still alive, as his Pats are currently battling the Seattle Thunderbirds for the WHL Championship and a shot at the Memorial Cup.
As a 1996-born player, Brooks' time in the WHL will be over after this year, and he should be able to earn a 2-way contract with the Leafs, or at least an AHL contract with the Marlies for 2017-18. The future looks very bright for Brooks, whose game seems to have an uncanny resemblance to that of Connor Brown, who just finished a terrific rookie season with the Leafs.
Andrew Nielsen – D – Toronto Marlies (AHL)
How was he acquired? Drafted in the 3rd round, 65th overall, in 2015.
Personal Info: Born November 13, 1996 in Red Deer, Alberta. Stands 6'3″ and 207 pounds.
2016-17 Stats: 14 goals (7th) & 25 assists (23rd) for 39 points (13th) in 74 games.
The 2015-16 Prospect of the Year during his time with the Lethbridge Hurricanes, Andrew Nielsen had a tremendous rookie season in the AHL, adapting to the professional game seamlessly. While he certainly has an offensive edge, as shown through his 39 points, Nielsen continued to round out the defensive aspect of his game this year.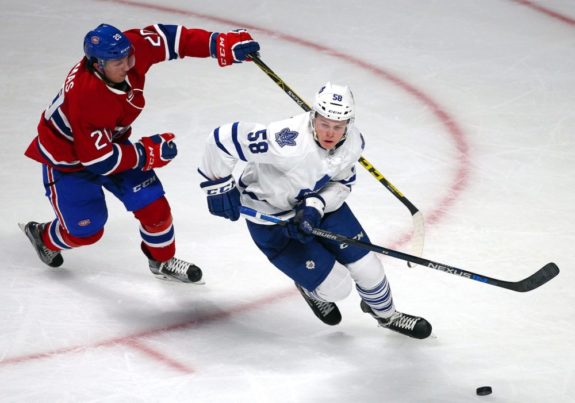 Nielsen impressed through his ability to play a strong, hard-hitting game. He didn't change his style, but continued to perfect it. He quickly earned the trust of Marlies' head coach, Sheldon Keefe, who used Nielsen regularly along the blue-line of power plays. He used his booming shot often, averaging nearly two shots a game over the course of the year.
Nielsen and the Marlies continue to play, currently in the second round against the Syracuse Crunch. After gaining a year of invaluable experience as perhaps the Marlies most relied upon defenceman, Nielsen can likely expect to see some NHL time in 2017-18, as he and Travis Dermott slide into the 'next in line' defenders.
Joseph Woll – G – Boston College (NCAA)
How was he acquired? Drafted in the 3rd round, 62nd overall, in 2016.
Personal Info: Born July 12th, 1998 in Dardenne Prairie, Missouri. Stands 6'3″ and 203 pounds.
2016-17 Stats: 2.64 GAA & .913 SV% in 34 games.
Joseph Woll enjoyed a tremendous freshman year at Boston College, starting 34 games for the Eagles. Unfortunately, the team encountered a bit of a down year by their standards, and were unable to qualify for the Division 1 Championships. However, Woll was able to find success by sticking to his game and showcasing a strong mentality.
Woll posted very solid individual numbers which will only improve next year. He continues to be Toronto's top goaltending prospect, and his talents were showcased when U.S.A. invited him to the World Juniors. He would play two games for the gold medal winning squad, posting a 1.50 GAA and .935 SV%.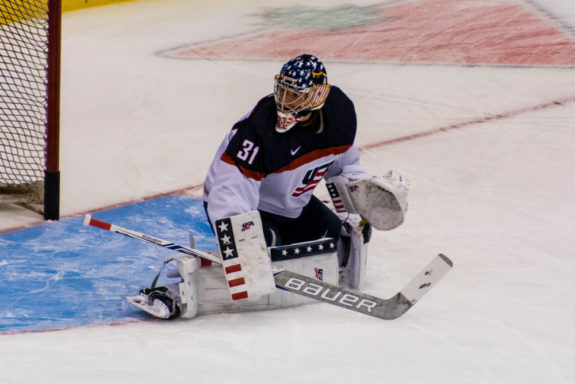 Next year, Woll will return to Boston College and will certainly be on the radar for U.S.A. Hockey as a potential starter at the 2018 World Juniors. At 6'3″, Woll has the size to be an ideal potential NHL starter, with excellent lateral movement, rebound control, and angles. Woll is the goalie of the future for the Leafs right now.
Prospect of the Year:
Kasperi Kapanen – RW/LW – Toronto Marlies (AHL)
How was he acquired? Acquired via trade from the Pittsburgh Penguins
Personal Info: Born July 23, 1996 in Kuopio, Finland. Stands 6'0″ and 181 pounds.
2016-17 Stats: 18 goals (27th) & 23 assists (122nd) for 43 points (86th) in 43 games.
As a 20-year-old, Kapanen is still considered to be young in the AHL, despite many Leafs' fans impatience for prospects. Although Kapanen missed some time due to injury, he posted the best points per game rate of any U21 player in the AHL this season. His results along with work ethic earned him a shot with the Leafs during the first round of playoffs, where he scored two goals in six games and rarely looked out of place.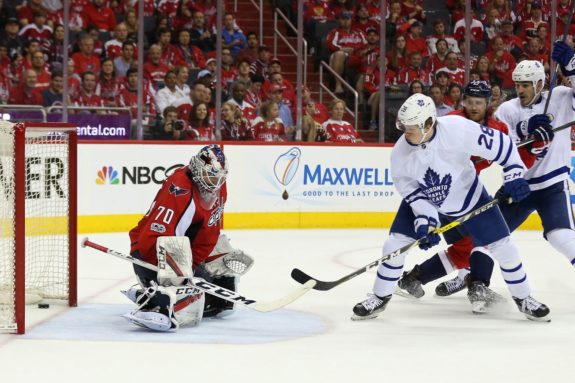 With the graduation of many of Toronto's top prospects into the NHL, Kapanen now stands as the team's top prospect heading into the 2017-18 season, where he will be given every opportunity to make the opening night lineup. As a very positive sign, Kapanen nearly doubled his AHL totals from his rookie year, and his brief showing with the Leafs was exponentially better.
Despite Brooks' unbelievable WHL scoring rates, we often overlook the fact that Kapanen and Brooks are both 1996-born prospects, making Kapanen's AHL success that much more impressive. He made it his duty this season to work on his play away from the puck, the main reason he was demoted back to the Marlies for '16-17. He has the talent and skating ability to play NHL hockey, but simply needs to be more aware of developing plays and makes those adjustments on the fly.
In any case, Kapanen was the most impressive Leafs prospect this year, lighting up the AHL as a 20-year-old, and virtually solidifying his spot on the Leafs roster for 2017-18.