Evgeni Malkin — in a roundabout way — made a guarantee following the Penguins' loss in Game 6 to a Capitals team that looks poised to eliminate Pittsburgh in dramatic fashion, coming back from a 3-1 series deficit and forcing a Game 7 at home. The concern isn't that Washington forced a Game 7, as this series was expected to be a long, hard-fought battle.
The issue is how the Capitals have accomplished this comeback. They've dominated.
Pittsburgh has been outplayed for most of the postseason. According to Corsica.Hockey, Pittsburgh has surrendered the second-highest total shot attempts against at even strength, with the Edmonton Oilers allowing just five more but with an additional game played. They're accounting for a measly 42-percent of shot attempts and have allowed the most shots on goal per hour, evident in how much time is spent in their own end zone. Penguins' defenders are struggling with clean zone exits and seemingly second guessing themselves, making poor decisions and ultimately committing costly turnovers just inside their own blue line. Look no further than Monday night for examples.
Ron Hainsey was left with no passing lane, thanks to the Capitals falling back into a trap and Andre Burakovsky applying pressure on the puck carrier. Hainsey fails to make the simple, smart play by chipping the puck up the boards to relieve pressure and gets bodied by Burakovsky who eventually buries a great opportunity. Marc-Andre Fleury would love to have this one back as well, but you can't continually leave your goaltender out to dry like this, which is exactly what the Penguins have done throughout the postseason.
At some point, you have to take what's given to you. When you aren't dictating play — and you're relying heavily on a counter attack approach — make the safe play to clear your zone. It's their only hope to winning Game 7, unless of course, Malkin makes good on his 'guarantee'.
Looking to the Stars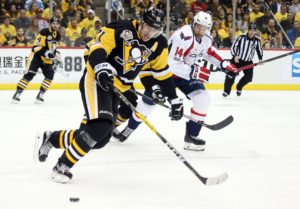 "They think they won an easy game tonight," Malkin told Jason Mackey of the Pittsburgh Post-Gazette. "They think they can win Game 7. I say, 'No'."
After netting a late-game goal to make it 5-2 — the eventual final score — Malkin has totaled 18 points in these playoffs and leads the league in that regard. However, nothing about his performance thus far screams dominance or even consistency. In fact, it's just the opposite. In Game 3, Malkin looked lethargic and largely invisible throughout the contest but with the Penguins trailing 2-0 in the dying minutes of regulation, he scored a goal and assisted on another to knot things up and send the game to overtime. That's been the story of this postseason for him. But the Penguins need a full 60-minutes on Wednesday night when they visit the Verizon Center in Washington D.C.
It's great that he's so confident in this group and willing to almost guarantee victory. Now, he has to back that up. The Penguins also need a better version of Sidney Crosby, as he hasn't looked the same since getting concussed by Capitals defenseman Matt Niskanen in Game 3. Are there ill effects from that injury hampering him? Should we expect more of the same from him? He's getting a rough ride from the Capitals in this series but that's life for number 87.
Based on Malkin's statement, it seems the Penguins are up for the challenge of facing a surging Capitals team on home ice in a loser-goes-home setting. Their performance on the ice as of late indicates differently, however. We'll find out soon enough.
History Means Nothing
Grab a pen and paper, write down the result for every past meeting between the Penguins and Capitals — all the postseason outcomes, Game 7's, overall records — all of it. Then, crumble it up and throw it away. It means nothing.
On Wednesday night, two teams will meet for one game that will decide which group moves on and which group gets a jump start on their respective summer plans. An entire season comes down to 60-minutes of hockey. The Penguins, currently in survival mode, will look to stymie a Capitals offense that's hung nine goals on them in their last two meetings while also searching for a way to jumpstart their own scorers. Washington will look to continue the momentum they've built at home, in front of a rocking crowd, and avoid being eliminated far earlier than anticipated at the hands of Crosby and the penguins once again.
It'll be fun, entertaining, stressful and at times, hard to watch. But that's playoff hockey. That's what a Game 7 should be. Over the next 48-hours, we'll see plenty of stats reflecting what has happened in the past between these teams and their stars in this exact scenario. But when the puck drops, all that matters is who shows up and executes.