The president of the Toronto Maple Leafs, Brendan Shanahan, was a guest on one of the most popular podcasts streaming today – Smartless. Shanahan has been friends with two of the celebrity hosts, Will Arnett and Jason Bateman, for decades. While you may have heard or read some short clips – you should check out the other content Shanahan talks about. It's a rare insight into the guy leading the franchise.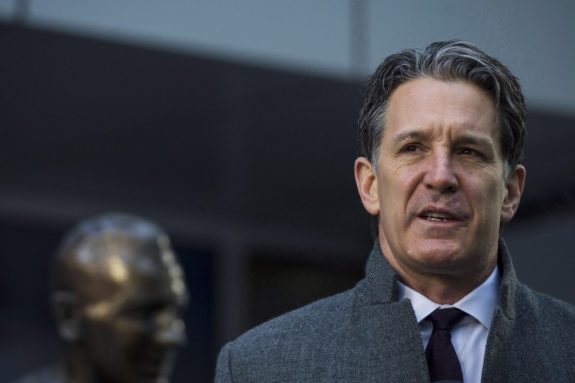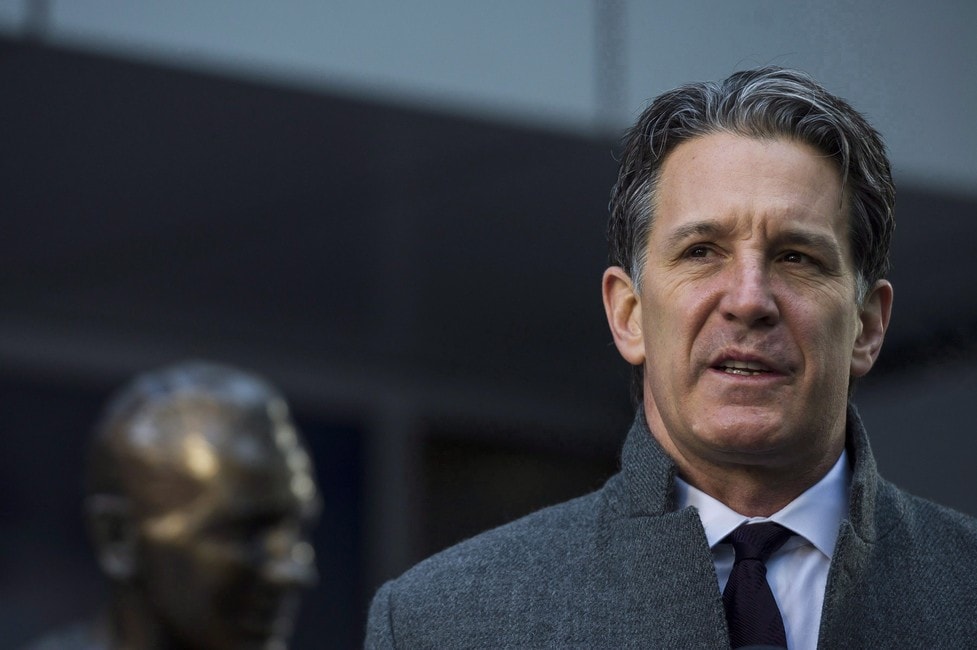 The long relationship with the hosts allows the listener to hear a different side of the Leafs' President. It's refreshing. Shanahan has been around long enough to say the expected things when the usual questions are asked. But this was not an interview. It was a conversation between good friends that we got to eavesdrop on.
Hometown Boy is Living the Dream
"I am lucky," says Shanahan when asked about being the president of his hometown team. "I grew up here in Toronto, and I always say to my friends, because I lived in New York for a long time after I played for the Rangers, me being the president of the Maple Leafs is like a kid who grew up in the Bronx being president of the New York Yankees. It's just a huge thrill for me."
Before winning Stanley Cups, a World Championship and an Olympic gold medal Shanahan was a Maple Leafs fan. He has gone from the master of the Shana-plan to the clock seemingly ticking on his tenure if his team can't find success. Shanahan rarely shows emotion while perched high above the ice in the suite and never during interviews. This may be seen as complacency. But make no mistake, the 51-year-old wants to win.
Shanahan Losses Overshadow his Wins
"People who are successful can sometimes look very elegant about it, and they can sometimes look very smooth. But, there is a fire in their belly that is very, very difficult to satisfy," Shanahan told the podcast when the conversation turned to The Last Dance, a documentary about the Chicago Bulls.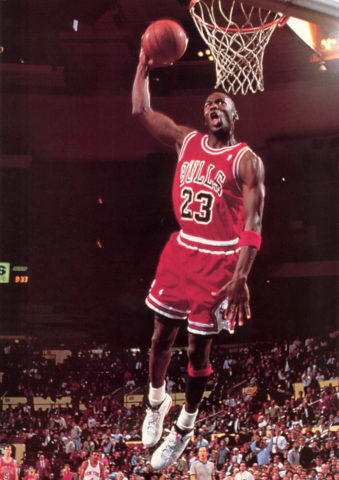 "I use Michael Jordan as an example for this with my kids when everyone says, 'Oh Michael Jordan, what a winner.' I love that one commercial he did when he talked about all the times he failed, and I think that in any industry in any business. My kids will say, 'oh, you won three Stanley Cups, dad, you're so lucky,' and I say that means 18 times I lost – like 18 times I felt like a loser all summer long."
Not only did he talk about feeling like a failure, but he also brought up one of the lowest points of his hockey career, maybe even his life—the 1998 Nagano Olympics. Canada went to a shootout with the Czech Republic in the semi-final. Down 1-0, Shanahan was the last chance. "I'm the last shooter for Canada to advance, and I don't score, and I let down the whole country."
Then Shanahan told the podcast listeners something not many people know. "I went home and after some real soul searching… I wrote on a piece of paper: you are going to make the Olympic team in 2002, you're going to win the gold medal, you're going to score the game-winning goal. I mailed it to myself, put a stamp on it and mailed it to myself. I got it a couple of days later, put it in my drawer so I could prove that I mailed it in 1998… Going back in 2002 was so much about redemption. I didn't get the game-winning goal, but I didn't care; we were able to beat the USA on their soil."
Shanahan and the Game have Changed
"The way I think is not necessarily the way I played," said the Hall of Famer who is one of the fiercest competitors to play the game. He got some headlines for saying this during the podcast: "People get pissed off at me when I say things like this, but I don't get excited to see a big hit; I get excited when I see a big goal."
Even Shanahan admits it's an odd statement for him to make. Let's remember he is the only player in NHL history to have more than 600 goals and 2,000 penalty minutes. "Look, I spent 3 years working in player safety for the National Hockey League – that's like asking a former bank robber to work at your bank," said Shanahan.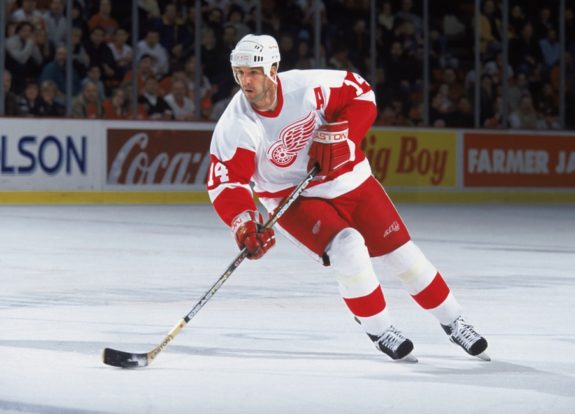 That time in player safety seems to have given him some perspective, "I don't want to see any of these young guys on the ice getting carried off, I just don't get off on it. I grew up in that environment where it was ok to do these things on the ice. I'm actually somebody who has been on the record for saying we got to clean the game up. We know more about concussions and brain injuries, and head injuries. The game has cleaned up there is a lot less fighting in hockey."
Shanahan addressed fighting in the sport by saying it's in all sports, but how it is used in hockey has changed. "If I see a fight in hockey, it's because somebody is protecting somebody, somebody is bullying somebody and you are addressing it. There probably is still a place for that in hockey, but using it as a tool to intimidate or hurt – I don't know, it is going away from that."
Perspective Changes Over Time
During the podcast, you get a sense that Shanahan really cares for the players. He has three kids, who are getting close to the age of some of his players. It has given him a different outlook, "perspective is the enemy of being a really good athlete. Once you get to an age where you are sort of like well, it's really not war, and it's really not life and death – (perspective) that's your enemy."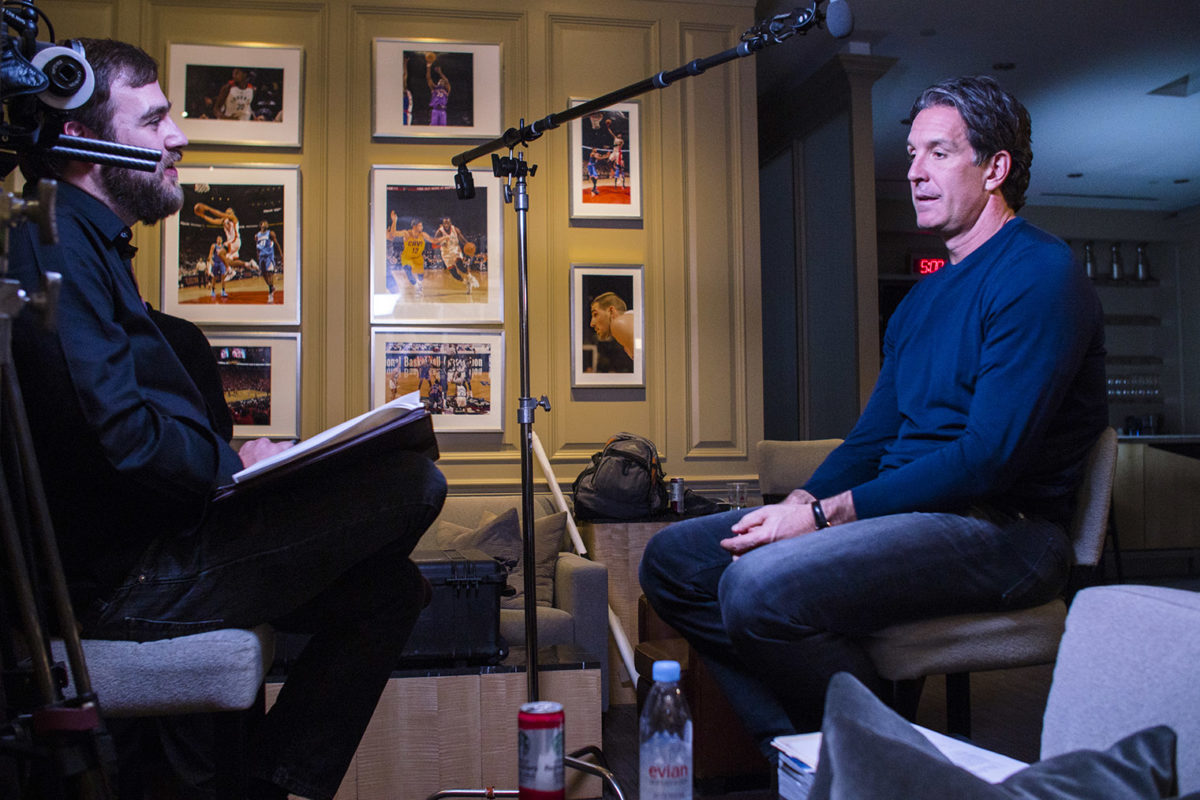 That perspective makes him want to help his young players. He is old enough to be more than half of the team's dad. "I want to grab our young players and just say, you know it is like children, it's like your kids sometimes you want to say I don't want you to make the mistake I made. I want you to learn what I learned but learn it earlier so you can have more fun doing this, but they have to learn it on their own. They have to figure it out on their own."
Shanahan had to figure out life after hockey on his own. He recalled his first day working in the office of the NHL. "I was such a newbie, 40-year-old total newbie, I remember it sounds like a joke and makes me sound like an idiot, but it is actually true. At the end of my first day, I'm sitting in this cubicle, around 4:45, 4:50 people are standing up, some people are leaving. I said to the women in the cubicle next to me: Psst, excuse me, like how do we know when it is time to leave – is there a horn, is there a siren?"
For those Toronto fans who are frustrated and maybe ready to write off Shanahan and the team, I again urge you to listen to this show. Get reacquainted with one of the 100 Greatest NHL Players in History who is doing his best to bring a Stanley Cup to his hometown.
---
---