In this edition of Toronto Maple Leafs News & Rumors, I'll look at two former Maple Leafs players. First, I'll wish good luck to Dmytro Timashov, who last week was reunited with the general manager who drafted him for Toronto in 2015 – Lou Lamoriello.
Related: Maple Leafs News & Rumors: Issues for a 2020-21 Season Start
Second, I'll look at the status of former 4C Frederik Gauthier and suggest a future possibility that might be a win-win for both Gauthier and the Maple Leafs' organization.
Item Two: Ex-Maple Leafs Dmytro Timashov Headed Back to Lou Lamoriello
In the 2015 NHL Entry Draft, when Lou Lamoriello was the general manager of the Maple Leafs, he choose Dmytro Timashov in the fifth-round (125th overall). Given that players chosen this low in the draft seldom find their way onto an NHL roster, this wasn't a bad choice because the young Ukrainian-born Swede actually did play on the team's NHL roster in 2019-20.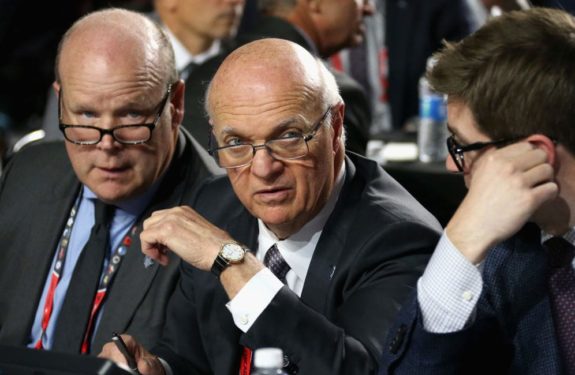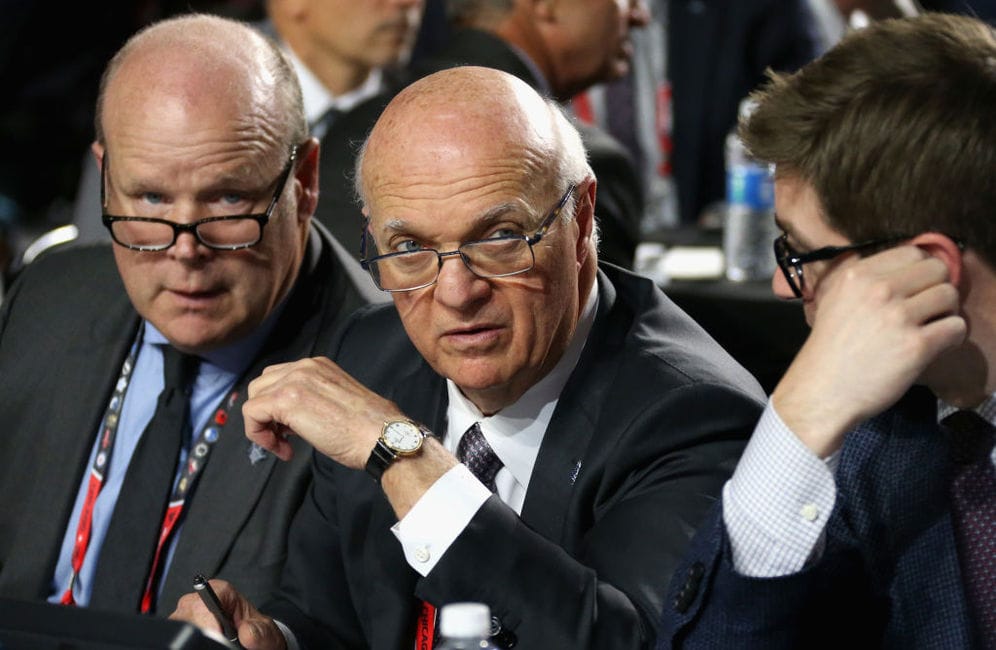 Last season with the Maple Leafs, Timahov scored four goals and added five assists in 39 games. Just prior to the 2020 trade deadline, the team put him on waivers hoping to move him to the AHL Toronto Marlies. However, that never happened because the Detroit Red Wings jumped in and claimed Timahov off waivers.
Finishing last season with the Red Wings, Timashov only played in five games without scoring a single point. That was the end of his career in Detroit, and last week the Red Wings moved his rights to the New York Islanders for future considerations.
Related: Maple Leafs' Forgotten Ones: Jyrki Lumme
There wasn't much noise about that deal; however, it's interesting because it comes full circle. Timashov now jumps onto a wagon his former general manager Lamoriello is driving. As a fan and someone who likes to see young players get a chance, I'm rooting for Timashov to get another chance to play. He probably couldn't have landed in a better place for that opportunity.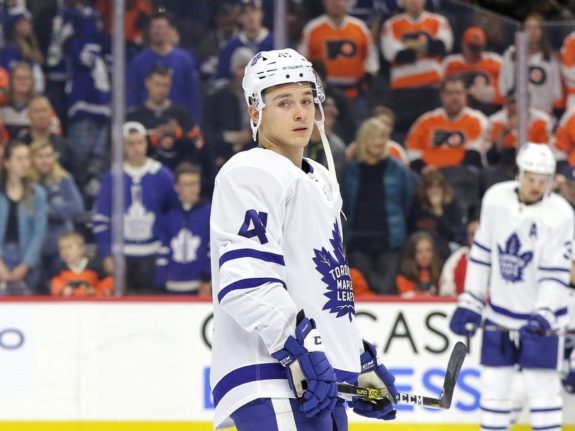 You have to think Lamoriello saw something in the youngster when he drafted him in 2015, which was the first draft the now-Islanders' general manager oversaw for the Maple Leafs. Looks as if Lamoriello sees that "something" still; he obviously remembers Timashov from his previous time in Toronto. Good luck to Timashov.
Item Two: The Fate of Frederik Gauthier?
Almost a year ago now, actually last January before we even thought about COVID-19 much, Maple Leafs captain John Tavares did a long Q & A with Sportsnet's Luke Fox and talked about his time as captain of the team. One interesting part of that interview was his conversation about Frederik Gauthier, whose nickname is "The Goat."
At that time, Tavares called Gauthier "the most interesting Maple Leaf. He's awesome. … He's just a quirky guy that's very interesting and just a really good person. I think he plays a really good role for us. It's not always seen or talked about a lot, but just a lot of consistency with him and just the way he carries himself and his professionalism."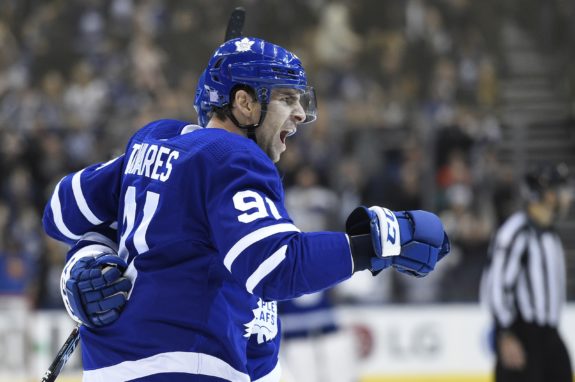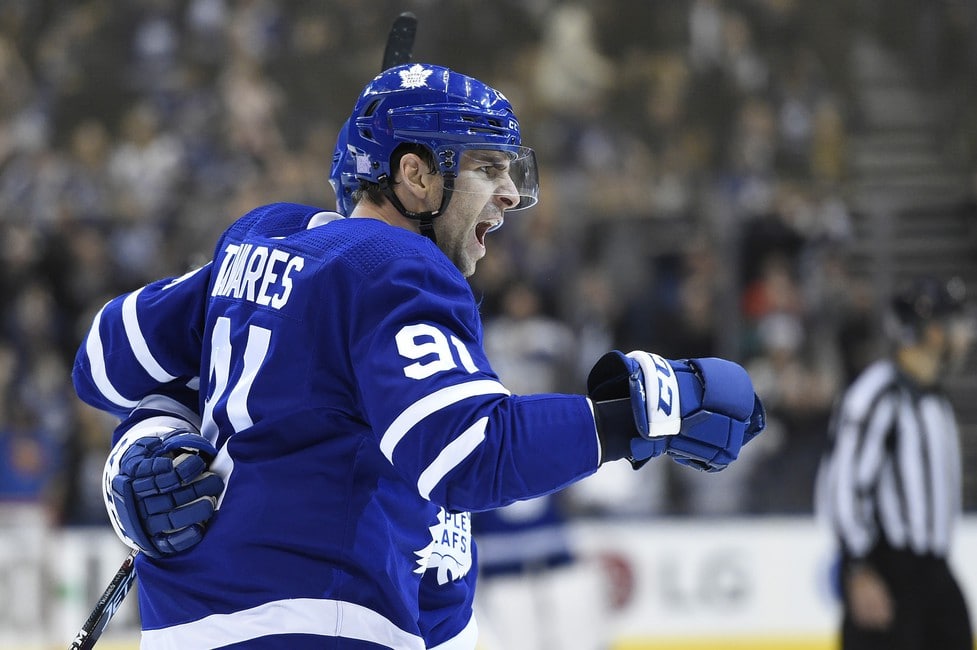 This offseason the Maple Leafs didn't qualify Gauthier for the second year in a row; however, unlike the last offseason, they didn't re-sign him as a depth center. That's likely because the team has gathered a really deep set of forwards headed into the season.
With the combination of Gauthier's having little chance of actually playing for the Blue and White and what seems to be general manager Kyle Dubas' loyalty to players (insofar as he can be loyal and build the best team), I imagine there was hope inside the organization that The Goat would catch on with another team. And he still might.
Related: Each New Riveters Acquisition Is Another Piece To Their Puzzle
However, now that the 6-foot-5, 239-pound, five-season Maple Leafs veteran (he's played 168 NHL games with the team) hasn't been signed by another team, I'm wondering if there's any thought about signing Gauthier to a Marlies' contract. Perhaps the Marlies have it under control this coming season, but last season they barely won more games than they lost – posting a 29-27 record for seventh place in the eight-team AHL's North Division.
My point is that, even if Gauthier never plays for the Maple Leafs or in the NHL again, he might be value-added to the Marlies. But is there's enough roster space on that team given the Maple Leafs' loaded forward units? There's no doubt some of the forwards who attend the Maple Leafs training camp won't begin the regular season on the Maple Leafs roster.
An answer to the question of roster space might depend upon the way the 2020-21 regular-season schedule is laid out. Will the Maple Leafs and other NHL teams build a sort of taxi squad of regular-season Black Aces who fill in for injury, quarantine, or even (let's hope not) COVID-19 replacements? The Marlies will likely add prospects currently playing for teams in Europe like Filip Hallander, Egor Korshkov, and Rodion Amirov. But that won't happen for several months.
Given that there are so many unknowns to the 2020-21 season and the fact that Gauthier was a great player with the Marlies, he might be a nice addition to the team. He's obviously, as Tavares said, well-liked and respected. He's slower but steady on the ice and, honestly, he can cycle the puck really well in the NHL so I can imagine how he might control play in the AHL.
Perhaps I'm reaching, but is it possible Gauthier could be a player who might help teach young Maple Leafs prospects the kind of puck possession the organization prizes so highly. From what I've watched, he's great at holding onto the puck, creating defensive confusion, forcing defenders to change positions, opening passing lanes, and creating scoring chances. I'd think that might be a teachable skill.
What's Next for the Maple Leafs?
I'm probably an odd duck and certainly not a hockey purist, but I love those loud almost gaudy Swedish uniforms that are absolutely loaded with advertisements. Some I have seen resemble pieces of art; they're colorful, bright, and – to my taste – fun.
Related: Maple Leafs News & Rumors: Subban, Holl, Gauthier & More
With NHL teams so desperately searching for added revenue, I have to think there are closed-door conversations about selling ads on uniforms. It almost seems inevitable this would be a move the league would do.
And, while I might be close to alone on this thought, I'm looking forward to where this might go. My money is on this being the first season revenue-generating ads might appear on NHL uniforms.
But only small ones – of course. (wink wink)
---
---